You will need
black peppercorns;
onion;
carrots;
Bay leaf;
flour;
eggs;
breadcrumbs;
vegetable oil for frying.
Instruction
Chicken wings rinse under cold running water. Carefully inspect them: sometimes the wings are feather, not deleted during factory processing. If necessary, the feathers pull out.
Put on fire a pot of water. The volume pots to select based on the number of chicken wings, taken to prepare. Bring water to boil, add salt.
Put wings in boiling salted water. Bring to the boil. Reduce heat to simmer. Remove a tablespoon of foam that are on the edges of the pan.
Add to the pan to chicken wings, black peppercorns, Bay leaf. Onion and carrot peel, cut into large chunks (4 pieces), dip it in the pot. Cook wings on low heat until done, about 20-30 minutes.
Remove the chicken wings from the broth to a plate to slightly cool.
Prepare two flat plates. On one pour the flour, the other the breadcrumbs. In a deep dish whisk the egg.
In a pan heat the vegetable oil.
Chicken wings , roll in flour, then dip in beaten egg, then roll in breadcrumbs. Gently place wings in a pan in hot vegetable oil. Can't touch this! Fry on both sides until getting Golden brown.
Place chicken wings on a plate, garnish with fresh vegetables and herbs, and serve hot on the table.
Bon appetit!
Note
Do not put the chicken wings in cold water when cooked. In this case, you will have a delicious rich broth, and the wings lose juiciness.
Useful advice
The chicken wings before cooking can be cut into 2-3 parts.
Breaded wings are fried very quickly, so be careful.
If you cook in remaining chicken broth a little home-made noodles or pasta, sprinkle with finely chopped greens for a delicious first course. Serve it with sour cream or mayonnaise.
Advice 2: How delicious to cook chicken wings in a pan
In the wings of a bird, not a lot of meat, but it is very tender and tasty, and the dishes they are great as beer snacks and hot main dishes. Prepare chicken wings in the pan in sauce, breaded or delicious gravy with potatoes.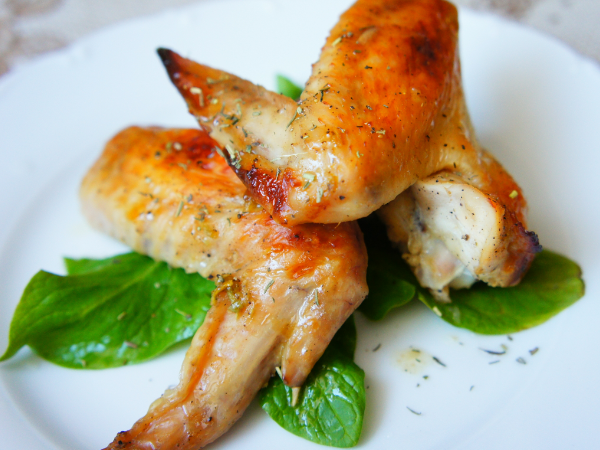 Chicken wings in sauce in a pan


Ingredients:
- 500 g of chicken wings;
- 160 ml of soy sauce;
- 50 g of honey;
- 30 ml lemon juice;
- 1 tsp. curry;
- vegetable oil.

Thoroughly rinse the wings and dry on a paper towel. Remove, if necessary, excess skin and feathers. Fold the part of the birds in the container. A little warm honey, mix it with soy sauce and lemon juice. Add curry and stir everything thoroughly until smooth. Pour the mixture and toss wings to evenly coat them with marinade. Tighten the capacity of the transparent film and refrigerate for at least 3 hours.

Put the wings in a colander set over a pan to drain the fluid. Pour the oil into a pan and heat over high heat. There lay the marinated chicken pieces and fry until Golden on each side. Turn down the cooking temperature to low, pour in the marinade and simmer the dish for another 15-20 minutes, covering with a lid.


Chicken wings breaded in a pan


Ingredients:
- 650g chicken wings;
- 200 g glazed corn flakes;
- 130 g of flour;
- 2 chicken eggs;
- 1/2 tsp of black pepper;
Sol;
- 60 ml of water;
- 30 ml Apple cider vinegar;
- 300 ml of vegetable oil.

Cut wings at the joints, put down for making only the large phalanx, the rest will be discarded. Put the pieces in a bowl, add salt, pour the vinegar solution in the specified volume of water and leave for half an hour. Place the cereal in a sturdy bag and crush, but not much to coarse crumbs. Pepper them, and sprinkle the sunflower on a flat plate. In the same way, pour the flour. In a Cup whisk eggs with a whisk.

Roll each piece of chicken wings in flour, then dip in egg, dip it in corn batter and place in hot oil in a pan with high sides. Cook everything in oil for 4 minutes, then place on a napkin to remove excess fat.


Braised chicken wings with potatoes in the pan


Ingredients:
- 500 g of chicken wings;
- 250 g of potatoes;
- 100 g of 25% strength cream;
- 60 ml of water;
- 2 cloves of garlic;
- 3 sprigs of parsley;
- 1/4 tsp of curry, paprika and mixed spices;
Sol;
- vegetable oil.

Treat the wings as described in the previous recipe. RUB them with salt and spices and fry in vegetable oil 2-3 minutes. Cleaned, cut into slices or cubes potatoes and place in pan. Fill all sour cream, diluted with water, and simmer, covered over low heat for 30-35 minutes. At the end of cooking, season the dish with crushed garlic and chopped parsley.
Advice 3: How to prepare tasty chicken wings
Chicken wings and a hearty beer, and a full dish, quick to cook and incredibly tasty. There are dozens, if not hundreds of ways to prepare tasty wings. For example, bake them in honey and soy sauce, or fried in a corn breading.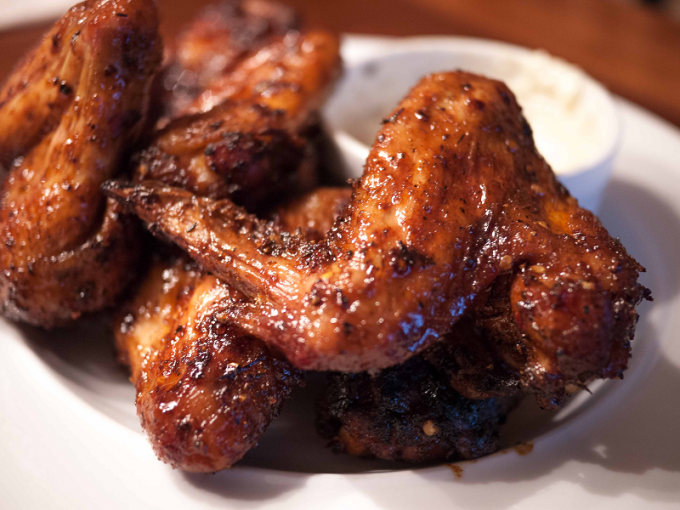 Simple recipe for chicken wings in honey and soy sauce


Ingredients:
- 800 g of chicken wings;
- 40 g of honey;
- 100 ml of soy sauce;
- 2 cloves of garlic;
- vegetable oil.

Rinse the wings, remove if necessary, the feathers with tweezers. Slightly heat the honey to make it more liquid, mix it with soy sauce and crushed in a special press or grated on a grater garlic. Fold the chicken pieces in a deep bowl, pour the prepared marinade and leave for at least 20 minutes and preferably an hour.

Preheat the oven to 200oC. Cover a baking sheet or heat-resistant form of the parchment that the flowing honey doesn't burn. RUB the paper with vegetable oil and lay on her chicken wings. Bake them for 35-40 minutes and serve hot with fresh vegetable salad, crisp rice or fries.


Chicken wings in corn breading


Ingredients:
- 1.5 kg chicken wings;
- 3 chicken eggs;
- 300 g unsweetened cereal without frosting;
- 1 tbsp. flour;
- 1 liter of water;
- 2 tbsp sea salt;
- 2 tsp of dried parsley;
- 1 tsp granulated garlic and hot peppers;
- 0,5 teaspoon fine salt;
- vegetable oil.

Wash the wings and cut each into 3 pieces, discard tips or save for other dishes. Make a solution of specified amounts of water and sea salt. Put the remaining chicken pieces in a large container, cover with brine and let stand at least 2 hours.

Pour cornflakes in a sturdy plastic bag a few times and go over it with a rolling pin, but not razmalyvanie content is too small, should remain coarse crumbs. There stir in the parsley, garlic, paprika and fine salt and shake the spices evenly distributed.

Pour plenty of oil in a deep pan, saucepan or cauldron, so that the wings could swim. Will rascality it to the crackling and turn heat down to medium. Pour flour and breadcrumbs into two flat plates, whisk the eggs with a whisk in a small bowl.

Roll of the wings in flour, then dip in egg mixture, and finally coat generously with corn mixture. For convenience, use tongs or two forks. Put prepared pieces in hot oil. Cook chicken wings until Golden brown, spending 5-7 minutes for each batch. Put them on a paper napkin that it has absorbed excess fat. Serve the dish with ketchup, BBQ sauce, blue cheese or others to taste.
Advice 4: How to cook chicken wings with a crispy crust
Chicken wings – the perfect dish for any occasion. They can be served with a side dish or as a snack to beer. Below the crust is crunchy, it is recommended to use a honey-soy sauce.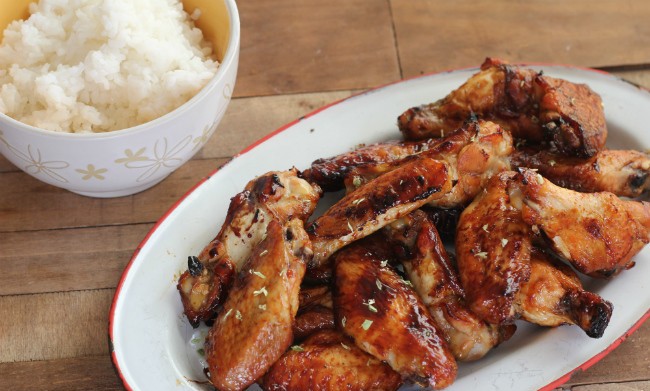 You will need
Ingredients for 4 persons:
- 500 gr. chicken wings;
- 50 gr. of honey;
- 50 ml soy sauce;
- juice 2 lemons;
- teaspoon dry oregano.
Instruction
Each chicken wing cut into 3 parts. The 2 most fleshy use for meals and the tips of the wings can be saved for chicken stock.
Preheat the oven to 200C and in the meanwhile prepare sauce: mix soy sauce and honey, squeezing the juice of two lemons and pour the oregano. Mix well until the sauce is smooth.
Spread wings on a baking sheet (best to use silicone), grease them generously with the sauce and put in oven.
Every 5 minutes the wings must be removed from the oven, flip again and brush with sauce – the only way they will become incredibly crunchy on the outside, but juicy on the inside.
After 35 minutes the chicken wings in honey and soy sauce can be served on the table.