You will need
black peppercorns;
onion;
carrots;
Bay leaf;
flour;
eggs;
breadcrumbs;
vegetable oil for frying.
Instruction
Chicken wings rinse under cold running water. Carefully inspect them: sometimes the wings are feather, not deleted during factory processing. If necessary, the feathers pull out.
Put on fire a pot of water. The volume pots to select based on the number of chicken wings, taken to prepare. Bring water to boil, add salt.
Put wings in boiling salted water. Bring to the boil. Reduce heat to simmer. Remove a tablespoon of foam that are on the edges of the pan.
Add to the pan to chicken wings, black peppercorns, Bay leaf. Onion and carrot peel, cut into large chunks (4 pieces), dip it in the pot. Cook wings on low heat until done, about 20-30 minutes.
Remove the chicken wings from the broth to a plate to slightly cool.
Prepare two flat plates. On one pour the flour, the other the breadcrumbs. In a deep dish whisk the egg.
In a pan heat the vegetable oil.
Chicken wings , roll in flour, then dip in beaten egg, then roll in breadcrumbs. Gently place wings in a pan in hot vegetable oil. Can't touch this! Fry on both sides until getting Golden brown.
Place chicken wings on a plate, garnish with fresh vegetables and herbs, and serve hot on the table.
Bon appetit!
Note
Do not put the chicken wings in cold water when cooked. In this case, you will have a delicious rich broth, and the wings lose juiciness.
Useful advice
The chicken wings before cooking can be cut into 2-3 parts.
Breaded wings are fried very quickly, so be careful.
If you cook in remaining chicken broth a little home-made noodles or pasta, sprinkle with finely chopped greens for a delicious first course. Serve it with sour cream or mayonnaise.
Advice 2: How to cook chicken wings with a crispy crust
Chicken wings – the perfect dish for any occasion. They can be served with a side dish or as a snack to beer. Below the crust is crunchy, it is recommended to use a honey-soy sauce.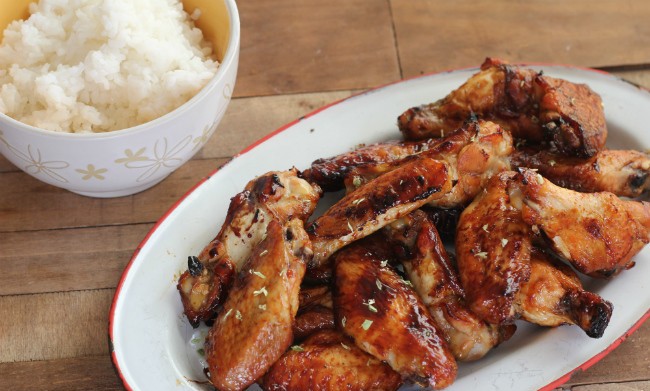 You will need
Ingredients for 4 persons:
- 500 gr. chicken wings;
- 50 gr. of honey;
- 50 ml soy sauce;
- juice 2 lemons;
- teaspoon dry oregano.
Instruction
Each chicken wing cut into 3 parts. The 2 most fleshy use for meals and the tips of the wings can be saved for chicken stock.
Preheat the oven to 200C and in the meanwhile prepare sauce: mix soy sauce and honey, squeezing the juice of two lemons and pour the oregano. Mix well until the sauce is smooth.
Spread wings on a baking sheet (best to use silicone), grease them generously with the sauce and put in oven.
Every 5 minutes the wings must be removed from the oven, flip again and brush with sauce – the only way they will become incredibly crunchy on the outside, but juicy on the inside.
After 35 minutes the chicken wings in honey and soy sauce can be served on the table.