You will need
300 g asparagus;
2 tbsp lemon juice;
2 tablespoons breadcrumbs;
spices to taste.
Salad of asparagus with cheese:
100 g asparagus;
200 g of cheese;
3 tbsp olive oil;
1 tbsp of lemon juice.
Salad of asparagus with mushrooms:
200 g of beans;
200 g chanterelles;
1 tomato;
olive oil;
1 clove of garlic;
greens.
Instruction
The best way of cooking asparagus is steamed. Wash, cut the bean culture into several pieces or boil them whole for several minutes. Then use the beans at your discretion.
The side dish of asparagus
The finished beans salt, pepper to taste, sprinkle with lemon juice.
Roll the pods in breadcrumbs. You can take crackers, mixed with your favorite spices.
Fry for 1-2 minutes on high heat.
Wonderful side dishes mixed vegetables – steamed green beans, carrots, cauliflower, green peas season with salt, drizzle with olive oil, sprinkle with chopped herbs and serve, for example, meat or fish. Combinations of vegetables can vary according to your taste and imagination.
Salad of asparagus with cheese
Boil the beans and cut into pieces with a length of about 3 cm.
Cheese grate on a coarse grater.
In a salad bowl put layers of beans and cheese, sprinkling each layer with mixture of olive oil and lemon, you can sprinkle crushed nuts.
Salad green beans with mushrooms
Combine the beans, roasted chanterelles, finely chopped tomatoes.
Dress the salad with mixture of olive oil, minced garlic, greens. Place on lettuce leaves.
Useful advice
Green beans are delicious in combination with many products – cheese, mushrooms, meat, fish. It can be used all year round, getting a frozen mixture;

When choosing asparagus buy only dry and juicy pods, with a bit of unripe fruit;

To preserve rich green color, cooked beans immediately dip in a bowl with ice water or with ice.
Advice 2 : That can be prepared from asparagus: a review of the dishes
Asparagus
or green beans is a low calorie and high in vitamins. It can be added to omelettes and stews, baked or steamed, to use for soups and fillings for pies.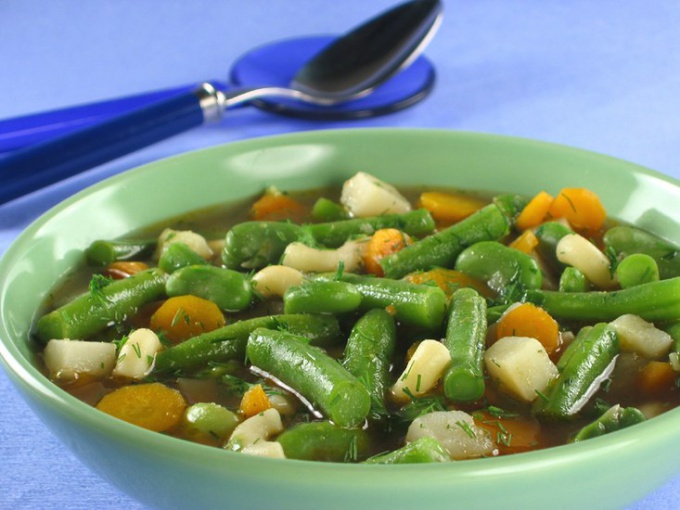 Bean salad with tuna


Two handfuls of green beans, wash, cut into slices, boil in salted water, drain and cool. 300 g canned tuna, cut or mash with a fork. Two slice of ripe tomato thin slices, a bunch of chives chop. On dish put a layer of beans, top place the pieces of tuna and tomatoes. Salad drizzle with olive oil, season with salt, sprinkle with pepper and chopped chives.


Frittata country-style


This hearty omelet can be served on Breakfast or dinner. Onion finely chop and fry until Golden brown in hot olive oil. 100 g of ham cut into strips 2 potatoes chopped in cubes. Remove the skin from 3 tomatoes, rinsing them with boiling water. The pulp coarsely chop. Large sweet pepper clear from the seeds and cut into squares.

Tomatoes, ham, pepper, potatoes and a handful of green beans put in the pan, where grilled onions. Salt and pepper the mixture, pour into the pan 0.5 cups of dry white wine. Cook the mixture for about 10 minutes. 8 eggs, whisk and fry in a separate pan greased with olive oil. On the omelet put the vegetables and place the pan in the oven, preheated to 200oC. Cook the Frittata for another 5 minutes, fold in half and serve hot.


Farfalle with green beans


300 g green beans, boil in salted water, drain in a colander and let the water drain out. Slice the pods in small pieces. 2 cloves of garlic chop and fry in hot olive oil. Add beans. 2 ripe tomatoes, pour over hot water, remove the skin, remove the seeds. Coarsely chop the pulp of tomatoes and add to the pan. Add salt mixture, sprinkle it with ground black and red pepper.

500 g Farfalle boil in salted water, drain and put pasta to vegetables. Stirring occasionally, warm the mixture for 2-3 minutes, then arrange on plates and garnish with Basil leaves.


Soup of green beans


Large chicken rinse, cover with cold water, bring to a boil. Remove the foam, the sunflower and boil the broth for 1.5 hours. Ready broth drain, remove meat to the bones and finely chop. Pour the broth into a clean saucepan and bring to a boil. 2 potatoes, peel, cut into cubes and add to broth. Reduce heat to simmer.

Prepare vegetables. 300 g green beans cut into small pieces, peel carrots and chop cubes. Onion chop. Large sweet pepper clear from the seeds and cut into long strips. Put the broth, onion, pepper and carrots, simmer for 10 minutes until cooked potatoes. Then pour in the saucepan the beans, cook for 3-4 minutes, add 150 g of green peas and sliced chicken. Turn off the stove and cover the pan. Leave the soup to stand for a few minutes and serve, sprinkled with freshly ground black pepper and chopped parsley.