You will need
0.5 teaspoon dry thyme
1 tablespoon salt
1 teaspoon ground pepper
6 large heads of red onion
4 large carrots
1 tablespoon horseradish
100 g coarse-grained mustard
Instruction
Wash the meat and dry it with a paper towel. Heat a pan (best to use a non-stick coating), fry in it the meat on each side for five minutes each.
Preheat oven to 180°C. In a deep bowl, mix salt, pepper and thyme. The mixture grate the meat. Wash and peel the carrots, cut it into slices. Onions clean from the husk and cut into large cubes. On a baking sheet spread out the chopped vegetables and place the meat on top. Bake for one hour.
Lower the oven temperature to 120°C. Take a bowl and mix it with mustard and horseradish. Pan roast beef take out of the oven, carefully cover it with the mixture of mustard and horseradish, put back in oven and bake until cooked for another 45 min.
Put the cooked roast on a pre-warmed dish, cover with foil and allow to stand for 15 min.
Note
In England, before cooking the roast beef, the meat is prepared the traditional way. This beef carcass for three weeks hung in a dry, well-ventilated area at temperature not above +4 degrees. After this time the meat will be covered with a thin crust, which is then cut. With this procedure, the meat will begin to stand out enzymes, and it will get the original taste and rich aroma. This process can be repeated at home. Paper for roasting a piece of beef paired and store for several days at a temperature of zero degrees. At the end of the term, remove the piece and carefully cut the crust. So the meat does not lose shape, before cooking pull it tight with string.
Useful advice
The meat for the roast beef should be chosen very carefully. First, it should not be frozen, use only fresh, fresh or chilled meat. The piece can be from any part of the carcass, but keep in mind that the farther toward the tail, the meat will be more lean and dense. For this dish use chilled meat, lain in the refrigerator for at least three days.
Advice 2: What to cook for dinner with beef
A piece of beef – the perfect base for a hearty dinner. But sometimes, tired long day at work, some Housewives can't think of what to make of this magnificent piece of meat. In this case, maybe you should stick to the classical traditions and serve juicy roast beef. Those who believe that the mandatory dinner vegetables could cook the meat in an Asian style.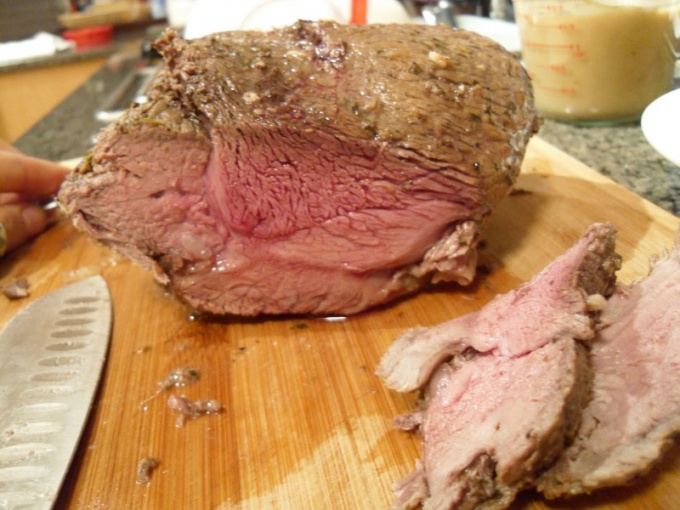 How to cook roast beef
The classic English roast beef absolutely nothing seems to some complicated dish. This is actually simple meal that requires minimal cooking skills. A big plus of roast beef in the fact that it fit different cuts of meat – rump steak, neck, sirloin, and seasonings can be limited to a minimal set of salt and pepper. A piece of meat weighing from half to one kilogram you will need 1 tablespoon coarse salt 1-2 teaspoons ground pepper.
It is very important for a good roast beef beforehand to get the meat out of the refrigerator, preferably 1 hour. This will allow the roast to be juicy and evenly cooked.
Preheat the oven to 165оС. If meat is very lean, brush it with olive oil. RUB with salt and pepper. Put on a special support grid and set it on a baking sheet. Bake the meat at the rate of 25-30 minutes for each pound. Pierce with a thin knife to determine readiness. If meat clear juice, the roast beef is ready. Take it from the oven and let stand for 15-20 minutes in the "cap" of foil. This will allow meat juices are evenly distributed throughout the piece.
Roast beef is served cut into slices, cold sandwiches, or hot with mashed potatoes and brown sauce.
Roast beef and vegetables
You will need:
- 500 grams of boneless beef;
- 2 tablespoons of vegetable oil;
- 2 cloves of garlic;
- 1 teaspoon of grated ginger root;
- 2 carrots;
- 350 grams of broccoli;
- 6 green onion;
- ¼ Cup of orange juice;
- 2 tablespoons of soy sauce;
- ¼ Teaspoon crushed red pepper.
This delicious dish is cooked very quickly, like many other dishes according to the recipes of Oriental cooking so all the ingredients to prepare and chop it in advance. Peel the carrots and cut into julienne, broccoli disassemble on inflorescences, garlic chop. Beef wash, thoroughly dry and also cut into thin transverse stripes. Shred the onion.
Heat the oil in a wok or deep frying pan simple. Sauté beef with garlic and ginger for 2-3 minutes. Remove from the pan and set aside. Add the carrot and broccoli, cook for about 3-4 minutes. Put in a pan the onion and cook for another minute. Pour the vegetable juice and sauce, and season with pepper, add the beef with ginger and garlic. Mix well, heat and serve. Dinner's ready.