You will need
- strawberry;
- deep dish.
Instruction
Before purchasing, please read carefully the information on the package of berries. It should be stated that before you is a product of freezing. Only in this way, the berries retain up to 90% of the contained nutrients.
The best kind of unfreezing of the strawberry is aging at room temperature for several hours. Of course, pre-packaging of berries should be cut open and pour them in a bowl with high sides (for example, a container of food-grade plastic).
Some Housewives thawed fruits and berries under running hot water. After this treatment, vitamins in strawberries will not remain. The same goes for defrosting in a microwave oven.
Accidentally defrosted berries it is urgent to use. Re-freezing they are not. Of partially thawed strawberries you can make great berry desserts. For example, the chopped berries in a blender, spilling the berry mixture over kremanku and garnish with leaves of fresh mint.
Useful advice
If berries for pie, they should be defrosted in advance, and then pour the sugar and drain juice. While putting some on the tart juicy fruits and berries dusted with starch to cake is not leaking.
Advice 2: How to transplant strawberries
Strawberry
is the first berry of the season. She is very beautiful, delicious and fragrant. Strawberry contains many useful trace elements and vitamins. The vitamin C content in strawberries contains a lot more than in citrus fruits. Healthy, delicious and rich in antioxidants strawberries are a favorite treat for adults and children. Let's put
the strawberries
in the garden and enjoy each year a rich harvest.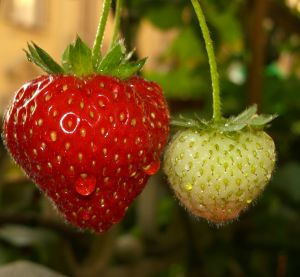 Instruction
Before you begin to plant out strawberries, to properly prepare a bed. To dig the earth and make humus.
The best time to be seated strawberries – the month of July, 20-25 numbers. In every Bush of the strawberry grow a mustache, the ends of which are formed rosettes with 3-4 leaves. It is important to remember if you decided to transplant the strawberries, in advance, for the year to mark the bushes, which was the best of all fruit. And the next year to make them masterbatch, that is, break off all the flowers and leave the mustache for reproduction. A Bush of strawberries can produce up to 30 outlets. And then you get the best planting material. Strawberries can give berries and give full shoots. Other strawberry bushes opposite the whiskers need to be trimmed so that was a full, rich harvest.
Separate the seedlings from the mother hive (it should be already with well-developed root system, and dig along with a small lump of earth. Once planted on a prepared seedbed.
After planting the plugs they should be watered from a small watering can with sprinkling method. Seedlings need to cover small sheets of paper and watered every day from watering 2-3 times during the week.
During the month of August to do 2-3 loosening the soil to a depth of 5 cm, so the seedlings are well accepted.
All summer will form a nice Bush and the following year these shoots will give a good harvest.
Useful advice
After 3 years, the strawberries need to sit down again, as the yield is markedly reduced, and the berries grow in small size. Watering strawberries need at least once a week.
Advice 3: How to pollinate strawberries
Gardening is one of the favorite activities. For some, this work provides substantial material aid and give moral satisfaction. Someone just resting thus on the nature. Quite often, loved and strongly patronized by the occupant of the houses and household plots is the strawberries or strawberry as it is often called it in everyday life.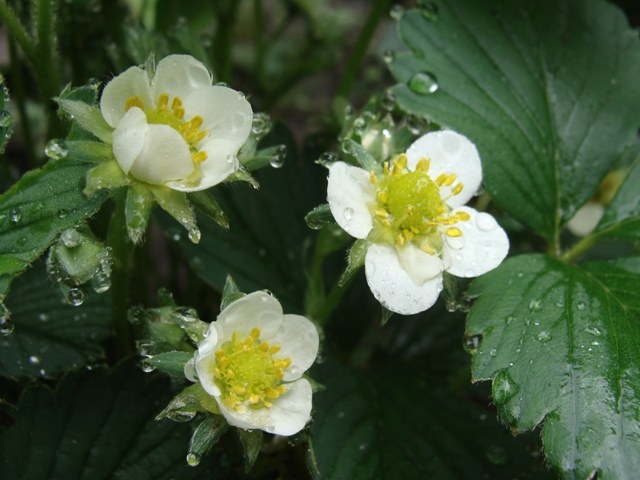 Instruction
To grow strawberries it is possible not only in the open ground. In recent years quite extensively, especially in Western countries, it is cultivated in greenhouses and insulated hangar. It is known that some vegetable crops can be successfully grown in the home, on windowsills and balconies. Thanks to the efforts of breeders, for some time, the same can be said of the strawberries. Now everyone can grow it at home year-round without huge financial costs. Of course, some difficulties and problems still exist, but they are quite solvable.
When growing indoors is artificial pollination. Flowering period depends on the variety and continued for several weeks. The flowers on the spike bloom at different times. Duration of flowering of each is from 1 to 4 days. In open plantations cross-pollination occurs by wind or insects that carry pollen. On large farms in the flowering period in greenhouses enter the hives. One family of bees is able to pollinate the plants on the area of 1000-1500 sq. m.
Of course, to use this method at home is impossible. Room or balcony farmers have to pollinate manually. If the volume of your "strawberry beds" small, you can do this is not difficult. Prep school soft brush, preferably with natural hair. Easily swipe her for each flower. Do it best in the morning and preferably during the flowering period. When growing 3-4 varieties at the same time cross-pollination improves the yield and fruit quality.
You can use a different method. Turn on the fan. Aim the air jet at the stems. It turns out almost as in natural conditions: the wind blows – strawberry is pollinated.
Advice 4: What to eat the strawberries
Strawberry – sweet and juicy berry that contains many nutrients. It enriches the body With vitamin C, iron, calcium and other elements, has a pronounced diuretic properties. It is possible, but can be combined with other products every time enjoying new taste compositions.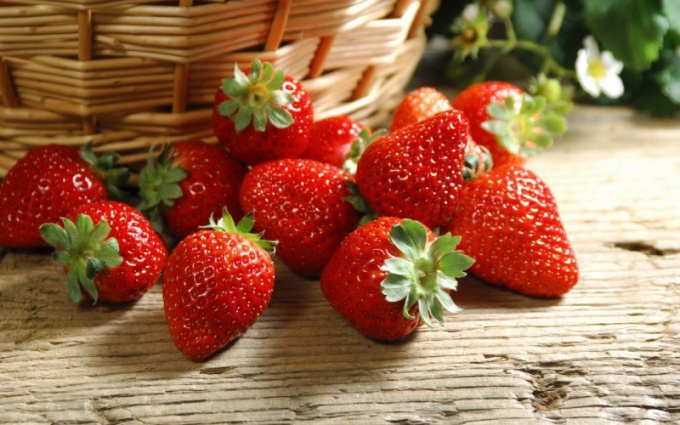 Products that are combined with strawberries
This berry is especially good in harmony with all dairy products. It is customary to add to yogurt, cottage cheese or yogurt to create healthy and tasty dish for Breakfast or snack. And you can eat it with cereal, poured milk product. The combination of strawberries with milk get some of the most delicious cocktails.
To cocktail with strawberries turned out to be more tasty, you can add a little vanilla.
Strawberries and cream has long been a classic of the genre and the best appetizer with champagne. In the absence of cream, this berry can be easy to combine with sour cream and sugar. Harmonizes well with strawberries and melted bitter or milk chocolate.
In 100 grams of strawberries contains only 30 kcal. However, any additional ingredient will make the berries more calories, especially chocolate or cream.
This juicy berry is also combined with any soft fruit: banana, kiwi, peach, apricot, cherry. And of course, you can add various berries. Not accidentally, the strawberry is used to prepare many desserts, from ice cream to yogurt and fruit salads and pastries.
By the way,
strawberries
can be added to fruit salads, but also in the ordinary. It is, for example, will always be a way in a salad of arugula, spinach, lettuce and brie cheese. And dressing for this dish can be a mixture of olive oil and balsamic vinegar.
Recipe of strawberry mousse
To prepare this dessert you will need:
- 80 g icing sugar;
- 800 g fresh strawberries;
- 11 plates of gelatin;
- 1 Cup of milk;
- 200 g cheese marzipan mass;
- 3 egg yolks;
- 400 ml cream;
- 2 tbsp. spoons of sugar;
- mint.
Eight plates of gelatin dissolve in water according to the instructions on the package. 500 g strawberries, whip with powdered sugar, RUB through a sieve and mix with the gelatin. The resulting mass is put in the refrigerator for half an hour.
Heat the milk and dissolve in it the marzipan mixture. Then add in the remaining milk soaked strips of gelatin and wipe all through a sieve. Whisk the egg yolks with sugar, add them to the marzipan mixture, stir and store in the fridge for half an hour.
Whisk the cream in a thick foam. Add one half of the cream to the marzipan cream and the other strawberry. Again remove the cream in refrigerator for about an hour. After the allotted time the blind of frozen mousse small balls and place them on a plate with the remaining fresh strawberries. Serve, garnished with a sprig of mint.