Instruction
There are many different types of suede. To determine what material is your shoes, it is difficult, which is why you should always take care of any suede shoes or boots from gasoline, kerosene, acetone and other solvents. Agree that it is better to come to terms with the stain than to damage the thing at all. In a pinch, you can try to bring the pollution of ordinary ammonia.
Suede
shoes
or
shoes
made of leather should be
cleaned
: dry, gently remove the dirt with a special brush for suede, but in no case do not wash and do not RUB it. Otherwise, the surface will remain traces. For oil stains there is a special stain remover designed for nubuck and suede.
Wearing suede in rain and wet weather. If you still were in such shoes in the rain, get ready to see through time ugly whitish stains. If this happened, coming home, stuff the shoes with paper, dry and brush. If the stain remains, you should hold the thing over the steam from the spout of the kettle. This pile is straightened, and the color of the Shoe is restored.
If you need to remove dust, use a special eraser. Thanks to him, the structure of the skin becomes roughness. But grease stains on suede should be sprinkled with talcum powder, which is a couple hours to clean off with a stiff brush.
Really dirty shoes can sometimes be washed in cool water with any powder. Wash should be wrung-out cloth to the water was smaller. Wipe the well dry with a cloth, pre-stuffed the shoes with paper.
Note
Suede and velours shoes should be cleaned of dust-clean and dry hair Shoe brush. Even suede can be cleaned with a crumb of fresh bread.
Useful advice
Often the shoes made of suede takes on an ugly look and shiny. To eliminate such defects should Seleznevskaya areas first cleaned with sandpaper and then clean stiff hair brush.
Advice 2: How to wash sneakers
New running shoes – a great incentive for exercise. However, they remain fresh for long, especially if it's your favorite shoes. To this garment not only looks tidy from the outside but was clean on the inside, it is necessary from time to time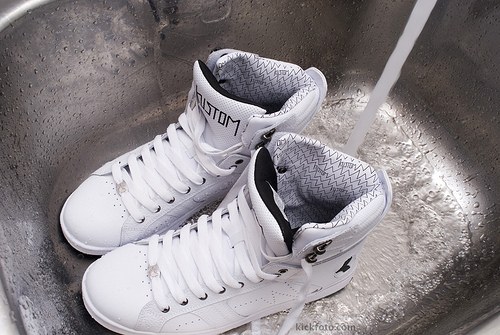 You will need
— a means for washing dishes;
— the soft brush;
paper towels;
— baking soda.
Instruction
Unlace the shoes and take out all inserts. Dirty laces can be washed in the machine in normal mode and let them air dry.
Dissolve the detergent in warm water. You can use liquid detergent and special cleaning soap shoes.
Immerse the shoes in a basin with water and RUB them inside and out with a soft brush. Rinse the shoes under running soap and use a paper towel to blot the moisture. You can throw sneakers in the washing machine, but rare manufacturer put on the label of their products, the icon allowing this method of washing. Soap and hot water easily spoil the leather or suede athletic shoes (they should be subjected only to dry cleaning).
After washing, fill the sneakers a large number of crumpled paper towels. This will keep the shape of shoes during the drying process. Leave shoes to air dry in a well ventilated area. Several times replace paper towels as they quickly filled with water. Do not use tumble drying - this can damage the rubber soles and linings.
After drying lace up your running shoes and insert the orthotics. If there are any scuffs, use special dyes and impregnation for shoes.
Pour a few teaspoons of baking soda inside the Shoe – it will absorb any unpleasant odors that may have remained in sneakers. After rubbing the inner surface with baking soda don't forget to remove it with a brush. Insoles out of the shoes before washing, should be handled separately. Sometimes it is enough to leave them out for air for a few hours. If they still smell unpleasant, it is also worth treating baking soda. Do this regularly, even if you are not going to wash sneakers in full.