Trend with a taste of freshness

It should be noted that mint green is especially great in light and soft fabrics - cashmere, chiffon, silk and cotton. If we talk about color combination, the perfect Duo for him will be akin to pastel colors - light yellow, light blue, beige, peach. Matchless mint color looks great with blue, purple and pink. You can never go wrong, if you will combine dress in mint color with white or black stuff.

For all its freshness and lightness, mint color is quite insidious if it incorrectly matched to skin tone. Brunettes should choose a dress in a bright, almost white mint color, and blondes more to the model's face in a rich mint color with shimmer in emerald or turquoise.


Mint perfection

Dresses bought embody the innocence and ease. They are good in absolutely any style. Especially a win-win look mint evening dresses of silk or chiffon. This outfit can be safely supplemented with a jacket or blazer pale pink color. Not to look quite pale, you should highlight your image with some stylish accessory that will set off the whole ensemble. Mint dresses look stunning with a thin strap of brown color.

A short dress can be supplemented with a leather jacket in the biker spirit, or denim with gold-tone hardware which perfectly set off the coldness of the mint color. If the soul asks of brightness, to pick up a dress short jackets in blue, coral or yellow. They will allow you to create rich, memorable, but not aggressive way.

If we talk about jewelry, the perfect earrings, rings and chains in white gold and silver with faux stones in a tone of mint. It is permissible to use earrings with feathers in the color of the dress and sets of several bracelets. A good accent to this dress can be contrasting shoes and bag, for example, in black. Particularly appropriate black accessories look with the dress bought for the office. Shoes and bag in Nude-beige tones will add elegance to ensemble. Add to your images a little minty perfection! Without everyone's attention you will not stay.
Advice 2: Peach dress
Peach color is very romantic and feminine, in the wardrobe of fashionistas it a clear favorite. Many people think that it is difficult to combine with other colors, but it's not. Natural and soft peach color goes well with other shades. Dresses peach color will suit ladies with any skin tone. Stylists love to combine peach color with purple, mint, brown, blue.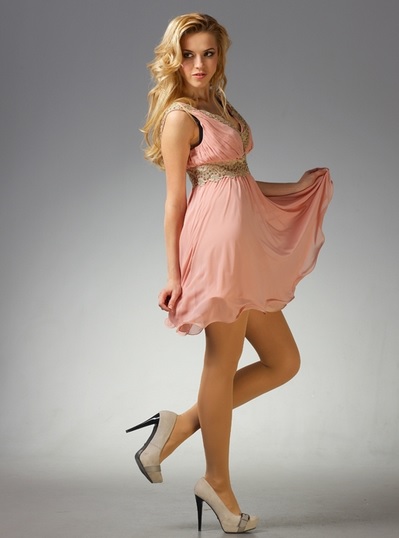 The length and material of the dress
Dresses peach color suggesting light and soft models of silk and chiffon. Flying fabrics allow you to create a soft and airy images. And thick fabric give the opportunity to create a model of restrained, but no less elegant.
The length can be any - here fashionistas a great choice. Wearing a peach
dress
can be in any case, if you correctly pick the appropriate accessories. Layer it with a cardigan or jacket to get the option to work in the office. Peach floor-length gown suitable for a traditional evening or wedding. It can be worn for New year or prom.
Accessories and shoes to peach dress
As for shoes, it is best to avoid black. Will fit much better a pair of shoes beige shade of nude. Or select shoes light blue, mint, coral color.
Now a little about accessories. Here you can choose the traditional gold jewelry or modern jewelry of different shades: coral, brown, yellow, red, green. Beads made of mother of pearl, string of pearls is a good addition to the image.
Options with which to wear a peach dress, a lot. Don't be afraid of experiments, then you will be able to create a memorable, unique way!
Advice 3: What to wear with green shoes
Choosing green shoes, the girl makes a bold and decisive step. This fashion trend is very specific that attracts attention and speaks of the brightness of its owner. To set with green shoes is stylish, spectacular, properly combine the shoes with other items of clothing.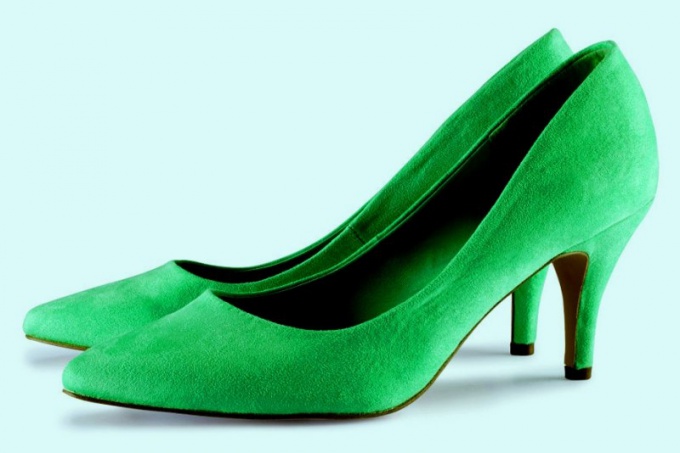 Green shoes: variety of colors and materials
Colored shoes are a bold statement. They are guaranteed to attract male attention, so the image should be harmonious and elegant. Green shoes will not forgive his "mistress" negligence, liberties and thoughtless approach.
The green color is very versatile. He refers to the natural shades and has a broad palette, from pale mint to deep emerald. This choice will help you decide on an unusual color of shoes and find the right pair for virtually any occasion.
Young girls, Amateur clubs and parties, you can choose neon shades of green. Supporters of the business style suit dark, almost black options. Casual-style easy to "take" any shade.
Selection of suitable clothes also depends on the material of the Shoe. Green shoes presented in a large range. You can easily find the extravagant models made of soft plastic, fully sprinkled with sequins or a soft velvet surface.
Shoes green: suitable combinations
The green color is very comfortable for layering. The natural shade allows you to combine it with things of various colors. But here, as we are assured the stylists have their own "classics".
Clothing white color is one of the best options for the top green shoes. In this case, you can use the accessories in the color of the Shoe. For example, to emphasize the waist strap or tie on the neck colored scarf.
The second wonderful option is all shades of gray. Shoes in this ensemble will stand out and make a part of their brightness. A great addition would be spectacular colored beads or handbag. The key element in green shoes will also be in connection with things of beige, brown, pale pink hues.
Green shoes look great in black and white sets. However, be careful: the top must be identical to the bottom. The creation of this ensemble – it is difficult, however, the cost justifies itself. You will look impressive and elegant.
Feel free to combine green shoes with bright clothes. For example, wear a multicoloured dress or top with a noticeable print. Ideally, if the colors on things will be present the identical Shoe shade of green.
Green shoes will be combined with different colored clothing. Especially if it is shade natural. For example, dare to wear bright shoes dress red, yellow or deep blue hue. Also the green shoes are perfect skirts/pants purple and orange colors.
How to combine green shoes with clothes
Interesting ideas of combining green shoes with clothes, you can peek at celebrities. For example, Beyonce combines color shoes with a yellow kit, consisting of short shorts, top and jacket. As accessories she chose a black and white clutch bag and sunglasses.
Reese Witherspoon bright green pumps complement the black-and-white dress flying silhouette. Shoes has become the only bright accent in the image: the actress has refused the jewelry, and add-ons attire became black clutch bag and belt.
A more risky way prefer singer Katy Perry. Repeat "neon out" the stars dare not every fashionista. Choice Perry fell on the bright green shoes with an open toe, same shade and lush light green top-white skirt.
Another example of a monochrome picture presented Lady Gaga. The girl preferred shoes matte leather deep emerald hue, in a tone which picked up the coat. The ensemble turned out understated and elegant.