You will need
Baked chicken breast in a sauce of asparagus:

225 g green asparagus;
50 g butter;
4 chicken Breasts;
1 onion;
50 g mushrooms;
300 ml of a smoky broth;
1 teaspoon prepared pesto;
4 tablespoons cream;
salt;
ground black pepper.
Hot appetizer in wine sauce:
300 g green asparagus;
4 chicken Breasts;
olive oil for frying;
100 g of mushrooms of oyster mushrooms;
0.5 cups dry white wine;
10 green onion;
3 cloves of garlic;
200 g olives, pitted;
50 g Parmesan cheese;
salt;
ground black pepper.
Instruction
A hearty and simple dish – roasted breast in green sauce. Prepare green asparagus. Wash it thoroughly, dry on paper towel and cut the stalks into halves. 4 of the top set aside – they will be useful for decoration of the finished dish.
With chicken
breast
, remove skin, fillet cut into portions. In a deep frying pan melt the butter and, turning regularly, fry it fillet until Golden brown. Put the chicken on a plate and keep it warm.
Onion cut into cubes, mushrooms – sliced. Add to the pan, where roasted chicken, more butter, heat it and put onions. Cook 2-3 minutes and add the mushrooms. Simmer the mixture for 2-3 minutes, then pour into the pan broth. Add prepared pesto sauce, salt and pepper, stir and put in the sauce and asparagus tips.
Place in the pan the chicken pieces, cover and simmer for 20 minutes. Remove the fillet from the sauce, arrange on a plate and put in warm. The remaining mixture, whisk with a hand mixer until smooth and boil. Add the cream and freshly ground pepper, mix well the sauce is ready. Lay the breast fillets on the plate, pour them with sauce and garnish with fresh asparagus. As side dish serve rice, roasted carrots and small cobs of young corn.
Chicken breast and green asparagus can be cooked quickly for a delicious hot appetizer. Young sprouts blanch for about 30 seconds and fry in hot olive oil. Pour into the pan with asparagus, white wine and byprivate the mixture until its volume is reduced by half. Add salt and freshly ground black pepper.
Remove the skin from chicken Breasts and cut off the fillet. Slice it into thin chunks. Preheat a frying pan olive oil and sauté plastics chicken on both sides until Golden brown. Slice the garlic cloves along thin round slices, oyster mushrooms chopped into large chunks, finely chop green onions. Sauté garlic and mushrooms in olive oil, add the onions and, stirring, cook the mixture for another 1 minute.
Put on the plate plastics fillet on top, place the asparagus in the sauce, next put the fried mushrooms with garlic and onions, and some olives, pitted. Grate the Parmesan and sprinkle the dish. Serve immediately.
Advice 2 : How to cook green beans with chicken breast
First and foremost this is a simple dish with a pleasant aroma and delicate flavor, besides, it is diet.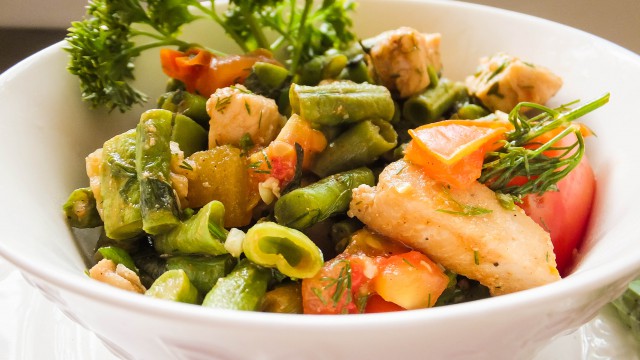 You will need
chicken breast or fillet (300 grams)
green beans (400 gram)
onions (1 PC.)
carrot (1 piece)
vegetable oil for frying
salt, pepper and other spices (to taste)
Instruction
Clean the carrots and onions, wash. Cut the vegetables into cubes.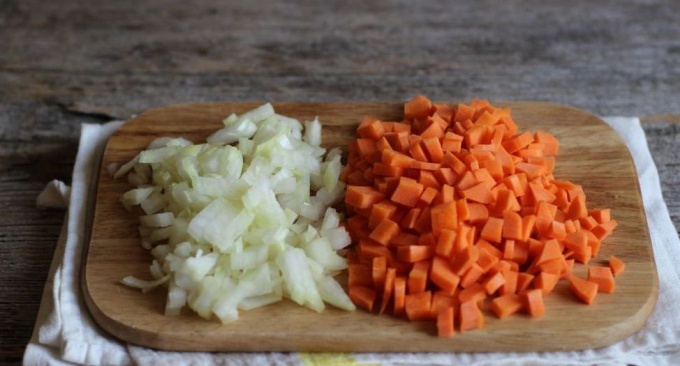 Chicken breast washed and cut into medium pieces. Fry the chopped vegetables and meat in a little oil until tender, about 10-15 minutes.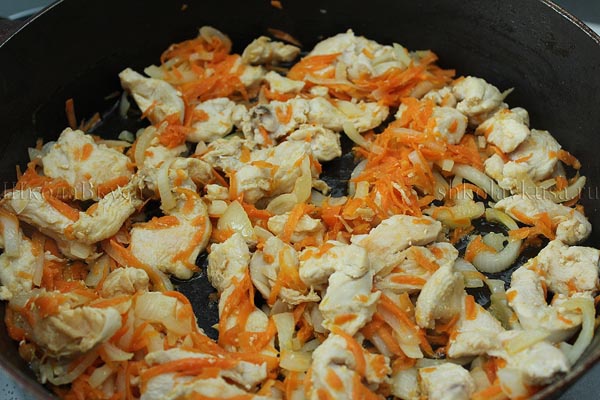 Next, in a frying pan sent the beans with a small amount of water (about 100 grams or half a Cup), stir and then add your favorite spices (optional). Simmer until tender (10 minutes).
Serve hot as a separate dish.
Our dish is ready.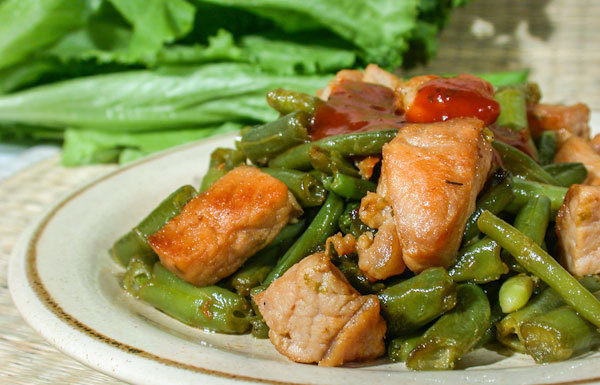 Note
Calorie content of this dish per 100 grams will be about 45-50 calories. Eat boldly, not fearing for the figure.
Green beans are rich in vitamins and micronutrients, rapidly absorbed by the body.
Useful advice
If dish begins to burn, but the ingredients are still moist, add a little water instead of sunflower oil.

To make the recipe unique and flavorful, you can add other useful ingredients.
Before serving you can add roasted and finely chopped pine nuts, if you want to give a dish a completely new and unique taste.
Added to the dish ground, ground red hot pepper is improve digestion.