You will need
olive oil 49-50 g
garlic – 4-5 cloves
coriander
dry dill
soy sauce – 50 g
Instruction
Frozen shrimp into bowl, add ground coriander and dried dill, stir, cover defrosted on the bottom shelf of the refrigerator. Within three hours, remove and leave to stand at room temperature, so they better have a sweet smell of spices.
Garlic skip through the press, put in a small bowl and pour soy sauce if you have it, add half a teaspoon of Japanese horseradish – wasabi. Mix.
Pan with high edges, heat, pour on it part of olive oil and spread in a single layer of the shrimp, sauté them with one, then with the other hand, pouring soy sauce with garlic. Prepared shrimp put on a dish, also fry the rest.
Laid out on a platter shrimp, garnish with lettuce leaves, sprigs of fresh dill, a drizzle of good soy sauce, fresh lemon juice and bring to the table.
Useful advice
When you purchase shrimp you will notice that their heads were not dark, and the tails were slightly bent inwards: this is a sign that they were cooked fresh.

Shrimp, Packed and in bulk, must not be stuck together in icy clumps, this suggests that the conditions of storage were met and they had not been defrosting.
Advice 2: How to cook prawns tasty
Royal shrimp is a delicious and surprisingly easy to prepare product. And it's a great opportunity to diversify the holiday table an original appetizer or even a main dish.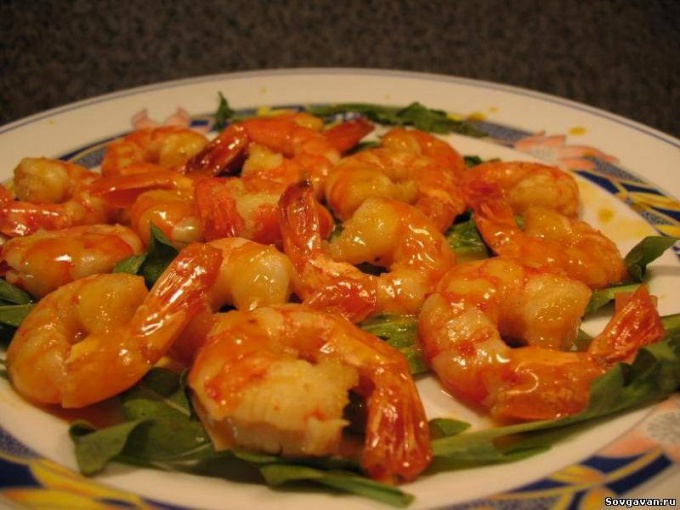 You will need
Bay leaf
the juice of lemon and lime
parsley
salt
Instruction
The most simple and common dish made of seafood - boiled shrimp. For cooking in boiling water add Bay leaf, lemon juice, salt to taste and a little parsley. Boil shrimp until done about three minutes. It is important not to overcook, as the meat can become tough and rubbery.
The perfect appetizer - shrimp salad and crab sticks. For cooking will take a little time and simple ingredients: Royal prawns, crab sticks, tomatoes, sweet pepper, onion, salt and spices to taste. Preparing a salad in minutes. All components must be arbitrarily cut, mix and fill with mayonnaise. To give the salad spice, add a little garlic and black pepper.
There are more delicious dishes, Royal shrimp with pineapple and cucumber. Start by marinating the prawns in lime juice, then fry them for several minutes. To prepare an easy side dish slice thin strips of cucumber with a sieve get rid of excess juice, peel the pineapple and cut into cubes. Place on a large plate of shrimp, cucumber and pineapple. The dish will look spectacular if it is to decorate with greenery, and the edge of the plate sprinkle with paprika or top with sauce.
This recipe will allow you to cook juicy and flavorful shrimp. Melt the butter, about one tablespoon. Shrimp salt, pepper, add a little lemon juice. Then put them on a hot frying pan and slightly fry. Then remove from the heat, add 150 grams of any beer, parsley and garlic. Place in the preheated oven and cook until tender. And how to decorate this original dish, depends on your imagination.
Impressive looking on the table skewers of shrimp. Royal shrimp peel, sprinkle with salt, add the juice of a lemon or lime. Then arrange them on wooden skewers for a few pieces. Lay the skewers on a heated pan and fry in butter for three minutes.
Advice 3: How to cook fried shrimp
Seafood is famous for its unique taste and high content of useful for the organism substances. Shrimp - plankton organisms, but eating them can not only whales.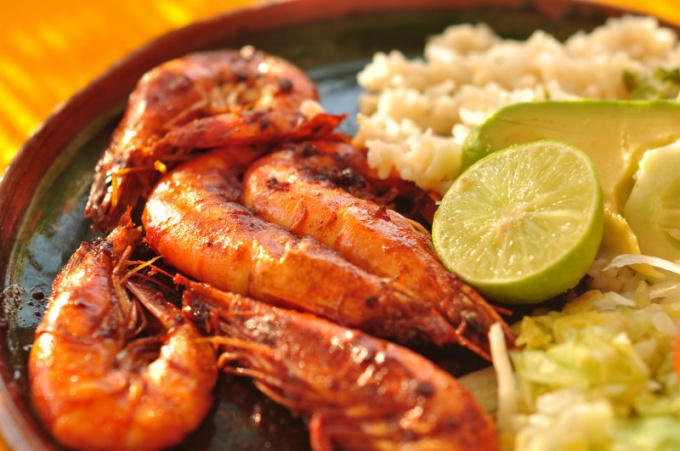 You will need
fried with soy sauce:
shrimp 500 g;
soy sauce 50 ml;
butter 30 g;
sea salt.
Shrimp with garlic:
shrimp 500 g;
olive oil 2-3 tbsp;
5 garlic cloves;
sea salt.
Instruction
Prepare shrimp. You'll need large shrimp in the shell (king or
tiger
). They can be frozen or cooked and frozen. In the first case, boil a half-liter pots of water, a little sunflower water, put a slice of lemon, a Bay leaf and a few peas of pepper. Add frozen shrimp to the water, hold on low heat for a few minutes and drain in a colander. After the water has drained, the prawns can be fried.
Cooked
frozen shrimp do not require treatment with boiling water, so you can just defrost. If you need to do it quickly, then dip them in hot water (not boiling) for a minute.
Cook shrimp with soy sauce. Heat a deep frying pan (skillet) on high heat, put into it a small piece of butter and let melt. Put in a saucepan shrimp and quickly sauté over high heat, turning constantly, for three minutes. Reduce heat and pour in the soy sauce. Stir contents of the pan, add a little coarse sea salt, cover, and hold on the fire for five to seven minutes. Then drain most of the sauce and we high heat stir-fry the shrimp for another minute.
Cook the shrimp with garlic. This combination gives a stunning aroma and taste to the dish. Take the shrimp and peel them from the shell. This can be done in several ways: you can remove it completely, leave the head and tail or only one tail. Begin to remove the armour from the legs of the shrimp.
Heat a pan and pour a small amount of olive oil, suitable for frying. Peel garlic and squeeze through chesnokodavku, add the oil. Then put in pan with prawns and lightly fry on strong fire and mix with garlic. Put on a plate, top sprinkle with sea salt.
Note
Shrimp, like other seafood, "love" lemon. You can marinate them in a mixture of olive oil, lemon juice and spices. After that, you fry on high heat for three to four minutes, and the dish is ready.
Useful advice
Try to cook shrimp on the grill. To do this, use only large species, the shell can be removed or left in place.
Advice 4: How to cook king prawns
The seafood is delicious and extremely healthy dish. Royal
shrimp
will be the pride of your table. They are quite large — up to 20 cm in length, have many delicious and healthy meat. They are extremely low in fat, so the shrimp can become the basis of the diet. In the shrimp a lot of protein, mineral salts, potassium, iodine, zinc and calcium. Thanks to this shrimp enhance the immune system and lower cholesterol.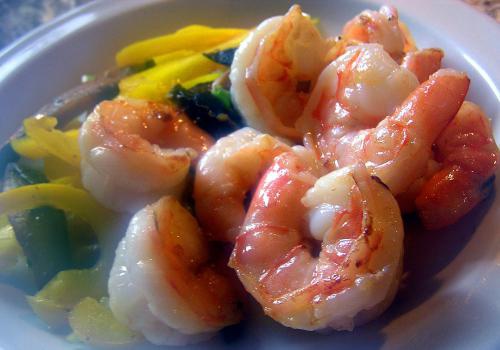 Instruction
Prawns are sold fresh or frozen. Please note that frozen shrimp can be already boiled, ready for food and raw. It is possible to do with them as well as their less majestic relatives — the usual shrimp — boil in salted water with spices. But, in our view, such a luxury product requires more festive meals.
To cook the prawns, first marinate them in a special sauce. To do this, mix in a bowl the olive oil, soy sauce, chopped garlic, herbs (to give sharp taste is ideal thyme, Basil, coriander, you can take the mixture "Provence herbs"), black pepper and salt. It would be better if the pepper you can grind yourself — larger and more fresh grind will give your marinade a wonderful flavor. Mix all marinade ingredients in a large bowl. The consistency should be fairly thick.
Prepare shrimp. Clean them from the shell, separating and also legs. Some Housewives leave the shrimp tail, for it is then convenient to take hold — that is, of course, if this dish is for eating with family and not on the Grand reception. If you have a celebration, and remove the tails too, the dish will eat with a fork, and the remaining tails look sloppy on the plates.
Marinated king prawns are not very long — otherwise they will lose their natural flavor of the seafood. Soaking them in the marinade, do some further preparations. Prawns can be cooked like on the grill or on the pan. Each method has its advantages and proponents, you can try out both. Heat a pan with a small amount of butter or prepare a baking sheet for grilling. Carefully remove one shrimp from the marinade and put it for frying.
It is important to select temperature and time of frying. Pan should be hot. And fry the shrimp need 7-8 minutes. If dry dish, meat camp, tasteless.

On a large plate put lettuce, place them on sauteed shrimp. Decorate the dish with greens and a slice of lemon.