You will need
Butter - 2 packs
Wheat flour - 5 tablespoons
White wine - 2 cups
Garlic – 1 head
Onion – 2 pieces
Butter – 300 g
Instruction
You need to clean the stomach and intestines of the snails from the plants that they could eat before they were caught. Rinse them under running water and make sure they are all alive. Put in a large metal pan, cover and leave for three days, periodically sbryzgivaja their water so they do not fall into suspended animation. On the first day of the pour in a pan 3 tablespoons of flour, in the second – half, in the third, do not feed them at all.
Rinse the snails well in cold running water, add to the pan, sprinkle with lemon juice, cover with cold water and place the saucepan on the fire. After boiling, boil them for 7-8 minutes.
Drain the water and a small fork, remove snails from shells. Sink rinse, put in pot, fill with soda and salt, bring to a boil for an hour, then wash them from the sand and place on paper kitchen towel to dry.
Snails with scissors, remove the intestines, leaving one leg. Put them in a saucepan, place the onion, season with salt, cover with water mixed with wine and cook 1 hour on low heat.
In a blender chop the onion, peeled garlic cloves and a bunch of parsley, all mix into a puree very finely, the sunflower. Butter room temperature, fluff with fork and mix lightly whisking with the contents of the blender bowl.
The water from the pan, drain the snails, the snails cool. In each shell put a little oil with herbs, then boiled the snail and top shell seal another portion of butter, fold them in containers with lids and put in the freezer.
When you are going to file them on the table, heat oven, in a baking pan pour a layer of coarse salt, cover it with a foil sheet and put him snails up the oil plugs, making small holes in the salt, so the shells turned over. Place the mold in the oven and when the oil boils, take it out, serve the snails on the table directly in it, so they stayed hot.
Useful advice
The snails are well suited to white wine, which they were prepared.
Advice 2 : How to cook grape snail
Helix pomatia, inhabitant of gardens, parks and forest edges, widespread in southern Europe. In Italy, Spain and France, this clam has long been firmly established in the daily menu. At the tender escargot meat contains 10% protein, 30% fat, 5% carbohydrates, vitamins B6, B12, iron, calcium and magnesium. On our table this mollusk is a rare guest, the dishes are unusual and elegant, associated with the holiday table. Snail shells decorate the table, and thanks to French or Italian sauces this dish into a real delicacy.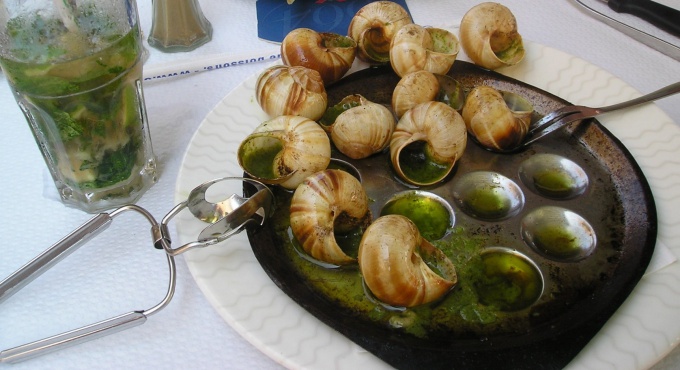 You will need
For snails in sour cream:

1 onion, shallot;
100 g Parma ham;
2 tbsp. butter;
36 canned snails;
1 tbsp flour;
5 tea spoons of brandy;
2 tablespoons sour cream;
egg yolks;
lemon juice;
salt and white pepper to taste;
4 Cup puff pastry;
2 pen green onions.
For snails with almonds:
12 canned snails;
12 of snail shells;
3 tbsp. butter;
3 bulbs shallots;
1 clove of garlic;
1 teaspoon chopped parsley;
1 teaspoon of grated Parmesan;
1 teaspoon of chopped almonds;
salt
freshly ground white pepper.
Instruction
Snails in cream
Chop finely the shallots and ham thinly slice. In a saucepan saute the onion in butter until Golden brown, add the ham.
Drain the snails in a colander, drain and add to the mixture. Mix well and lightly sprinkle with flour, pour in the brandy and add the sour cream. Mass heat on low heat and stir until then, until it becomes a homogeneous thick sauce.
Remove the pot from heat, add lemon juice, salt and pepper. Green onions finely chop. Cups of dough a bit, preheat the oven, evenly fill the resulting mass and garnish with the green onions.
How to make cups out of puff pastry. Cut from ready-made puff pastry an even number of circles with diameter 5 cm Glass smaller half circles make rings, then brush them with egg yolk and stick to mugs. On top again, brush with yolk and bake 15 minutes in the oven at a temperature of 220оС.
Snails with almonds
Rinse snails in hot water, place on towel and allow to dry completely. Finely chop three onions-shallots. Butter RUB with chopped shallots, crushed garlic and chopped parsley, season with salt and freshly ground white pepper to taste.
Drain canned meat of snail in a colander, allow to drain all the liquid, save it. Grate Parmesan on a small grater, finely chop almond kernels, mix Parmesan and almond crumbs.
Pour into each sink of about 0.5 teaspoon of the saved liquid, then put canned snail and a little butter with herbs to fill the sink. Dip each shell with the open end in a mixture of Parmesan and almonds, then put them in a baking dish. Place the shell so that the melted butter does not leak when baking.
Preheat the oven to 250ºc, bake the snails in the oven until then, until the oil hissing, about 3 min. Baked snails better serve straight from the oven.