You will need
400 g of pork loin;
1 orange;
a half of a lemon;
black pepper;
1 clove of garlic.
For the lamb loin:
500 grams of meat;
1 tbsp of pomegranate juice;
pomegranate seeds;
black pepper;
salt;
1 teaspoon of starch.
For pork loin:
500 grams of meat;
1 small onion;
1 lemon;
vegetable oil;
black pepper.
Instruction
Select the meat you intend to marinate. For faster preparation of suitable pork loin - less time will be spent on marinating and heat treatment. For a variety of Oriental dishes will fit the rack of lamb. The same delicacy can be called
loin
of lamb, which is actively used in Haute cuisine. Meat is better to buy chilled at the market. In this case, you will be able to cut as required for your dish. However, good meat of this kind can be purchased in the meat Department of some supermarkets. especially be careful when buying mutton - fat if it is yellow, that means the meat is old and tough enough. Choose only those dishes where it will be a long braised or baked.
Make a marinade. Its composition will depend on the type of meat and your taste preferences. For example, to loin a young calf squeeze the juice from the orange. A glass of juice mix with grated on a fine grater zest of half a lemon and orange, add a few sprigs of fresh or dried rosemary, and crushed garlic clove and ground black pepper to taste. Pour the mixture in the loin and refrigerate for five to six hours. After marinating the meat lightly fried and then baked in the oven with potatoes.
Lamb is well suited pomegranate marinade. Because to make your own pomegranate juice may be difficult, buy ready, but always natural and without sugar. Have loin into individual pieces so one piece had more than one rib bone. Pepper the meat and pour the pomegranate juice so that it covers the pieces completely. Leave it like this for 2-3 hours. Then fry the chops in vegetable oil and bake in the oven at 200 degrees for 5-10 minutes until tender. Of the remaining marinade, prepare the sauce. Boil juice and add a little starch for density and pomegranate grains. Add salt and pepper to taste.
Pork loin
marinate
in the lemon juice. To do this, add to it an equal amount of vegetable oil, sliced onions and freshly ground black pepper. To this mixture place the pork loin and leave it on for a couple of hours. Then it can be prepared according to standard recipe - fry first and then bake. Also, instead of baking it to simmer in the pan until cooked.
Advice 2: What is a pork loin and how to cook it
Pork – one of the most popular types of meat in Russia. Few people know that using the right piece of pork to prepare certain dishes gives a big win to their taste.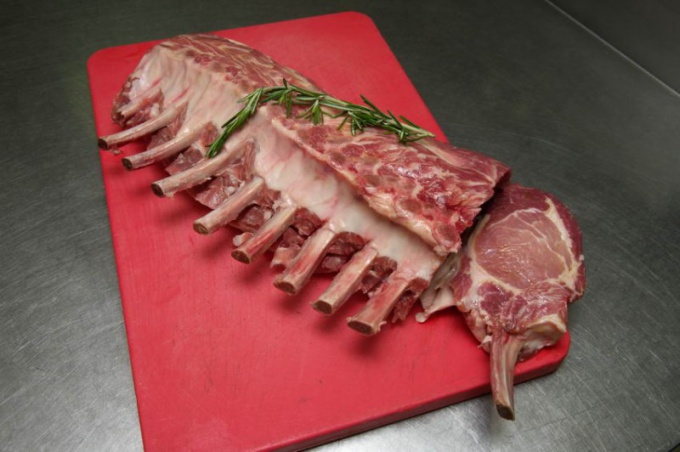 Pork loin is a long back muscle located at the outer part of the spine on either side. A distinctive feature of this meat in appearance is its shape – the right long piece that can be placed on the rib bones or the bones can be removed from it. This part of the pig carcasses is low in fat. So, pork loin is one of the dietary choices of pork that you can imagine. From the loin you can cook a large number of very delicious dishes.


Chops chops


Ingredients:

- pork loin – 500 g;
- bread crumbs – 1/2 Cup;
- chicken egg – 1 PC.;
- vegetable oil;
- salt and black pepper to taste.

Beat egg with salt and black pepper. Pork loin cut crosswise into slices thickness of 1,5-2 cm, Slightly to beat off on each side (no need to recapture to fine condition). Each piece of dry cloth, dip in beaten egg and roll in breadcrumbs. Heat vegetable oil in a pan, put the resulting patties. Fry both sides until Golden brown. Total frying time is approximately 15-20 minutes. Serve with vegetables and mashed potatoes.

To when hitting meat with a hammer the juice and small pieces are not scattered around, the slices need to put on a cutting Board and wrap with cling film.


"Accordion" from the pork loin


Ingredients:

- pork loin – 500 g;
- hard cheese varieties – 200 g;
- tomatoes – 2-3 pieces;
- black pepper;
- dried garlic.

Pork loin wash, dry cloth. Then the piece of meat you need to make cross cuts, not cutting through. The distance between the incisions should be about 1 cm of the Meat should be rubbed with black pepper and dried garlic to taste. Cheese cut into plates with a thickness of 3-5 mm. cut the Tomatoes into thin rings and season with a little salt. To invest into each slit in the pork on a slice of cheese and a mug of tomato. The resulting accordion-wrap in foil, place on a baking sheet and place in oven preheated to 180oC. Bake for an hour.

Do not be afraid to add to the pork chop cheese and tomatoes – they give piquancy and it will help of lean pork meat to remain juicy and tender.

Some of the best and most nutritious side dishes for pork are potatoes and rice. Potatoes can be boiled, fried or baked - it all depends on taste preferences. For those who follow the figure and restricts the consumption of potatoes, you can boil the rice. As a very lightweight but at the same time delicious side dish, perfect sautéed vegetables or a stew.