You will need
Garden tools, fertilizers, seeds, seedlings
Instruction
First and foremost, consider the location of the plot since then to change it will be much harder. Deep sparite land for future vegetable garden.
Then plan the beds. High plants should be located to the North, low South.
In autumn prepare the soil for future crops. Using the test devices you can easily determine the acidity level of the soil and which nutrients it lacks. If the soil at the site was too sandy, it can dry up plants; in this case introduce organic materials to create soil that will hold enough moisture. If the soil is clay, water can be trapped, then the plants will rot. In this case, add sand, which will help to reduce excess moisture.
For natural fertilizing of soil, use compost, manure, lime, peat moss, sawdust. Evenly spread fertilizer on the garden. Fork mix the soil and fertilizer. You can then smooth the surface of the beds with a rake.
To hard for growing vegetables usually include peas, Brussels sprouts and cauliflower and celery. More or less simple require care asparagus, rhubarb, the Welsh onion, beans, beets, broccoli, lettuce, zucchini, turnips.
Early vegetables (radish, onion, greens) can be planted directly into the ground in early spring. To water the beds have warm water and to cover the film before the termination of frosts.
Most vegetables are first planted in the room – prepare the seedlings. The seedlings to a permanent place can be planted in late may.
Peppers, tomatoes and eggplant grown in greenhouses. Cucumbers, zucchini, beets, carrots, cabbage in open ground.
Cauliflower does not tolerate too high and too low temperatures. Potatoes need loose soil.
Sweet peppers require high soil temperatures and large amounts of moisture. Carrots are good to put near the bow, which protects it from carrot fly. Cucumbers should be watered with warm water, the water temperature should not be below 18-20º. Beets require frequent watering, and the tomatoes - moderate.
Useful advice
The garden needs to give more than you require. This applies to both the monetary and labor resources. Do not allow a situation when the garden manages you, not you to them.

Plant several varieties of one plant and learn which brand gives you the most delicious and rich harvest in the conditions of your site.
Advice 2 : What to plant in the garden
The people with the plots, sometimes tend to plant a vegetable garden with different crops, herbs and berries and make a huge flower gardens and flowerbeds. But it's worth to think about planting some vegetables and fruits, because in the store you can buy products stuffed with chemicals, and their vegetables are always more useful and better.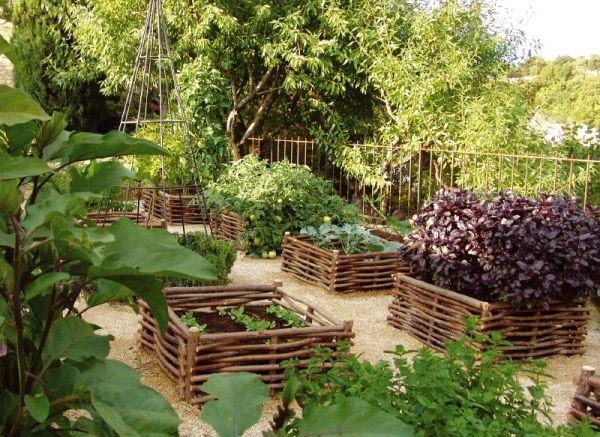 Instruction
First of all, think that you will be able to grow your own. Consider the size of your site and its location. Remember that some plants do not tolerate sun, and others will not tolerate the blackout. Let's say your plot is in shade, the solstice is equal to 3-6 hours, I will plant beets, radish, cabbage, pumpkin, celery. These plants are not very fond of heat and light. If your site is lit well enough, put the tomatoes, cucumbers, eggplants, peppers.
Very much depends on the soil type. For example, you have a plot of light sandy soil. In this case, you will plant early maturing crops (squash, zucchini, pumpkin and others). The reverse situation (in the garden is dominated by heavy clay soil) will stop your choice on late-maturing crops (tomatoes, cucumbers, beets, garlic).
Also you should start from your experience. Let's say you believe that it is not enough. Then plant those crops that are easy to grow and care for them. These include pumpkin, beans, beets, radishes, zucchini, etc. Experienced gardeners can try to grow tomatoes, peppers, cauliflower, celery, and other crops.
Pay attention to the size of the site. If it is small, it is not necessary to plant potatoes, cabbage. These crops you can buy in the store at any time of the year for a low enough price. Try to use mixed planting, that is one garden will plant some crops. In this case, note that some fruits and vegetables can not
be planted
next to. For example, in any case not to plant watermelon and potatoes paired.
In the garden you can place the shrubs. Purchase the seedlings of sea-buckthorn berries, this berry is very useful, it can be frozen for winter in the freezer. From sea buckthorn have a delicious jelly, which is rich in vitamins. If you suffer from high blood pressure, plant a honeysuckle, because this berry is perfectly lowers blood pressure, it also strengthens the walls of blood vessels and improves their elasticity.