Instruction
For a birthday or anniversary.
Here you can use variety of ribbons, lace, beads. If the birthday girl is young, mischievous add bright colors to the design, for example, attach to each bottle a bright ball on a string. Instead of labels and attach a beautiful bow made with your own hands (in the extreme case you can buy in the store). You can come up with the design depending on the hobby or Hobbies of the birthday boy. For example, if a person engaged in Boxing, hang on the neck of a small Boxing gloves or a t-shirt and shorts.
Anniversaries often change the label on the champagne. Using programs that edit images, create your label: for example, the celebrant Petrov certainly will love "Petrovskoe sparkling wine, created from the best plantations horticultural society "Spark", of course, with a photo of the celebrant.
At the corporate event.
It all depends on the profile of your company. Depending on this, you can "play" with the names of champagne and also make new labels. The construction firm will place the bottle into the well, designed (or painted) brick, but bakers often spread around the bottle brushwood or roses made of bacon. The thing in your imagination. Even just the bulbs, colorful ribbons and bows will look beautiful.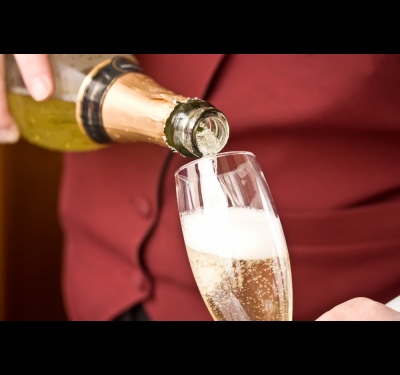 For the New year.
The new year is a time of miracles, a time of the most warm wishes. And to prepare for it in advance. Agree, under the chiming clock is much nicer to open the champagne with the label "All is well" or "May the New year bring you happiness!". Decorate the bottle with snowflakes and "snow" a fringe of wool or lace, obviate serpentine, or tinsel rain. And of course, don't forget about Santa Claus and the snow maiden. They can also be manufactured as a very symbolic red and blue sheath with caps. Well, I was also put on the neck of the toy on the magnets or rubber bands – animal, symbolizing the coming year (sold in specialized stores).