You will need
- treat for dogs;
- the leash.
Instruction
Dog training best to start from puppyhood and lead from the simple to the complex. For testing teams stock up on some dog treats. First, teach your dog respond to the name. When feeding, during the game, when you caress, stroking your pet, call him by his name. Don't call a nickname, if want to scold the puppy. Never say it in a harsh tone. Very soon the puppy will get used to associate it with pleasant emotions.
To teach the dog the command "sit", take the left hand piece of bait. Raise it above the dog's head. The animal must know that you are there. Right hand press on the back part of the dog, trying to sit. Say "sit". Village - praise, give treat. Repeat 5-6 times. Once your pet begins to sit down myself, take a treat in your right hand. Do not show it to the dog. Lift it up over her head your left hand, give the command "sit". The village – to feed.
Teach a Chihuahua to do the command "down". First, say "sit". Take a piece of Goodies and pull the dog so that it is stretched forward and slightly down. Command "down". Click on her withers, trying to sleep. Went to praise, pet, give treat.
Say the command "give paw" and themselves take in hand the paw of the dog. Praise, pet, give feeding. The dog will quickly understand what to do.
Best team "to me" the puppy develops in 7-16 weeks. Hail him, give the command "come". Came – praise, give treat . To run off a little to the side to get his attention. He comes himself. Again to take a long leash. Command "to me" and pull the dog leash. Give it something tasty.
Team "fu" is prohibitive, requiring unconditional obedience. Not encouraged, pronounced in a low voice. Repeat the command, say threatening tone. If the puppy is small, act gently but persistently. To prevent any of its unwanted effect, say "fu" and move the puppy to another location. If you do not wish to obey, distract him with a loud unpleasant sound, uttering at the same team. Adult dog can be off leash or slap. Prohibitive the command "fu", "no", which is essentially the same thing, should be used strictly in the moment when the dog does something unlawful, but not later.
Advice 2 : How to train a Chihuahua
Chihuahua - breed is very ancient. Her ancestors lived at the time in Mexico and was worshipped by tribes of the Maya. These dogs were popular, their image is still preserved on the stones in the monastery of Huejotzingo. Since then, of course, the Chihuahua has changed. Now this is a tiny dog with large ears and expressive eyes. They are both smooth-haired and longhaired. The training of these dogs has its own characteristics that must be considered to all owners.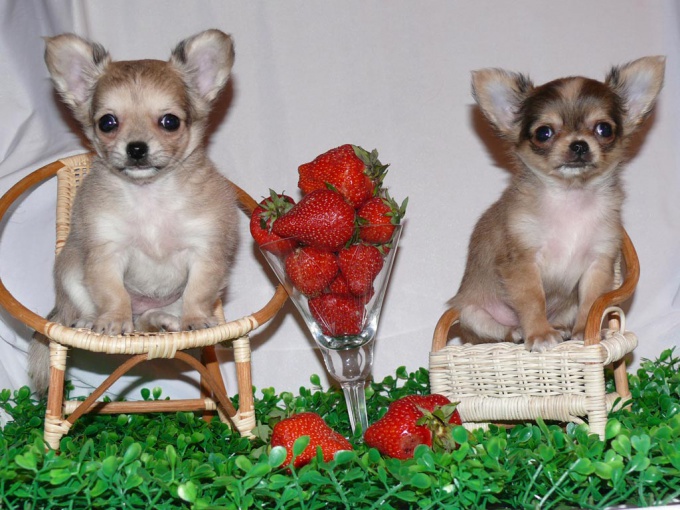 Instruction
Training best lend themselves to Chihuahua puppies, ranging from two and half to three months. It used to take babies from a breeder does not make sense. Chihuahuas are quite gentle dogs used to separate them from the mother is not necessary.
Bringing a puppy into the house, give him time to adapt. Treat him gently, but it does not bother the baby. Distribute schedule so that the dog has had time on the game, and adequate sleep and rest.
The first command you need to learn the puppy's own name. He needs to understand that when the owner pronounces his name, it is necessary to distract from all the classes and listen carefully to what he says.
The baby used to the nickname quickly learn it before eating. Put on the floor a bowl of tidbits and call the puppy by name. He will run up to you.
Three or four days of this training will give excellent results. The puppy will definitely learn their own name.
Chihuahua - dogs compact. And their puppies - very tiny. Bring them to the administration of natural needs outside not necessarily.
To teach a puppy to defecate in a litter box, you need to start with toddler area where he could run around and celebrate natural needs. This can be a fenced off part of a room or a small cage. The floor was cover with newspaper. Every day remove the part of Newspapers, leaving one marked dog.
Then put in the corner of the cage tray and put tagged with puppy paper. So baby realize that going to the restroom there. Let the little Chihuahua a few days will live in the cage to secure the skill. As soon as puddles in the wrong places will not, it can be released to run throughout the apartment.
Then teach the puppy the command "fu", "no", "me". These are the basic lessons that have to remember the baby. All the others - "give paw", "sit", "lie" and so on, are taught on request. Chihuahua - decorative rock and not official, so train a large number of teams not necessarily.
Most importantly, remember that your little Chihuahua is very fragile. When training or treat it very carefully. Any wrong move can hurt him. Therefore it is better to act firmly, but gently, in any case without using force.
Advice 3 : How to educate a Chihuahua
Chihuahua – a small lap dog is more like a toy. But this should not mislead you – like any dog, the Chihuahua needs nurturing. The proper education of the dog is, first and foremost, her safety and your peace of mind. And it should start with the first day in your house, this funny, cheerful ball of energy.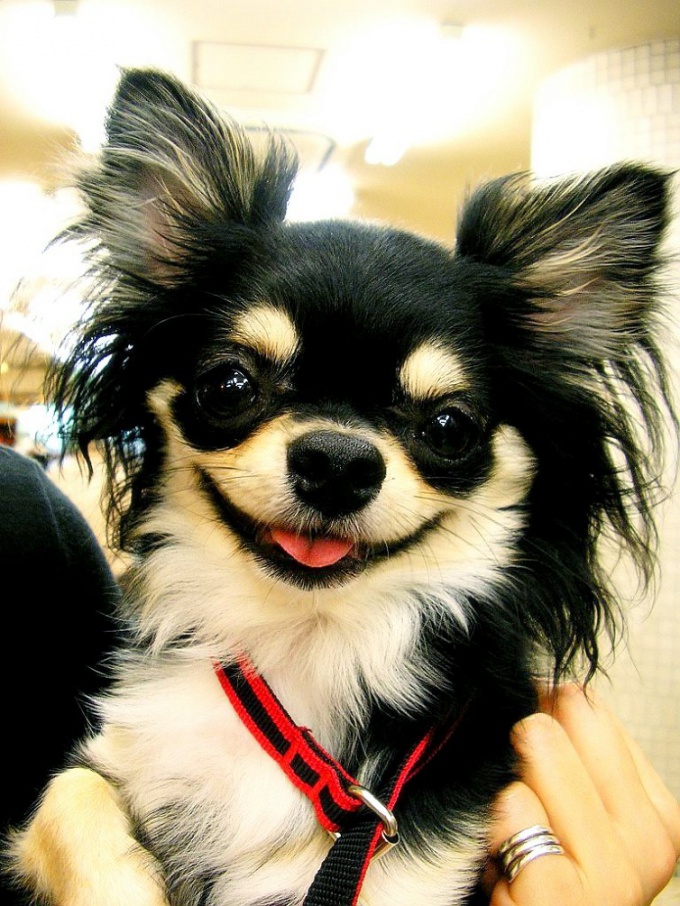 Instruction
Of course, this dog is not required to complete a full course of study, as do offices, hunting and fighting dogs. The minimum necessary for her to know his nickname, a place to be able to walk in a collar on a leash without him, not to beg for food at the table and not to pester other people, to know the commands "come", "Next", "Fu", "no". In addition, she needs to be potty trained.
The nickname and its place, usually, the puppy begins to realize almost from the first day. Chihuahuas are very intelligent kids and almost immediately begin to respond to spoken aloud his name. But training will go much faster if his success will be supported by a small piece of something delicious. It can be an Apple or unsalted pretzels. And caress, each run should be encouraged with gentle voice and stroking the puppy.
This dog is a very important social adaptation, so she was not fearful and hysterical. So start walking her immediately three weeks after revaccination. In the cold weather to walk with her, hidden under a jacket, but the head of a Chihuahua must be protruding. Earlier acquaintance with the outside world is beneficial for the normal development of the psyche of the dog. To benefit he will go and meet the other dogs of the same small size.
It is easy to train him and the command "come", her say, when his name is on feeding, and just beckoning, stimulating obedience treat. No matter how adorable it may seem to you the puppy, teaching him commands, say them loud and clear. Not punctuated by words of command diminutive nicknames and other words, distracting the dog from its essence.
Will definitely teach the dog, so she calm when her hands are, after all, her fall could result in injury. Teach her the command "no" to natural curiosity did not disappoint the dog. To do this, use a sharp, but not strong tension on the leash, stern voice. To suppress her attempts to bark, even if the reason for doing this, otherwise you risk simply to become deaf from her ringing bark that will accompany any manifestation of feelings.
Teach your puppy Chihuahua to do a handstand on a table, to show his teeth, calmly respond when his brushing, inspect the ears, eyes.