You will need
- carrot;
- cucumbers;
- tomatoes;
- greens;
- vegetable oil;
- celery;
- apples;
- chicken eggs;
- garlic;
feta cheese;
- butter;
red, green, yellow pepper;
green onions;
- ginger;
- potatoes;
Spezia.
Instruction
If you want to keep in the Beijing cabbage like many vitamins, it is best to add it fresh to any salad, seasoning it with vegetable oil, sour cream or mayonnaise. It goes well with many of the most common we have vegetables, including tomatoes, cucumbers, sweet pepper, onion, carrot, radish, and apples.
For example, you can prepare the salad with carrots: grate carrots, cut into julienne cucumbers and Chinese cabbage, and tomatoes slices; all this mix in a salad bowl and add the salt, pepper and butter for the filling (can be olive oil or sunflower oil), sprinkle with herbs.
If you like celery, try to make more interesting the salad: clean and cut into slices small Apple, celery (two stalks) and half mild white onion strips, tear with your hands the leaves of Chinese cabbage and sprinkle with lemon juice. Then mix two chopped tomatoes, season with sauce for salads and place in a bowl. Decorate the salad with two halves of boiled eggs.
Cabbage can be stuffed or to make her cabbage rolls. For example, take and chop the garlic clove, mash 200 g of cheese with the same amount of cream cheese, all mix into a homogeneous mass. Wash and cut into small cubes sweet red halves, green and yellow peppers. Add this and 100 g of black olives to the cheese mass and mix thoroughly. Cabbage cut in half, put each half cut down and carefully prizing the leaves, put the filling in a thin layer. Then fold the two halves together and tightly wrap them in cling film. Put it in the fridge. Two hours later your dish is ready.
Like cabbage, Beijing is very good in the form of sauerkraut. If you like spicy food, try to make Korean kimchi. Know over a hundred different recipes. Here is one of the most common ones. Take a pound of Chinese cabbage, separate the leaves and sprinkle with salt. Then pour a liter of cold boiled water and leave for 8 hours in a cool place. After that, the leaves, rinse and squeeze. Now you need to prepare the seasoning of these ingredients: one tablespoon of finely chopped garlic, ginger, green onions and salt, two teaspoons of finely chopped red pepper (dry) and sugar. Seasoning, place in a large bowl and pour half a liter of boiling water. Add cabbage, cover and leave in a cool place. After two days, drain the liquid, and may try.
Delicious Chinese cabbage also in soups. For cooking make chicken broth. Dice the carrots and toss into the broth, then add potato, shredded cabbage and at the end of cooking, dill, green onions, spices.
Advice 2: What to cook from Chinese cabbage
Chinese cabbage, also known as China, has a pale light green tender leaves with crisp, broad, white ribs, gathered into a tight elongated head. The taste of the cabbage is tender, soft and slightly sweet, it goes well with meat, poultry, vegetables. Chinese cabbage is prepared hot and cold dishes.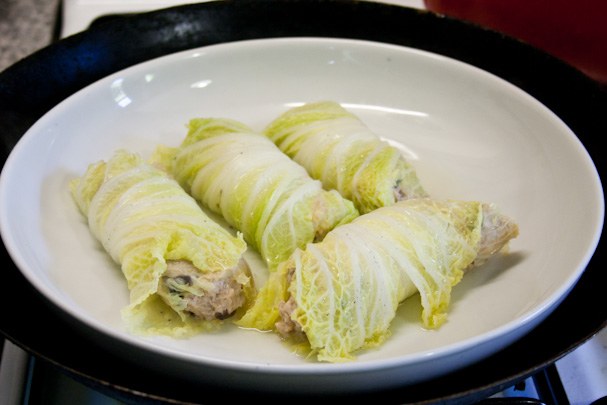 How to prepare cabbage to cook
Take a head of Chinese cabbage remove the upper leaves also get rid of the yellowing or dry leaves. Cut the cabbage lengthwise in half. Rinse and thoroughly dry.
If you want to stuff it, cut only the lower quarter and consider the remaining cabbage leaves. Otherwise, cut top half in half again, but lengthwise and finely chop. The lower part of the cut lengthwise into quarters and cut off the hard bottom obliquely. Remove the hard ribs, and also shred the leaves. Cabbage ready for cooking.
Choose fresh and firm, heavy heads of cabbage, without the withered leaves and mold. Small black spots on the leaves normal for Chinese cabbage.
What can be made from Chinese cabbage
Tender leaves of Chinese cabbage make a tasty fresh rolls, you can also wrap the filling in them and cook as cabbage rolls, put out in tomato sauce.
In Korea of slaw serves spicy kimchi. To do this, a few cups shinkovanny leaves pour tablespoon of sambal hot sauce, three tablespoons of rice vinegar, chopped 3-4 cloves of garlic and a pinch of salt. Kimchi mix, leave overnight in the fridge and then served to the table.
You can store Bok Choy a few weeks in the fridge if you wrap unwashed lettuce in plastic and put in the vegetable Department.
You can cook cabbage same as cabbage - stewing, add to casseroles and soups, but greatly reducing the cooking time, as the leaves of Chinese cabbage are more delicate. Add shredded cabbage to vegetable salads, it will create a nice juicy texture and is slightly crackled on the teeth.
Cabbage can be frozen, pre-blanshirovat leaves in boiling water.
Cabbage is a frequent constituent of Chinese rolls and pancakes. It is placed in the filling along with pieces of shrimp or chicken, rice noodles, finely chopped carrots. If you put the Chinese cabbage in vegetable or chicken broth, slightly warm, you will get a delicious low-calorie soup.
If you mix cabbage with boiled rice, chopped onions, crushed garlic, sesame oil and flakes of hot red pepper, and then bake in a preheated to 170оС the oven for a delicious vegetarian casserole.