You will need
cabbage
the flesh of pork and beef without bones
sausage hard-smoked
sausage
allspice
red hot pepper
sour apples
onions
pan with thick bottom
Instruction
Rinse pork and beef, remove the tape. Dry on paper towel and roll in the spices and salt. Quickly fry in hot pan to form a crust. Pieces
of meat
, fat and juice from the pan put in a saucepan with a thick bottom, add the boiling water and place on low heat. Cover and simmer until tender. If necessary, add water so the meat does not burnt.
Remove the damaged upper leaves of fresh cabbage. Cut the cabbage into four pieces and remove the stalk. Shred cabbage in thin long strips, place in a colander and scald with boiling water. Pickled cabbage chopped in large pieces.Put the fresh and pickled cabbage in a saucepan, pour a small amount of water. Add meat juices that are left over after stewing meat. Cook cabbage for 45 minutes.
Cut meat and sausages into large chunks. Sausage hard-smoked cut into cubes or thin roundels. Remove the apples seeds and cut into pieces.Prunes without pits, cut into narrow strips.
Boil some dried mushrooms in a small amount of water. Pour the mushroom broth to the cabbage, and chop mushrooms into the noodles.Saute the onion in a pan until Golden brown.
Put to the boiled cabbage, apples, mushrooms, prepared meat products, fried onions and prunes. Add sweet and hot peppers, salt to taste. Add dry red wine or a little tomato paste.Bake for another three hours, until dark brown.
Note
When you cook cabbage, don't forget to stir so that the cabbage is not burnt.
Useful advice
To extinguish can only be sour or fresh cabbage. As you like.

The longer the cabbage is cooked, the better it tastes. A real bigos is cooked for 3 days, every day is stewed for hours.
Advice 2 : How delicious to put out the cabbage
Braised
cabbage
belongs to the category of low-calorie dishes and perfect for those who want to lose weight or just stay fit. It is good as a garnish, and as a separate dish.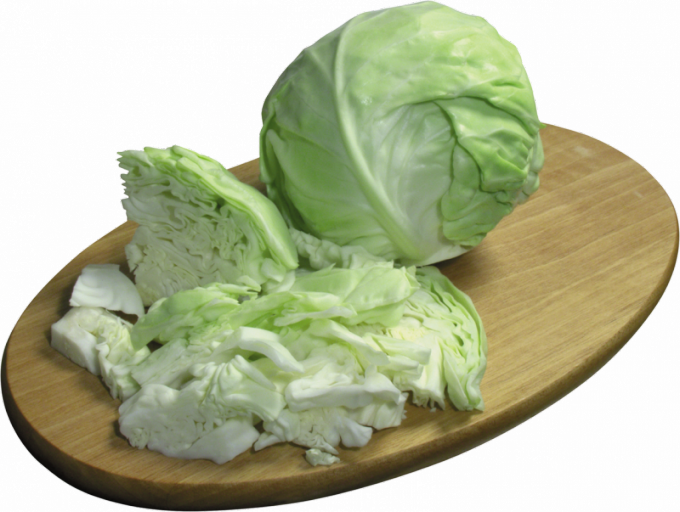 You will need
onion 1 PC.;
tomato paste 1 tbsp;
oil for frying;
salt.
Instruction
Have a head of cabbage. Remove the top leaves and discard them. Cut the cabbage in half, then each half into two parts. Cut out the stalk (of solid base). Slice each of the four parts of the thin strips. The smaller the band, the softer and milder it gets finished dish.
Clean the onion (if you take a small, it is better for two pieces), rinse in cool water. Slice the onion into half rings.
Preheat on high heat a sauté pan (deep pan), add a couple of tablespoons of vegetable oil and fry the onions until soft and Golden brown. Reduce heat and add to the pan
the cabbage
.
Take a large bowl and pour in it boiling water, add one - two tablespoons of tomato paste and stir until dissolved.
Pour tomato liquid, cabbage, salt and mix. Close the saucepan with a lid and leave on low heat for half an hour. After this time, open the pan, mix the cabbage , then leave to stew. Total cooking time is approximately fifty - sixty minutes. Readiness is determined by the softness of the cabbage.
Diversify braised cabbage by adding a variety of products. You can surprise your loved ones by making this dish even tastier and healthier. For example, add the thinly cut elongated strips of bell pepper (to add on the stage of roasting onions is better to take two peppers of different colors). Tomatoes also fit perfectly into this song.
Make the dish more nutritious. Soak overnight half cans of beans, before cooking boil it until soft. Saute the onion, add the chopped cabbage and half the beans, simmer until tender all the products, the Gulf water with tomato paste.
Useful advice
If you want to get a full hot meal, prepare the cabbage stewed with meat. You can use chicken or pork.
Advice 3 : How to cook braised sauerkraut
Stewed cabbage – diet, gentle and versatile dish. It is good as a side dish to any meat, as well as a separate vegetable dish. Sauerkraut like sharp acidity and a rich taste, which, however, can be mitigated pre-soaking before quenching or, conversely, to increase, just reducing the time of thermal treatment.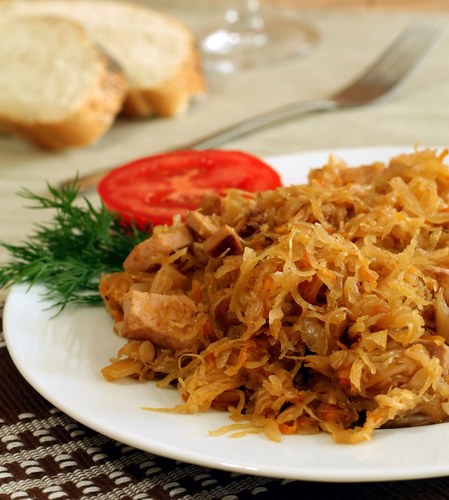 You will need
1 kg sauerkraut;
500 g carrots;
2 large follicles;
vegetable oil or melted fat;
salt
cumin
sugar.
Sauerkraut stew with meat:
500 g pork/beef (flesh);
2 large onions;
400 g sauerkraut;
500-600 g of fresh cabbage;
5 tablespoons tomato paste / 3 tomatoes;
salt
black pepper
4 Bay leaves.
Sauerkraut stew with potatoes:
600 g sauerkraut;
400 g of potatoes;
1 medium onion;
vegetable oil;
salt
seasonings.
Instruction
Sauerkraut stew.

The secret of hruskoci and juicy red ready-made meals of sauerkraut in a large number of carrots. Grate carrot on a small grater, finely chop the onions. In a deep frying pan sauté onions and carrots in vegetable oil until soft. Add the cabbage and immediately pour half a water and leave to stew until ready. After about 20-30 minutes, add 1 teaspoon of cumin, a pinch of salt and not more than 1 teaspoon of sugar. If to extinguish in vegetable oil, the dish is meatless, if with animal fat – it gets a rich taste.
Sauerkraut stew with meat

Finely chop the onion. In a deep pan pour the oil layer is 5 mm. Simmer onion until transparent color. Meat wash and cut into small cubes. Put it to the onions. Increase the heat to high and cook the mixture for about 5 minutes. Put the sauerkraut, mix well, reduce heat, cover and leave for 20 minutes. If the dish quickly loses moisture, add a few tablespoons of water to cabbage is not roasted, and stewed. Shred fresh cabbage and add to the pan. You can salt to taste. Simmer, covered until the full softness of the meat and cabbage 1-1. 5 hours. 20 minutes before end of cooking add tomato sauce or chopped fresh tomatoes, seasonings and Bay leaves.
Sauerkraut stew with potatoes

Peel potatoes and boil in slightly salted water. Saute the onion until Golden brown, combine with cabbage, add 2-3 tablespoons of hot water. Simmer in a sealed container, in a pot or in a pan in the oven at a temperature of 200oC for about 30 minutes after heating. Boiled potatoes cut into cubes and mix with the prepared cabbage, add seasoning to taste. This dish can be served as a side dish to sausages, meat, chicken.