You will need
baked in the oven:
— 1 kg fish Hoek;
— 2 lemon;
— 1 onion;
— 1 branch of rosemary;
— 2 branches of thyme;
— 1 bunch of parsley;
Sol
pepper to taste.
To heck
baked in sour cream:
— 0.5 kg hake fillets;
— 0.5 kg of potatoes;
— 5-6 tbsp sour cream;
— 1 tbsp of tomato paste;
— 1 small onion;
— 1 tomato;
— 1 clove of garlic;
— 0,5 of lemon;
— butter;
Sol
ground black pepper.
Instruction
Hake, baked in bhokatta fish. Clean, gut, wash under cold running water and cut into pieces with a thickness of about 2-3 cm onion, rosemary, thyme and parsley finely chop. Together onions you can use green.
Grease a baking dish with vegetable oil. Put the chopped hake. Add salt, pepper according to your taste. Sprinkle with chopped greens. Cut the lemon in half and squeeze the juice on the fish.
Put the form of fish hake in a preheated 200 degrees C oven. Bake the dish for about half an hour. Serve baked fish with lemon wedges. On the side will offer vegetable stews, pasta.
Hake, baked in metanoeite potatoes, wash the tubers. Dip in hot water and cook for 10 minutes until soft. Then drain the water, potatoes cool and cut into slices thickness of 1,5-2 see sprinkle with a Little salt.
Squeeze the juice of half a lemon. Hake fillet wash and cut into medium-sized pieces. Add salt, season with ground black pepper. Sprinkle fish with lemon juice.
Skip the garlic through chesnokodavilku. Mix tomato paste, sour cream and garlic. Optionally, you can add 2 tbsp of mayonnaise. Onions finely chop. Tomatoes scald with boiling water, remove the skin and cut into cubes. Add the tomato sauce to smetannom. Stir.
Lubricate the form of butter. On the bottom of the dish put a mug of boiled potatoes, sprinkle with chopped onions. Then arrange the pieces of hake. A small piece of butter cut into cubes and place on top of the fish to be more juicy. With a spoon, spread sour cream dressing. Cover the form with a lid or foil.
Preheat the oven to 250 degrees C. Place the fish in. The dish will be ready in 20-30 minutes after boiling sauce. Top as desired with grated cheese.
Advice 2 : How to marinate the fish hake
Hake - fish, mainly living in the Atlantic and Pacific oceans. Often it's used in cooking in different countries, attracting a juicy and tender texture. If the lean meat of the hake before cooking to marinate, the flavour will be much better.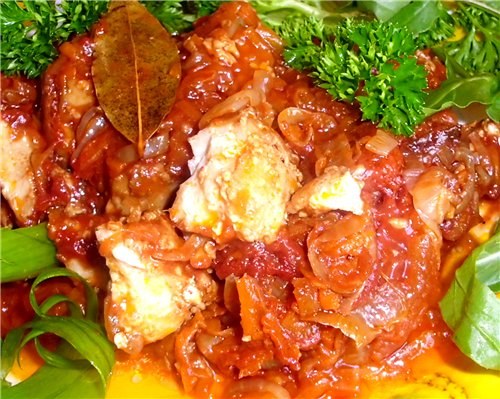 Regardless of your chosen marinade for heck, before cooking the fish should be rinsed thoroughly. Then dry it using paper towels. Then Hyuk should be cut on the flat portions in the thickness 3-5 see Now is the time to pour fish marinade prepared in advance.


Onion marinade with spices

Take 3-4 pieces carrot medium size onion, 1 stalk of celery. Vegetables should be washed, clean, dry. Onions cut into rings. Carrots and celery grate on a coarse grater. After the vegetables passiruyte in a pan in a little oil (sunflower) oil for 7-10 minutes. Next, the mixture is added 1/2 Cup of boiled water, tomato paste and spices (2-3 Bay leaves, 1 teaspoon paprika, 3-4 pieces cloves, 3-5 peas allspice, salt, sugar to taste). The marinade is brought to a boil under the lid. For 3-4 minutes until tender spray them the mixture of lemon juice (1-2 tablespoons). Now the onion marinade with spices ready to use.


To marinate the heck need a deep container (preferably glass). It is laid out in layers: a marinade - fish marinade. Capacity then put in a cooler for 4-6 hours. After this, marinade the fish turns out tender, delicious and flavorful.


Pickled the heck out in the oven (for 15-20 minutes) or fry in a pan (3-5 minutes each side). Fish cooked on an open fire using a grill. Before serving the prepared dish can be decorated with fresh greens, vegetables and sbryznut a small amount of lemon juice. As a side dish to fish very often use boiled potatoes or rice. Delicious cooked food will delight you and your guests.