Instruction
No combination in the men's wardrobe does not cause so much controversy, how much wearing the jacket with jeans. Not simply comfortable and comfortable feel, but also look appropriate you need to follow some of the laws of denim fashion.
The jacket, which fit in a pair of jeans shouldn't look formal. Strictly necessary to avoid tripovich or double-breasted jackets. Formal model of a jacket with satin trim is also not an option. Best pick up a fitted, slightly cropped jacket with one or two buttons. The fabric you choose depending on the time of year. It could be wool, tweed or cotton.
To pick dark jeans, dark jacket, blue would look better light gray or beige jacket. Do not wear a white jacket, jeans with holes, or jeans with excessive watercastle.
You can relax. It is inappropriate to wear the jacket with jeans when you tighten the tie and cufflinks on the shirt. Remove these extra accessories, unbutton a few top buttons on his shirt. Try to replace dress shoes with loafers.
Will look good if the shirt replaced with a turtleneck or t-shirt. Only here color is better to choose pastel to your outfit is not turned into kitsch. Too extravagant look is not always about good sense of style and unique personality.
In all this kit you can try to add some interesting details: necklace, bracelet, or perhaps a headdress.
Useful advice
If all the same fans of classics from can't afford, to appear in "the light" a little better in that outfit to flaunt the house to get used to the new way.
Advice 2 : How to wear a jacket
For a long time the jacket was purely a business style. It was decided to carry on the work and then withdraw and postpone to the next working day. Today the views on this thing have changed. And there are many options how to wear it.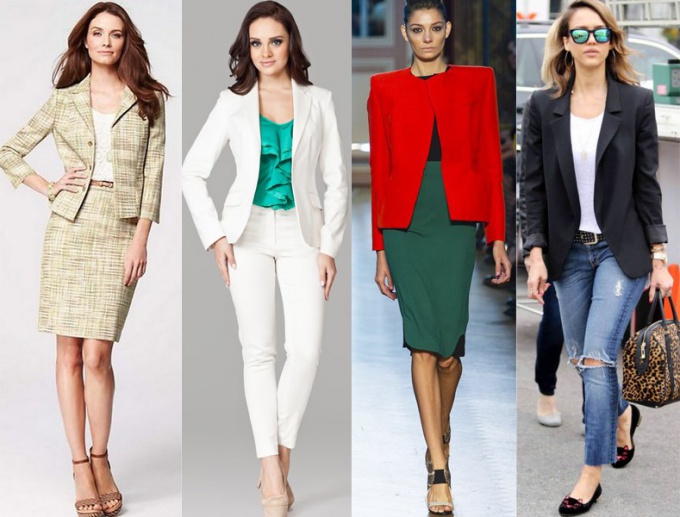 How to choose and wear a jacket to work


Jacket and today continues to be an element of enforced dress code. Office staff, employees of various administrations, teachers and people in other professions wear modest clothes in order to look formal and presentable. The jacket for such purposes should have a classic silhouette and sit tight fit.

When choosing a classic jacket pay attention to his landing. The thing that should not be wrinkled on the back and the underarms, the back gate should be well snugly to the neck, and not puff up. The selected sleeve of the jacket should be slightly shorter than the shirt cuff (max 1 cm).

Business style suggests that the right to wear a jacket, you need complete with classic trousers or knee length skirt and a white shirt. But such a strict dress code found in our company. Sometimes the employees give a certain freedom of choice.

In this case, to show your taste and style will help showy blouses and accessories. Boldly wear with a jacket translucent jackets with bold trim and shirts with decorated collars. Of accessories perfect beautiful brooches in the form of flowers and small scarves, the color line with the main tone of the jacket.


Casual style: the attention to the jacket


Modern fashion trends are different from the classical canons. Casual style jacket has long turned into a product from the category of must have. However, there are rules wear.

A classic example of a casual style is a combination of jacket and jeans. And both things can be the most various styles. In this case, wear short fitted jacket will be right and narrow, and straight, and even with jeans boyfit model. Long jacket, wide-leg cut looks best with slim fit jeans. He will also come to the jeggings and slightly flared denim pants.

To properly wear a blazer with jeans will help accessories. The most popular today is slim contrast belt. Stylists recommend not to zip up, and tie a knot. Also with the jacket is a beautiful combination of hats, loosely tied voluminous scarves, long heavy chain.

The jacket is a great addition to a wide variety of dresses. Particularly impressive look extra long and slightly fitted products. Under them is to wear light dresses made of chiffon and mini dresses of knit. A particularly extravagant ladies wear blazers in a company with a long wide t-shirts with prints. From a Shoe to such a tandem can easily wear and elegant brogues (in the color of your jacket or top), and simple shoes.

In summer the jacket can be combined with shorts. Will look great as a model of denim and cotton mini options. For a monochromatic jacket fit shorts relaxed or contrasting colors, and also products with prints. If the top is expression, it is properly worn with a neutral bottom.