Instruction
Before you choose the shape of whiskers, you need to consider how this form will be combined with the facial features of men and the shape of his nose, as well as distances between nose, mouth and chin.
Despite the fact that any trimming a mustache requires a strictly individual approach, there are several General points, common to all types of individuals and all types of mustache. In particular, the sharp tips of the moustache heliroute sharp razor, and excessive pomp removed, thinning shears, which is handled by the lower edge of the mustache.
To do too long whiskers shorter, comb them in the opposite direction – from the edges to the center, and then otstegat the excess ends.
Masters often using forceps, creating a form of whiskers. Use only flat, high-quality tongs with a stable heat. Mustache must be prepared to design and aligned with a pair of scissors. Moustache comb to the left and to the right of center.
Considering the shape and form of a future moustache, take the heated Curling Tong not too hot temperature in their middle part, pull away from the skin and shape. Release the processed edge of the mustache and semipelite following. At a time with forceps take a small strand of whiskers. Attach whiskers form in the direction from the middle to the sides.
If the whiskers need to tuck up, slightly turn the pliers to wrap the strand of hair in direction of growth up.
After the heat treatment comb, mustache brush and cut off excess hair with scissors.
Advice 2 : How to grow a moustache
Moustache give a strong half of humanity a special charm and at the same time pretend more masculine. To quickly become the proud owner of vegetation on the upper lip, you need to promote hair growth using various food additives and masks.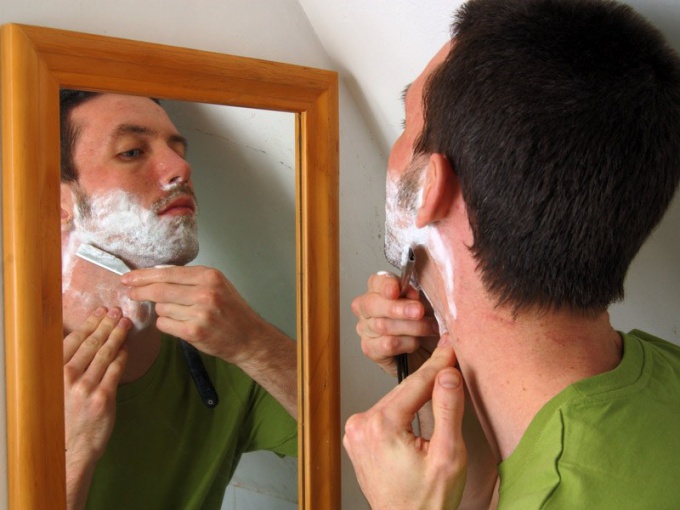 You will need
- the vitamins;
- dairy products;
- zinc;
shampoo;
mustard powder;
- castor and burdock oil.
Instruction
Hair growth on the body, including the face, depending on the number of necessary microelements in the organism. If you are wrong or irrational eating, begin taking a vitamin complex, which contains a large dose of calcium. If you don't like some stuff, try to find brewer's yeast in which it is absent.
Stubble it grows well at a high level of testosterone in the blood. Therefore, take zinc. He helps produce the hormone, but does not cause harm, but rather improves the General condition of both hair and skin. Also eat more foods rich in these micronutrients.
Daily drink 500 ml of milk, kefir or yogurt. Eat cheese, cheese and other dairy products. They contain not only a lot of calcium, and amino acids that contribute to healthy hair growth.
Buy shampoo "shampoo hair". Similarly, there are and funds from beer yeast, but wash their whiskers need to regularly.
Several times a week to do a mask. Mix burdock and castor oil in equal proportions, warm it up to 40 degrees. Then add a capsule "Evita" vitamins (fat-based) and mix thoroughly. Apply on scalp and leave for an hour. This will help not only to accelerate the growth of whiskers, but also to get rid of dandruff, if any.
Periodically, do a mask of mustard powder. Use approximately 1 tsp mustard 10 ml of sour cream or butter. The resulting mixture was put on a mustache and keep for 15 minutes. Wash with warm water.
As regrowth of whiskers adjust their shape. For this purpose use the trimmer. If you yourself can't do or are afraid to mess it up, visit the beauty salon. The wizard will cope with the task in literally 5 minutes.