Instruction
Pick all the possible options of where you will be able to wear loafers. The modern model decorated with the classic moccasin fringed, lace, embroidery. They are so diverse that you have to pick up the shoes for different occasions. Depending on the leather, styling and color, one pair of moccasins should wear for a morning jog, the second - to the evening reception, the third pair is more suitable for business wardrobe, etc.
Choosing loafers, keep in mind that suede models are indispensable on vacation. Often they are performed in calm and neutral colors and decorated with fringe. Some models are easy to transformirovalsya in flip-flops. They are comfortable and elegant ensembles in sports, sports-elegant style and casual style. Feel free to combine them with linen pants, jeans, skirts, shorts, sports jackets, various tops, t-shirts and shirts. Suede moccasins can be worn with any clothing, avoiding formal business meetings.
If you like casual classic style, pay attention to the well-tanned moccasins of soft leather without a particularly pronounced finish. For such models the optimal is a natural range of colors that blends well with any variation of this style and not time-consuming in the preparation of the ensemble. For example, classic straight trousers or knee length skirt, white shirt or blouse is included with this comfortable shoes will not distract you throughout the day that allow you to concentrate on important matters.
Classic loafers with dimpled soles are very popular in the preparation of options for casual wear casual style. This cropped blue jeans combined with shirts, blouses or t-shirts, and narrow skinny jeans complete with knitted vests, boleros or capes.
If you like a young and sporty style, wear, e.g. overalls, leather jacket and loafers with a fashionable design. Depending on the weather jumpsuit can be replaced by a blouse or shirt with short sleeves and shorts. And instead of a jacket wear a blazer. The shorts and moccasins choose the right top: trench, shirt, t-shirt, etc. In the choice of colors give preference to your favorite colors and don't forget that they must be in harmony.
Pay attention to the option of clothes consisting of skinny jeans, flannel plaid shirts and of course, moccasins. In this case, it's like their traditional variants. Instead of shirts you can wear a hoodie, long or short.
To create a romantic image put on the dress of a thin fabric or perhaps a light tunic with pants made of flowing material. It would be appropriate loafers with embroidery, ornate beading, sequins, etc. Try to pick up the shoes and accessories so that to focus on clothing and shoes and all your image as a whole.
Useful advice
Don't forget that moccasins careful and gentle care, since they are fully made of genuine leather, is often thin and delicate.
Advice 2: How to wear loafers
Loafers — comfortable and versatile shoes are popular with both men and women. However, the moccasins, as well as other types of footwear, you need to know how to wear and match with clothes.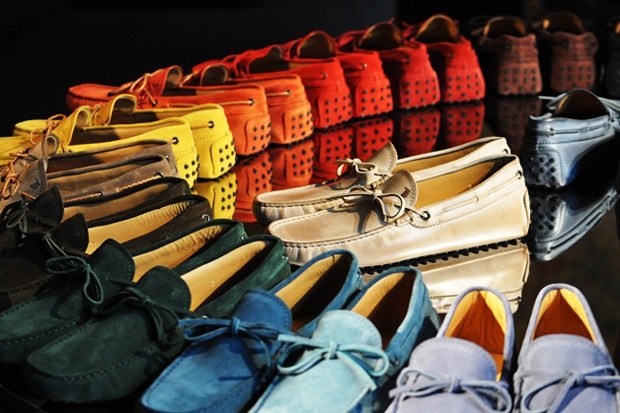 Instruction
Remember, there are 5 categorical "no" to trendy moccasins. First, it is not necessary to buy and wear black loafers. This traditional leather shoes of American Indians was created in contrast to formal shoes, so try to avoid black. Stop your choice on loafers, beige, white, red and other bright colors.
Secondly, never wear loafers with a business suit because it is contrary to the requirements of fashion and style. Thirdly, it is impossible to combine in one ensemble loafer and the sporty style. This combination looks absolutely not in harmony and is considered bad form.
Fourth, loafers are not worn with socks, especially categorical is the prohibition of socks underneath loafers and shorts or cropped trousers. However, there are a few exceptions: long socks, preferably not black and white colors can be combined with moccasins. In that case, if you are going to wear socks, it is recommended to not pick cropped pants or jeans, and the pants are regular length.
And last, it is not necessary to wear moccasins all year round, i.e. in summer and winter. Loafers are considered a seasonal Shoe, so is not appropriate under the warm clothes, down jackets, jackets or coats.
Learn how to pick the right clothes under moccasins. Women can wear loafers with shorts, cropped trousers or breeches combined with t-shirt, Polo shirt, shirt. If you want to connect the loafers with a dress or skirt, choose flowing fabrics and shoes with embroidery or beads that will help to create a romantic image. Fashionable version in the style of ethno — is a loafer, wearing a suit, combined with leather bracelets, bags with fringe and necklace.
For relaxation, select suede loafers calm colors without fringe. You can also buy these shoes without a heel to wear with light summer clothing.
It is recommended that men wear loafers with short pants or regular jeans, and light linen pants and shorts. As a top, perfect t-shirt, short sleeve shirt or Polo shirts. If you want to go in the loafers to the office, wear long pants and shirt, sweater or jumper.
Remember that loafers are versatile footwear and proper clothing help to create any image: business, romantic, ethno, etc. in addition, the moccasin is amazingly comfortable shoes in which you feel very comfortable.