Instruction
Pick all the possible options of where you will be able to wear loafers. The modern model decorated with the classic moccasin fringed, lace, embroidery. They are so diverse that you have to pick up the shoes for different occasions. Depending on the leather, styling and color, one pair of moccasins should wear for a morning jog, the second - to the evening reception, the third pair is more suitable for business wardrobe, etc.
Choosing loafers, keep in mind that suede models are indispensable on vacation. Often they are performed in calm and neutral colors and decorated with fringe. Some models are easy to transformirovalsya in flip-flops. They are comfortable and elegant ensembles in sports, sports-elegant style and casual style. Feel free to combine them with linen pants, jeans, skirts, shorts, sports jackets, various tops, t-shirts and shirts. Suede moccasins can be worn with any clothing, avoiding formal business meetings.
If you like casual classic style, pay attention to the well-tanned moccasins of soft leather without a particularly pronounced finish. For such models the optimal is a natural range of colors that blends well with any variation of this style and not time-consuming in the preparation of the ensemble. For example, classic straight trousers or knee length skirt, white shirt or blouse is included with this comfortable shoes will not distract you throughout the day that allow you to concentrate on important matters.
Classic loafers with dimpled soles are very popular in the preparation of options for casual wear casual style. This cropped blue jeans combined with shirts, blouses or t-shirts, and narrow skinny jeans complete with knitted vests, boleros or capes.
If you like a young and sporty style, wear, e.g. overalls, leather jacket and loafers with a fashionable design. Depending on the weather jumpsuit can be replaced by a blouse or shirt with short sleeves and shorts. And instead of a jacket wear a blazer. The shorts and moccasins choose the right top: trench, shirt, t-shirt, etc. In the choice of colors give preference to your favorite colors and don't forget that they must be in harmony.
Pay attention to the option of clothes consisting of skinny jeans, flannel plaid shirts and of course, moccasins. In this case, it's like their traditional variants. Instead of shirts you can wear a hoodie, long or short.
To create a romantic image put on the dress of a thin fabric or perhaps a light tunic with pants made of flowing material. It would be appropriate loafers with embroidery, ornate beading, sequins, etc. Try to pick up the shoes and accessories so that to focus on clothing and shoes and all your image as a whole.
Useful advice
Don't forget that moccasins careful and gentle care, since they are fully made of genuine leather, is often thin and delicate.
Advice 2 : What is a moccasin
And fans of the stylish, quality shoes, and high heels lovers appreciate the simple comfortable shoes in which their feet rest. Such comfortable shoes are loafers.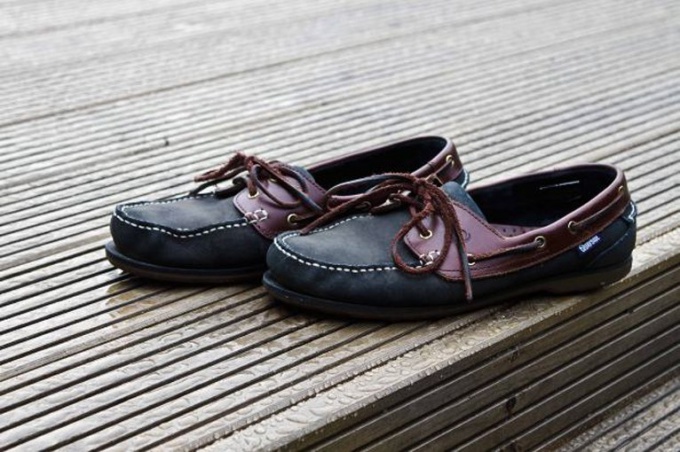 Loafers: the history of



Moccasin is a lightweight, comfortable shoes made of leather or suede. Since ancient times, the moccasins were traditional footwear of North American Indians. They usually were made of animal skins, particularly bison and, later, deer or elk.


Vintage moccasins were not only comfortable, warm and durable, they are still well protected the feet from sharp rocks and prickly cacti, as well as from the bites of snakes and insects.


Soon, the loafers have gained popularity and the colonists. In the modern wardrobe of loafers appeared officially in the 30-ies of the last century. Currently is very common footwear worn by both men and women.



Loafers – shoes for the comfort



Contemporary moccasin is a comfortable summer shoes made of leather or suede. They are usually made from calfskin or deerskin. For fans of exotic there are models made of skins of wild boar, pony, alligator or Python.


The moccasins are sewn with a special technology: the leather upper is stretched from the bottom on the Shoe, and the top sealed open seam. The sole is usually flat, sometimes there are models with a small heel. Moccasins with knobs on the soles first proposed firm TOD's. This model is convenient and beautiful plus performs foot massage, removing the accumulated fatigue.


The moccasins are decorated with beads, lace, embroidery, piping, and various inserts of a different material. This Shoe comes in different colors and has one fundamental difference — the outer seam. There are men, women and youth options, as well as models in the style of unisex. The most well-known brands, producing modern loafers are TOD's, Giorgio Armani, Alberto Guardiani, Gucci and others.



What to wear with moccasins



Suede loafers go well with a set of lightweight pants and sports jacket. Young people prefer loafers in sports and semi-sports style.


Penny is a moccasin with lining on the tongue. They are available in black or red-brown color, have a small heel and are usually worn without socks.


One of the most popular models of the moccasin are "Beefroll" company Sebago. They are recommended to wear with a dark classic suit.


Brand TOD's moccasins with knobs on the soles gained a lot of love and in women and men. Such a model is in the closets of ordinary people, movie stars and even members of Royal families. They are usually worn without socks and they are suitable for almost any type of clothing.