Ingredients for the dough:
Chicken egg – 2 PCs;
Water - 1 Cup;
Salt - to taste;
Flour - 2 cups.
Ingredients for the filling:
The fresh salmon – 1 kg;
Fat – 300 g;
Salt, black ground pepper - to taste;
Onion - 1 piece;
Garlic – 3-4 cloves;
Dill – ½ beam.
Preparation:
Fresh salmon is thoroughly rinsed in cold water, cleaned of scales and entrails, cut off the fins. The flesh separated from the bones, then mince, adding fresh fat.
In the resulting mince add the spices and salt. Onions and garlic peel from the husk and grind in a blender or food processor. Dill finely chop. Onion, garlic and fennel also add to the mince and knead well for him.
Beat eggs in a wide capacity and whisk, then season with salt and add water. Mix well. To the mixture add the flour and start kneading the dough it should not stick to hands, but at the same time to be flexible. Kneaded the dough to give a little rest.
For the formation of dumplings from dough to cut a small piece and roll it sausage. Then sausages cut equal size pieces, roll in flour and roll out with a rolling pin until small size of lepeshechki. On each tortilla put the stuffing of salmon and to form the dumplings, well wrapped edges.
Dumplings cook in boiling water with a Bay leaf and black pepper. When the dumplings float, cover need to open and cook the ravioli until tender with the lid open. Serve dumplings with sour cream or butter, sprinkle with chopped dill.
Advice 2: How to cook dumplings with broth
Juicy and delicious
dumplings
with
broth
are very hearty and warming dish. The basis of such dishes can be prepared as
dumplings
and homemade, prepared with his own hands.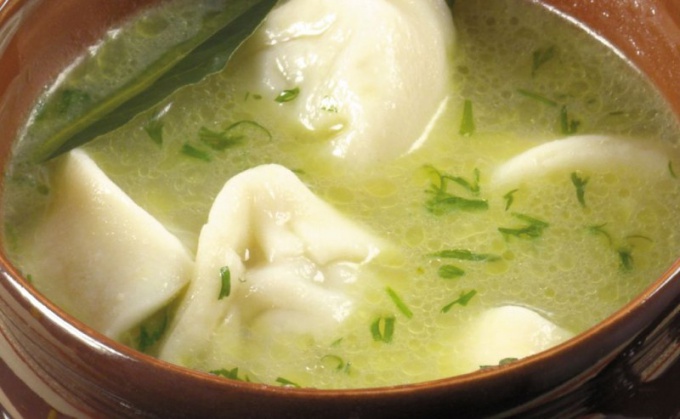 You will need
egg – 2 PCs;
beef – 300 g;
pork – 300 g;
onions – 3 PCs;
meat broth;
water;
salt;
spices;
mushrooms;
sour cream;
greens.
Instruction
Sift the flour through a sieve and pour it on a cutting Board or the surface of the table slide. In the middle of the slides make a small recess and crack inside eggs. Then gradually add to eggs salted cool water. Knead steep elastic dough and roll it into a small loaf. Wrap the dough in a clean plastic bag and leave for half an hour in the fridge for proofing.
At this time, prepare the stuffing. Miss twice through a meat grinder beef, pork and onions. Add ground salt, black pepper and other spices to taste. Thoroughly mix the stuffing. Let it stand for 20 minutes.
Remove chilled dough and divide it into small equal parts. Roll each long strap and cut it into pieces the size of a walnut. Each piece roll out with a rolling pin into a thin pellet. On circles of dough, put 1 teaspoon of filling and form the ravioli.
Lower the dumplings one by one into the boiling broth and gently mix. Keep them from sticking to the bottom of the pan and not stick together among themselves. After the dumplings have surfaced, cook them for another 5-7 minutes. Then with a slotted spoon and place them in a deep dish and pour broth. Top the dish garnish with chopped parsley and dill.
If you want to treat family or guests an original dish of dumplings with broth, and cook it in clay pots. Boil the ravioli until soft and remove from pan. Place them in pots for about 12-15 pieces. Add to each serving with 3 tablespoons of roasted mushrooms or porcini mushrooms and pour hot meat broth. Cover the pots with lids and simmer in preheated oven for 15-20 minutes at 180 degrees. Before serving, put in pots of sour cream or butter. On top sprinkle the dish with chopped greens.
Advice 3: How to cook dumplings
Some of us still remember the famous Soviet "Dumplings" - places where for a very reasonable cost you could buy a plate of dumplings, minced meat which resembled boiled paper. But, nevertheless, visitors always had lots and
dumplings are
loved by all and is often molded them at home, and it was a whole rite, which was attended by the whole family. Today in stores you can buy the dumplings are quite good, so homemade ravioli gradually become a real exotic.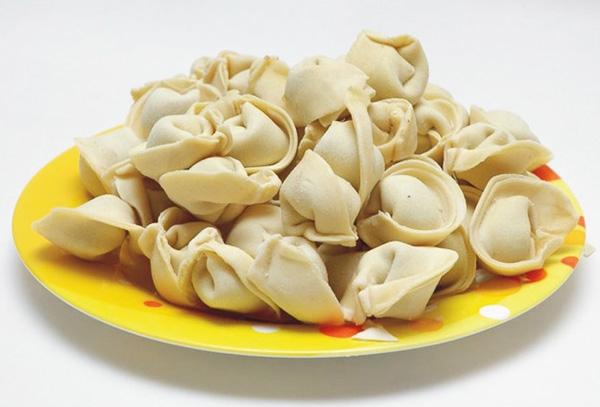 You will need
homemade or purchased 0.5 kg,
Butter - 10-20g,
Vegetable oil 1 tablespoon
Fresh greens,
Bay leaf
pepper
salt.
Instruction
Take a low pot with a capacity of 3-3,5 litres, fill it with water – approximately 2-2,5 liters. Put on the fire.
Once the water boils, add salt, throw pepper 8-10 pieces, Bay leaf, pour vegetable oil.
Drop the dumplings into the water and carefully not to tear the dough, a minute and a half stir with a slotted spoon to prevent them sticking to the bottom of the pan and will not allow them to adhere to each other. Try a slotted spoon to get to the bottom of the pan. As soon as the water boils, turn the fire.
Once the dumplings start to float, let them boil for another minute, remove the pan from the heat and with a slotted spoon and lay out the dumplings on a large platter or portion plate. Sprinkle the ravioli chopped greens, put butter and serve.
Note
Leave svalivsheesya dumplings in the water otherwise they get too soft, place them on a plate.
Useful advice
Dumplings cooked frozen, get them out of the freezer immediately before you throw in the water.
Instead of water you can use broth or add water to bouillon cubes.
Along with the dumplings, you can submit sour cream, hot sauce, mustard, vinegar or ketchup.
Advice 4: As in a slow cooker to cook the dumplings
Slow cooker greatly accelerates the cooking process: in 10-15 minutes you can quickly and easily cook dinner delicious dumplings. Suitable for cooking and ready-prepared foods bought in the store, and dumplings made by yourself.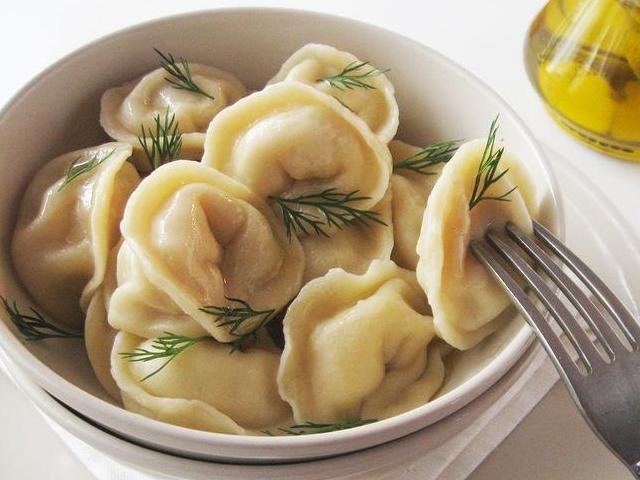 You will need
For the dough:
- 1 Cup of warm water;
- 2 cups sifted flour;
- 1 egg,
- salt to taste.
For stuffing:
- 300 g pork,
- 300 g beef,
- a bit of onion;
- salt, pepper – to taste.
Instruction
Try making homemade ravioli – such a product would be more useful and secure than commercially available ready-prepared foods. Sift the flour into a bowl, add salt. Add the egg. Gradually infusing water, knead stiff dough. Cover the bowl with dough with a towel and leave at room temperature for 20-30 minutes.
Prepare the stuffing for ravioli. Cut the meat into small pieces and pass them through a meat grinder, Scroll bow. Salt the meat, add the spices and mix thoroughly.
Make dumplings using a special form. In its absence roll out the dough thin layer, cut out circles, lay them on the forcemeat and shape the dumplings.
Pour into multiverse water in an amount of about 1.5 liters, add water, salt, garlic, herbs and other spices. Put on slow cooker mode "Stew" and wait until water boiling. Put in boiling water the dumplings, stir and close the lid multivarki. At the end of the mode, open the lid, put the finished dumplings on a plate, add butter (sour cream, mayonnaise, to your taste) and serve.
To
cook the dumplings
in the mode "steaming", pour into the slow cooker with water, lubricate with oil and install the basket for steaming. Lay out the dumplings, close the lid, set the desired mode and wait for the end of the cooking.
Try to cook dumplings in a slow cooker with the roast. Install multiverse mode "Pastries", pour oil, put the dumplings, salt them and cook for 20 minutes, stirring several times during cooking. The finished dumplings put on a plate.
Useful advice
To vary the dish, add the dumplings after frying milk sauce or mushrooms and onions. Put on slow cooker mode, stewing for 10-15 minutes. If desired, dumplings can be poured with sour cream or sprinkle with grated cheese.