Ingredients:
cod 700 g;
white bread – 6 slices;
chicken egg - 2 PCs.;
sunflower oil;
large carrot - 1 PC;
5 tbsp sour cream;
onion - 1 piece;
the mixture of four peppers;
salt.
Preparation:
On a fine grater grate the carrots and overcook in sunflower oil. Peel and finely chop onion, add to passerovat to the carrots.
The bread to trim all crust, crumb pour water for 5-10 minutes.
Cod fillet wash, remove the large bones, dry, cut into small pieces. Next mince until until peremel even small bones. In the last entry in the grinder to the fillet add the carrots, onion and well wrung out water from bread.
In minced cod add an egg and a little water, salt and pepper.
Take a fork or a whisk and rapidly stir the ground beef for a few minutes, thus the meat will be full of oxygen and air.
Take a tablespoon of ceviche and form the meatballs, coat each side in flour. Fry the meatballs on both sides in a well heated pan with the addition of sunflower oil.
For the gravy you need to clean and wash the carrots with onions. Carrot grate, onion finely chopped.
Preheat the frying pan and saute the carrots and onions, add sour cream and water, pour over meatballs and simmer another 20-25 minutes. Serve the meatballs to the table with any meal. Very good combination is with rice or mashed potatoes, drizzled with gravy.
Advice 2: How to cook tasty meatballs
You have a piece of meat, or meat, and you don't know that he's a much better
cook
? Traditional meatballs without a doubt delicious, but to be fed. Offer to cook a very delicious
meatballs
with sauce, which is prepared very simply, without hassle. Will just have to come up with a side dish and a wonderful, nutritious dinner is ready.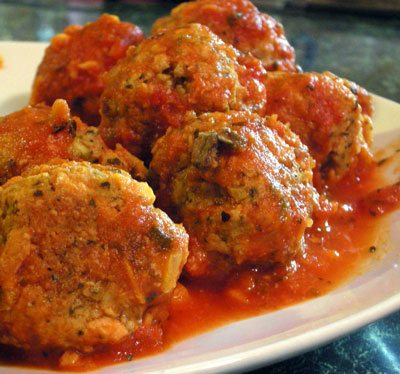 You will need
1 kg minced meat (pork and beef),

0.5 cups rice
3 onions,
1 carrot
1 tbsp tomato paste
vegetable oil,
2 eggs,
salt
pepper
seasoning
Bay leaf
greens.
Instruction
First you need to prepare the stuffing. Wash the meat and mince together with onion. Season with salt and pepper and add seasoning to taste.
In the mince and break a couple of eggs. The rice thoroughly washed under running water and put in the stuffing.
Thoroughly mix all and start shaping the meatballs. To form the stuffing into balls and place in a bowl for baking.
Peel the onions and finely chop. Carrots to RUB on a grater. Overcook the onions and carrots in a pan with vegetable oil. At the end of cooking add one tablespoon of tomato paste and fry a little.
Put fries on top of the meatballs. Carefully pour the broth or plain water (hot water). Salt, add spices, Bay leaf. Put in a pre-heated oven, bake for about 40 minutes. At the end of ready, sprinkle with finely chopped greens.
Serve with mashed potatoes or pasta. From top to pour the resulting gravy.
Useful advice
For cooking the meatball is better to take Krasnodar rice (short-grain) it is well boiled. If your home has only long rice, then soak it in advance in cold water for an hour. To stuffing did not stick to hands, moisten hands in the water.