You all probably heard about the Cologne Cathedral – one of the symbols of this wonderful city. In addition to this attraction, almost the entire city was in ruins after the well-known Second world war. However, the Germans were still able to restore your town that you can walk yourself to appreciate its beauty and sophistication.
As in most major German cities, popular traditional German cuisine that is certainly worth a try. Lots of different Breweries, bakeries, bakeries, restaurants and cafes - anything of your choice.
The most popular places in Germany is, of course, beer. Almost all beer lovers dream to visit this incredible and wonderful country and taste real German beer. As one of the best brewing countries is Germany, you just have to visit at least one of them, even if you don't drink beer.
The name of the traditional Cologne beer, Kolsch, which you get in almost all pubs and bars. Pour it in a container called Stangen, which amounts to 0.2 liters. If this portion is too small for you – do not worry. Usually the waiters do not ask if you need more additive, if the waiter sees that you finish your drink, it will certainly serve you again.
If the entertainment part is over, you should look to the urban attractions that the city is teeming with. Cologne architecture will be able to appreciate not only art lovers, but also ordinary tourists: churches in the Romanesque style (which the city has 12) and in the Gothic, and various museums for the true connoisseurs of history.
Now back to the Cologne Cathedral, so to speak, the face of the city. The massive architecture in the Gothic style, with many towers and spires, enchants with its beauty from afar. Approaching it closely, you will immediately want to go inside. Statues, and various relics and cultural treasures – all this may be of interest to even the most experienced traveler.
But if you still decide to enjoy the beauty of the Cathedral from afar, it is best to do on the other side of the panoramic platform at the railway station of the Rhine.
Also, the city has many museums – both historical and modern. The Opera, theatres, Botanical gardens – here is a Paradise for lovers of culture and high art.
If you plan to not only entertain, but also culturally to relax and enjoy the art – then this city is for you. It shows the beauty and elegance of such a wonderful country like Germany. Many tourists from different cities, countries and continents dream to visit Cologne to see for themselves how beautiful this city – from its historic centre to the modern residential districts.
If you love to travel then you must visit Cologne!
Advice 2: How to open pub
In recent years, most people have realized that beer is much more pleasant to drink still in the pub than in the courts. Beer, respectively, becomes more and more. To open a pub, which would be a success, you need to consider the concept - something that she was different from others.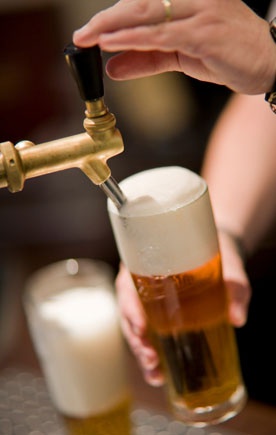 Instruction
Before you open a beer, walk to the institutions of future competitors and to analyze what you like and what not. This way you will be able to take all the best and not to make their mistakes.
It is also important to remember that beer consumption has long gone beyond the get-togethers with friends anywhere in the yard or at the cottage. Beer is drunk all - the poor and quite wealthy people. Before you open a beer, decide to whom you open it. Then it would be easier to define and the future of beer: can open and inexpensive place in the metro, and you can elite a pub somewhere in a prestigious residential area. Also from the contingent depends on the range for use as a pub is no place for cheap bottled beer that you can buy in any tent.
The mechanism of opening a beer is a little different from the mechanism of opening a cafe: you are registering as an individual entrepreneur or open a company, find and rent a room, get all the permits, make necessary repairs to the premises, negotiate with suppliers, actually, beer and other products and equipment, we are looking for staff. It's a good idea to include beer in its own brewery - brewed beer is popular.
Beer in Moscow, a lot, so don't forget about advertising. To attract customers in a beer can bright sign writing on the pavement (by the way, are extremely cheap and popular form of advertising). You can distribute flyers to advertise beer on the Internet. However, the best and most effective way of attracting customers is certainly word of mouth: if your beer will appeal to the first customers, they will surely bring to you their friends.
If you doubt that you can come up with the concept of a beer that would be popular, you can buy a franchise of an existing beer. As a rule, in this case, you will discover already familiar to consumers, the institution, and the cost of advertising and attraction of clients will be minimal.