It should be noted that Kirieshki is just a brand name, in fact, under this word to understand any crackers that are sold in the store. Recipes for salads with croutons are quite a lot of them, for example, you can simply add to an ordinary salad with cucumbers and tomatoes. Add Kirichek to salad will increase its nutritional value and give the dish a more interesting taste.
Salad with Kirieshki and sausage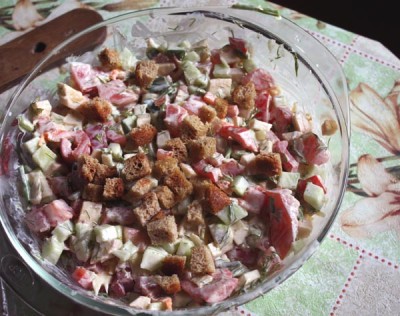 Necessary ingredients:
200 g any sausage;
50 g of hard cheese;
2 cucumbers;
2 tomatoes;
1 onion;
1 pack of crackers Kirieshki;
1 tbsp light mayonnaise.
Preparation:
Boiled sausage cut into thin strips. Grind the onion and lightly fry in a pan adding a small amount of vegetable oil. Fresh tomatoes and cucumbers cut into medium pieces. Next, put all the ingredients in a bowl, pour the crackers Kirieshki, add mayonnaise and mix thoroughly. The finished dish should immediately bring to the table, sprinkle it with grated cheese and garnish with the chopped greens.
Kirieshki salad, chicken and corn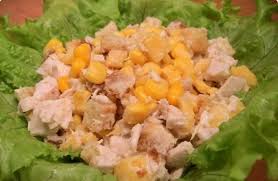 Necessary ingredients:
300 g chicken fillet;
200 g of any hard cheese;
1 Bank of canned sweet corn;
200 g crackers Kirieshki;
mayonnaise.
Preparation:
First, boil chicken in salted water for 20-25 minutes after boiling). After cooked poultry meat has cooled, cut it into neat strips. Cheese can be grated on a coarse grater or cut into small cubes. All the ingredients mix up among themselves in a deep casserole. Crackers and mayonnaise are added to the dish right before serving.
Salad with Kirieshki and mushrooms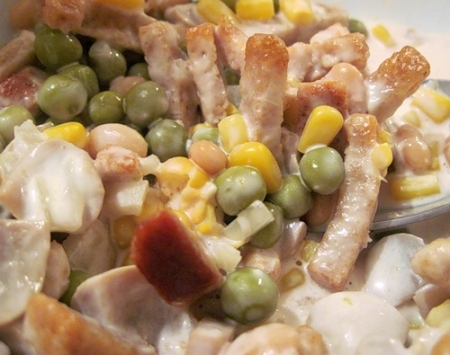 Necessary ingredients:
1 jar of pickled mushrooms;
4 eggs;
20 g of lettuce;
100 g crackers Kirieshki;
3 tablespoons of mayonnaise;
salt to taste.
Preparation:
Drain the brine from the mushrooms, then cut the mushrooms into thin plates. Crackers grind, but not too small. Boiled hard-boiled eggs, shred with a knife. Lettuce tear by hand into small pieces. Then, all prepared for salad products combine in a deep bowl, add salt to taste, add mayonnaise and stir.
The crackers are perfectly combined with almost all foods – chicken, meat, cheese, mushrooms, sausage, vegetables etc, so we can safely experiment with different flavor combinations, inventing new recipes. In the process of making salads, you can use either store-bought crackers any brands, or cook them yourself (bread cut into cubes, dried in the oven and sprinkled with spices).