This style created by talented people and creative individuals. Some manage to fit it into daily life, because it looks very interesting and unusual. The attention of the people to this way attaches instantly.
It is a style response to negligence, but at the same time, the image should be elegant. The love of comfort has to be very discreet. In General, to create such an image you need to put in the effort and a considerable share of imagination.
Most importantly in the Bohemian style is to show that in life you can afford more, but the soul wants exactly this. People will be attracted to the originality of the images. Related to the fact that many compare this style with the bourgeoisie. Things need to look expensive! Thus it is necessary to discard fanaticism and not to show the brand and to focus on the beauty of things.
Most of all I love this style Hollywood celebrities. They know how to wear that kind of thing, to show new products and "pour" fashion in the world. Remember to only about that of complete freedom combined no. No need to compare Bohemian style with casual. Bohemia says that everything has to be expensive and of high quality. If the thing will not be good in the way that it does not make sense, even if it is from the great couturier. Elegance is a casual "suit" that aligns with a Bohemian style.
Bohemian images can appear anywhere: at festivals, in cafes, in restaurants and even in a normal Park. So questions like "where is this going?" or "why dress up just like in those outfits?!", should be forgotten once and for all. It is time to remember that we have to live here and now!
Advice 2 : A new trend in fashion - boho-chic
The boho-chic appeared in America in 60-e years, and gradually moved into the hippie style. However, as a trend in fashion it was founded in 2004-2005. In the mass audience, it brought the stars and Bohemian personality.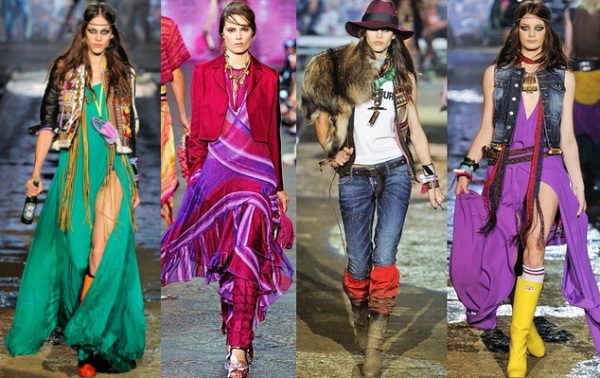 Currently this style is experiencing the peak of popularity. And it concerns not only clothes, but also the interior spaces, and even furniture design. Recently, very fashionable and popular for parties and wedding celebrations in the style. It is believed that it brings a special chic and style to any event.
So what is this infamous boho-chic? This turbulent mixing of different ethnic areas, hippies, and even sometimes with certain accents of Gothic and rock. The main feature of this style is the Union of incompatible things. For example, a rough army boots and delicate lace dresses, chiffon and thick skin is a combination of different fabrics and prints.
This style combines lace and fur, and leather, and silk, and velvet and sequins and large stones in one ensemble. And the secret is that all the clothes created in the image seemed cozy, modern technology and nature in one ensemble.
The boho-chic best suited the girl is very thin, with a hint of romance and tenderness in appearance. Because that's the sort of girl a combination of rough boots and lace dresses, or sandals of thick leather with a dense weave coupled with a long chiffon, almost transparent skirt seems especially attractive and unusual.
There is only one rule in the style of boho-chic, no high heels and ultra short skirts, especially vehemently accented by sexy in the way only contradicts the basic principle of this style.
We also should not forget about the accessories in boho-chic: various bandages on his head (hippie style), bags with fringe, glasses of unusual materials (wood, glass), massive decorations of large stones and aged metal, turbans and, of course, braided hats. One of the most important accessories in this style is, of course, voluminous scarf of light material with a variegated fine pattern or a dense multi-stage solid scarf.
The style boho chic is gaining momentum and is becoming every day more and more popular not only among stars and Bohemian personalities but also among ordinary girls.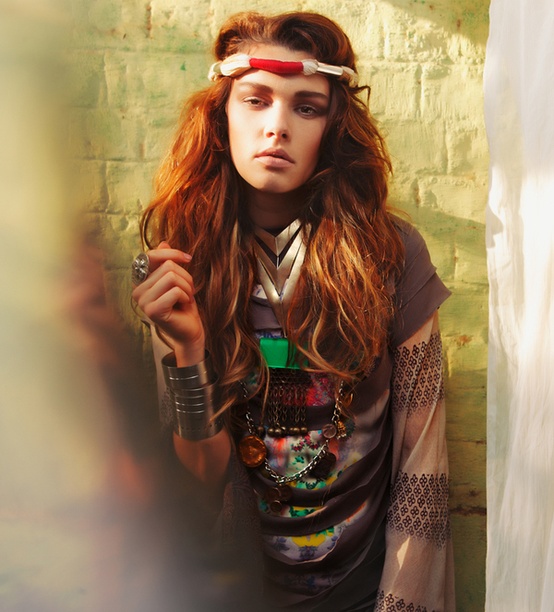 Advice 3 : Freedom in the style of Boho Chik
Style Boho Chik presented in many ways. What is like for you, decide for yourself, the main thing - do not overdo it. Start with the minimum of things, only subsequently, diluting your wardrobe.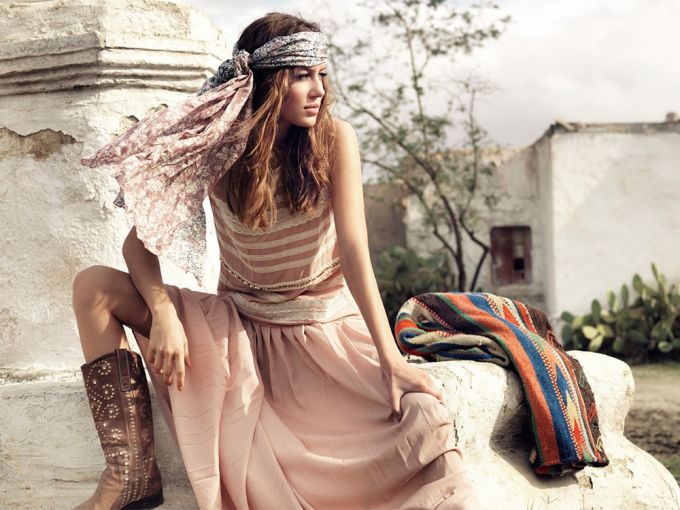 To understand what is the style Boho Chik, delve into the history of... the Pioneers of this style were nomadic Gypsies and artists living in the forests of Bohemia. Lovers of freedom, unpredictability, interesting, leading a nomadic life. The people who took no conventions and rules, by and large, living and breaking. As you know, Gypsies – people who live by casual earnings, of course, is reflected on their clothes, chic is replaced by poverty. It seemed that they were all, from luxurious embroidered things, to things worn by time. It is this mixture of the times, freedom of expression and calling on the court of public opinion is the basis of the style.
If you are tired of the glamour, catwalk templates, and dictatorships, it is yours. A good mix of styles with hints of hippie, country, romantic Boho Chik suited to everyone. In every woman's wardrobe there is at least one thing in the spirit Boho Chik, because he is always fashionable, attractive and relevant. Boho Chik filled with lots of detail to please anyone, with no age limit and classes.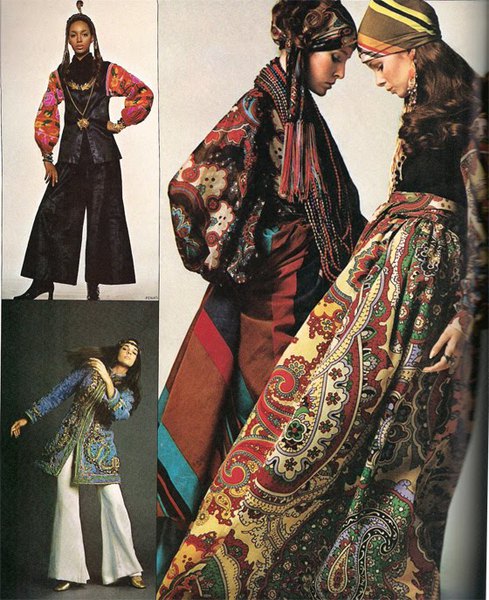 Despite the negligence, Boho Chik, it is possible to use things and the silhouette, but they should not get out of concept. By the way, since the style was introduced things are tight, it was called Boho Chik. It is, of course, multi-layered, but looks sophisticated. Lightness fabrics such as linen, cotton and silk, trimmed with lace, frills, and ruffles, will not leave anyone indifferent.
Try to start to build a base of things that are typical for this style – maybe it will become a fur vest or layered Gypsy skirt with an ethnic melody, jeans complete with a loose sweater. Lovers of hats can be to the taste of shawls, or fur hats. Among the variety of particularly interesting accessories may seem to be Russian boots, have become very popular. A modern twist they decorated with patterns and embroidery. Bags, bracelets and rings should be solid to attract attention.
Hairstyles in this style as sloppy as the whole image. Decorate the hair interwoven with ribbons and a thin, delicate chains falling hair. If tired of everyday life, and wanted to stand out from the crowd, Boho Chik is exactly what you need.