Dolphinariums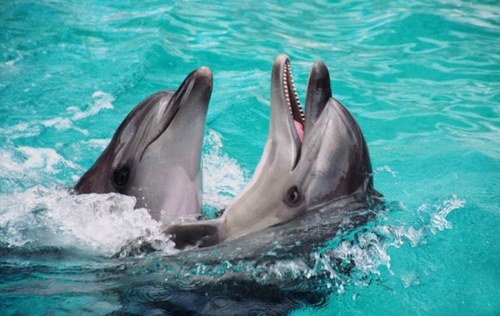 At the moment, the Crimean Peninsula has 9 dolphinariums are located in major resort towns like Yalta, Sevastopol, Alushta, Koktebel, Yevpatoria and Feodosiya. In most of these performances are held all year round. One performance lasts for hours, in different dolphinariums the program has its own distinctive features. So, in Yalta Dolphinarium you can swim with dolphins, to take pictures and go boating. In Feodosia in addition to dolphins in the entertainment program participate the seals, the Museum-aquarium contains almost all the types of fish found in the Black sea.
If you came to Crimea with a child, be sure to visit the Dolphinarium. Children with special delight of watching dolphins doing jumps, do the complex rotation, twist, flip and sing.
Water parks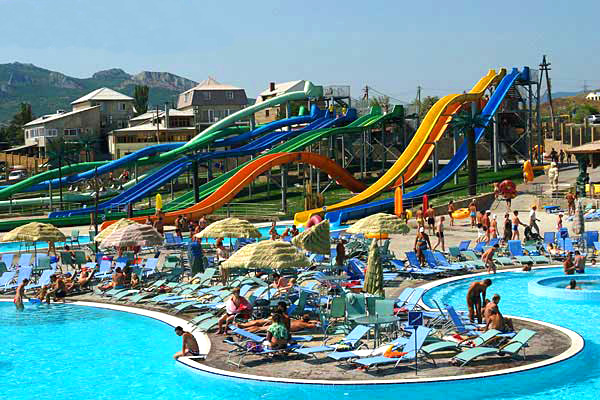 With the presence of water parks in the Crimea there are no problems – they are present in almost every popular resort. Today there are six: "Water world" (Sudak), "almond grove" (Alushta), "Zurbagan" (Sevastopol), "Banana Republic" (Evpatoria and Saki), Blue Bay (Simeiz) and the largest in the Crimea Koktebel water Park.
All kinds of pools, water slides and amusement rides will not be bored neither children nor adults. The Waterpark is best to plan for the day, lunch and dinner will be at a local cafe (own food is not allowed). For your comfort the territory of the Crimean aquaparks are equipped with comfortable Parking, storage of personal belongings, children's room with babysitters and entertainers, Spa pools and tennis courts.
Yalta zoo "Skazka"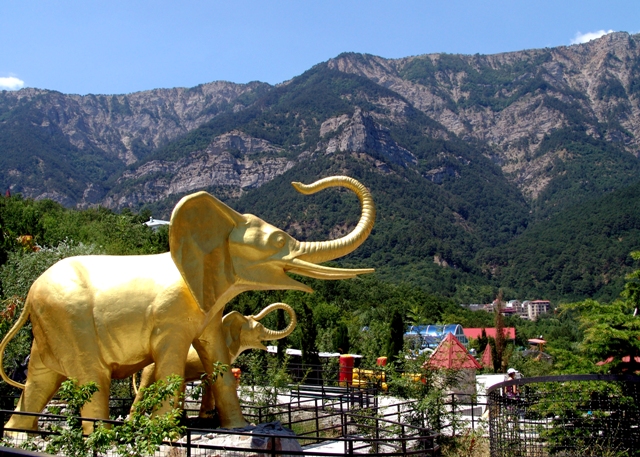 If on vacation in the Crimea came in with the child, it is certainly worth a visit only for the Peninsula private zoo "fairy Tale", located in Yalta. More than a million visitors who visited this amazing place, took with them positive emotions and unforgettable impressions.
My job Yalta zoo started as a small nursery for the treatment of sick animals who have been abandoned by other zoos. To date, the zoo is home to a huge number of different animals, among which we can find a tiger waiting for replenishment this year.
To get to the Yalta zoo, it is necessary to pass 2 km from Yalta along the pivdennoberezhne highway, focusing on the big inscription "Zoo", seen on the mountain. The entrance to the "fairy Tale" paid adult ticket will cost 600 rubles, for children – 300 rubles.
Lions Park "Taigan" in Belogorsk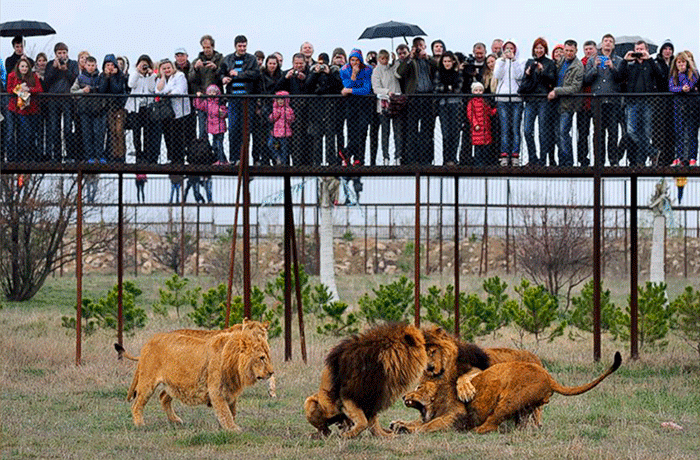 Park "Taigan" is one of the largest nurseries of wild animals, located in Belogorsk. It is a huge largest area (about 30 hectares), on which roam wild beasts. Park visitors can observe the life of predators in natural conditions, while being in absolute safety. For spectators there is a special bridges, which are installed at a safe height – animals under any circumstances will not be able to reach them.
Beneath the Park visitors walking about six dozen tigers and lions different species, as well as giraffes, ostriches, camels, pelicans, peacocks and many other fauna. In addition, in the nursery a lot of monkeys and rabbits. Indescribable delight children of all ages causes crocodilarium and a children's zoo, where in special circumstances the kids are grown, cubs.
At the entrance to the Park sell special animal food: chips, nuts, mixes for monkeys, squirrels and bears. For predators food is sold separately. The cost of the adult ticket will cost 600 rubles, for children – 350 rubles. If during the tour, your child will be tired to continue the acquaintance with the inhabitants of the Park will be on the children's train.
As can be seen, in the Crimea there are many places where you can spend time with children of any age.