Mashed potato, as mentioned above, you can prepare a lot of meals, just "enable" fantasy. However, the most common foods are potato zrazy, pies and quiches.
How to cook potato pie
You will need:
- two cups mashed potatoes;
- two eggs;
- 1/2 Cup of kefir;
- 1/2 teaspoon of baking soda;
- salt and spices (to taste);
- 150 grams fresh mushrooms;
onion;
- one medium carrot;
- small bunch of parsley and dill;
- flour (how much dough).
To fill:
- two eggs;
- 1/2 Cup of mayonnaise;
Sol.
Take mashed potatoes, if it has lumps, then mash them. Add the egg, salt, a teaspoon of flour, spices to taste and all mix thoroughly. Take a pan, pour it in the yogurt, add the egg and baking soda and gradually pour this mixture into the flour and mix. Knead elastic dough of medium thickness. Mushrooms wash, dry, cut into slices and fry in a small amount of vegetable oil until Golden brown. Carrots and onions clean, cut and fry. Form for baking grease with oil, the bottom lay the dough and form a "rim" on dough put the fried onions and carrots on them - potato stuffing, then mushrooms. In a small container mix all the ingredients for filling and pour her a cake. From top to decorate with chopped greens. Bake the pie until ready in the oven at 180 degrees (baking time 30 to 40 minutes, depending on the diameter of the mold).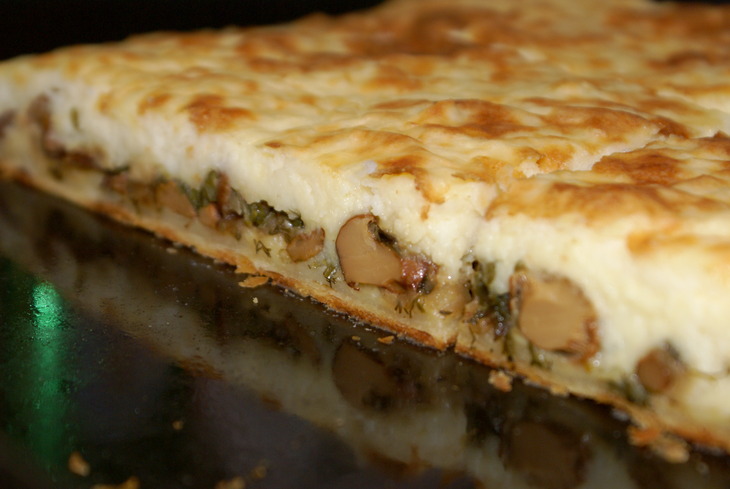 How to cook potato zrazy with cheese
You will need:
two cups of puree;
- two eggs;
- Cup of curd;
- bunch of fresh dill;
- flour (how much dough);
- vegetable oil.
In a bowl mix mashed potatoes and egg, add salt to this mixture. Add to this the weight just enough flour to make soft pliable dough. Next, prepare the filling: mix cottage cheese with egg and chopped dill, season with salt. Put the pan on the fire, pour oil into it themselves, meanwhile, from potato dough form the Patty is right, put inside a small amount of toppings and zasypnica edge. Place the finished right on the pan. In the same way build up the rest of the pancakes and fry on both sides until Golden brown. Potato zrazy ready to serve them best with sour cream or garlic sauce, which you can prepare yourself.