How to sew a simple makeup bag
You will need:
- suitable fabric for cosmetic;
- threads;
- scissors;
- cardboard;
- zipper.
On cardboard, draw a rectangle the width and length, what kind of makeup you wish to have in the end, and vestigia detail. Using the cut cardboard as a pattern detail, fabric, intended for beauticians, vestigate two of the same rectangle.
Gently baste the zipper to the top edges of the fabric rectangles: put in front with a zipper, put on her rectangle of fabric face to the zipper so that the cut coincides with the edge of the zipper, galeopithecidae with a sewing machine. Fold the fabric in the opposite direction and lay the finishing line. In the same way sew the second part of the zipper to the other fabric rectangle.
Fold the two halves of the purse together and sew them together (you need to put right sides). Remove the finished product. At will "dog" you can decorate, attach a decorative FOB.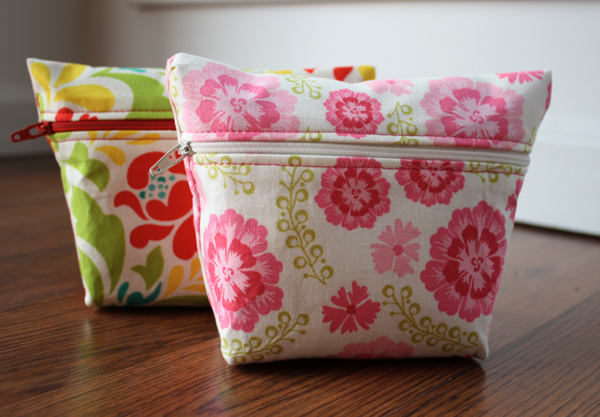 How to sew a cosmetic bag-chest
Cosmetic bag-trunk - quite a practical product, as it is roomy. There are a few types of cosmetic bags: vertical cylindrical shape, three-dimensional "eye", cylindrical, horizontal. Latest - most popular option.
You will need:
a solid - color fabric;
- threads;
- locking fastener;
- acrylic paint;
needle;
- a pair of scissors.
Cut the fabric into two rectangles. Their length can be any as long as it coincides with the length of the prepared castle.
Draw on fabric with acrylic paints to any drawings. Let the pictures dry, and then iron these pieces of fabric with drawings.
Fold the top edge of the fabric under the lock-lightning, iron them.
Castle baste and sew using the sewing machine.
Fold both sides of fabric, right sides together and sew the bottom.
Lay the fabric so that the lock was at the bottom, and the seam of the bottom strictly was on top of it. Sew on the sides.
Next, shape the corners of the beauticians, podelite their needles, and then prostrochite sewing machine. If fabric is not showered, feel free to trim any excess fabric on the corners, leaving only 0,5-0,7 see If the fabric is flaking, after trimming off the frayed edges.
Remove the finished product. Cosmetic bag-chest ready.