The classic recipe of the Olivier salad
The current version of the Olivier, apparently, happened in Soviet times, when the inaccessible and expensive products have replaced those that could be bought. So the salad came with green peas, carrot and sausage. But this recipe is the most popular.
So to prepare a salad in the Soviet, we will need: boiled 7 potatoes, 5 carrots, 6 boiled eggs, 6 canned cucumbers, 300 grams of boiled sausages, a can of peas canned, 100 grams of sour cream and 200 grams of mayonnaise.
All the ingredients are cut finely cubes, you can manually, can combine as a variant – using Jizerske. Then all stirred, salted, dressed with a creamy mayonnaise sauce.
The taste of this salad is familiar to almost everyone since childhood, but if you want to diversify the menu, try something new, read the following recipes.
The recipe of salad with mushrooms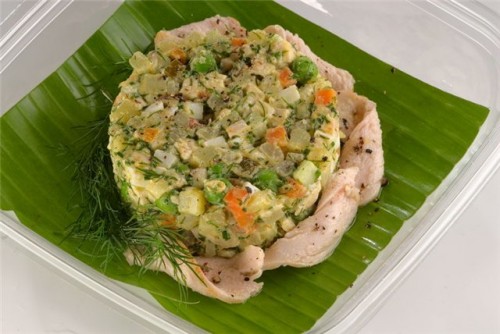 This salad can be made of the following products: 4 boiled potatoes, 4 boiled eggs and 4 salted cucumber, 1 boiled carrot, 1 onion, 1 jar peas, fresh mushrooms, 200 grams of mayonnaise 150 g
How to prepare the salad with mushrooms. Eggs, cucumber, potatoes and carrots are cut according to the custom dice. The mushrooms and onions to chop small, then fry until Browning in vegetable oil. Add the fried mushrooms to the rest of the sliced products, there merge with canned peas and mayonnaise, mix well.
Alternatively, you can pickles to replace the marinated or pickled mushrooms in a classic salad.
Salad with salmon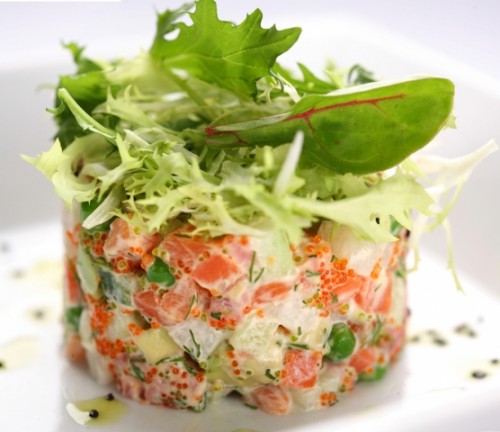 This is a bit unusual salad we will need: 200 g fillets salted red fish (salmon, Steelhead or trout), 4 boiled potatoes, 5 boiled eggs, 2 cucumbers, definitely fresh, 1 or 2 boiled carrots, a can of peas, 200 g of mayonnaise, a bunch of parsley and a few feathers bow.
How to cook Russian salad with fish. Potatoes, cucumbers, carrots and fish fillets are traditionally cut into cubes. The yolks separated from the whites. Proteins also cut into cubes or ball-cutter, and yolks rubbed on a grater. Dry peas, cut green. Mayonnaise, mix with egg yolks, salad ingredients to combine, season with the sauce. Mix everything carefully.
Recipe salad with chicken and olives
For this salad take a half can of canned peas, 100 g olives, pitted, 4 boiled eggs and potatoes, 1 konservirovannoy and fresh cucumber, 1 boiled carrots, boiled chicken breast and 100 g of mayonnaise, a bunch of greens.
How to cook the salad with chicken. All the products are, as always, cut into small cubes. Greens cut. Olives should be patted dry and cut into rings. Peas also need to dry out. Combine all in a bowl, sprinkle with salt-pepper, flavored with mayonnaise and stir.
The recipe for the salad with apples and beef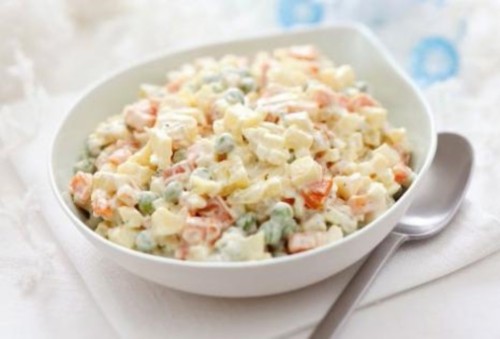 To prepare this salad, boil 300 g of beef, 4 potatoes and 5 eggs, and 1 carrot. Still, we need 3 salted cucumber, 1 Apple and 1 onion. Can not do without the 100 g pea 150 g of mayonnaise.
How to cook the salad with apples. Diced cut meat, potatoes, carrots, cucumbers and eggs. Chopped onions should be parboiled. Peas should be dried. Apples clean, cut out core, cut into cubes, too. All the prepared products combine, mix and mayonnaise.
The popularity of Olivier hardly ever inferior in ranking its place to other salads. But you can cook it in different recipes, bringing each time its taste some new flavors.