The Caesar salad with boiled chicken and Chinese cabbage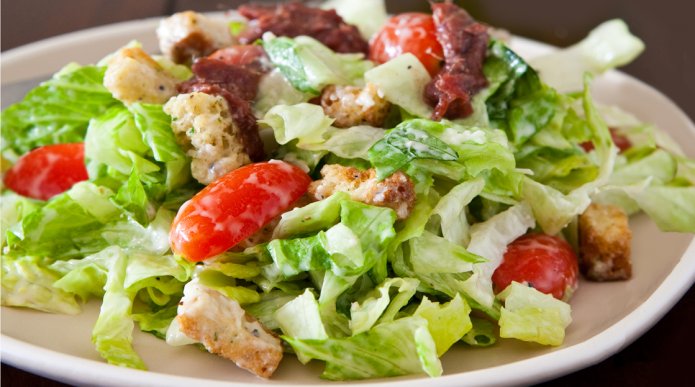 Necessary ingredients:
500 g of chicken meat;
250 g Chinese cabbage;
2 fresh tomatoes;
100 g Parmesan cheese;
3-4 pieces of lettuce;
2 slices of white bread
olive oil or light mayonnaise for refueling.
Cooking
To start, boil the meat in salted water, cool and cut into thin strips, then fry in vegetable oil until until light Golden brown. Then cut the lettuce and cabbage. Tomatoes cut into neat thin slices. White bread cut into small pieces and fry in a pan or bake in the oven. Combine all ingredients in a deep bowl and mix thoroughly, season the dish with a light mayonnaise or vegetable oil. If the seasoning you use olive or sunflower oil, the salad needed a little salt and season with spices.
Salad with smoked chicken, Chinese cabbage and nuts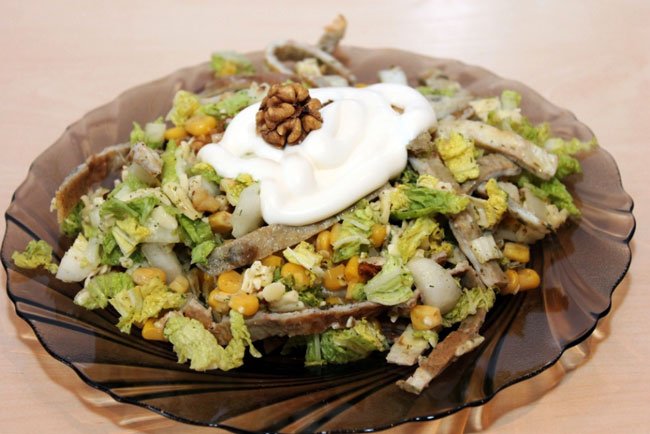 Necessary ingredients:
500 g smoked chicken;
250 g Chinese cabbage;
1 jar of canned corn;
0.5 cups shelled walnuts;
100 g of mayonnaise for salad dressing.
Cooking
Smoked chicken cut into thin strips or small cubes. Then shinkuem cabbage and place in a bowl to the chopped meat. Express syrup from the canned corn and add it to the salad. Walnuts grind using a blender or knife and pour them in a bowl. The salad is dressed with mayonnaise and mix thoroughly.
Chicken salad, NAPA cabbage and pineapple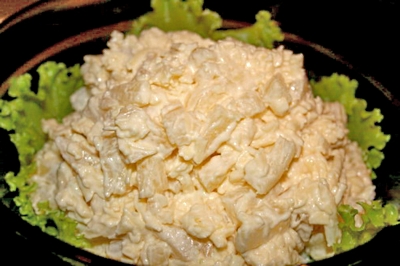 Necessary ingredients:
2 chicken Breasts;
200 g fresh pineapple;
100 g Chinese cabbage;
100 g oakleaf lettuce;
100 g light mayonnaise;
50 g of sour cream;
1 tbsp mustard;
3 sprigs of fresh dill;
salt and ground black pepper to taste.
Cooking
Chicken breast spread on a pan, sprinkle with salt and fry in vegetable oil until cooked on both sides. Ready to give meat to cool, then cut it into small slices. Peel the pineapple and cut it into small slices. Cabbage shinkuem and salad tearing hands. Then you can start making salad dressing. To do this in a separate bowl mix mayonnaise, sour cream, mustard and chopped dill, adding a small amount of salt and black pepper. Pour the salad is prepared sauce and mix thoroughly.