You will need
Marinated beef for frying

½ Bottle of dry red wine;
3 tablespoons Russian mustard;
2-3 Bay leaf;
2 large onions;
150 g of parsley;
2 tablespoons soy sauce;
1 teaspoon of salt;
1 teaspoon ground pepper;
1500 g of veal.
Marinated beef kebab
1200 g veal;
200 ml dry red wine;
4 tablespoons of olive oil;
2 large onions;
5 cloves of garlic;
1 Bay leaf;
1 teaspoon thyme;
1 teaspoon rosemary;
1 teaspoon of salt.
Marinated beef for roasting
1000 g veal;
1 lemon;
2 teaspoons hot mustard;
4 garlic cloves;
2 tablespoons of sugar;
3 tablespoons of soy sauce.
Instruction
Marinated beef for architectute a thick plastic bag. Slice the meat into pieces and put it in a package. Onion cut into 4-6 pieces. Garlic divide into cloves, but do not brush them. Parsley finely chop. Put all in a bowl or pan. Add red wine, mustard, 2-3 Bay leaves, soy sauce, salt and pepper. Give everything a good stir and spoon the mixture into a package of meat. Vigorously shake the package several times, so that all the pieces of meat was in the marinade. Package tie, put in a bowl and leave in the refrigerator for 10-12 hours. After frying the meat, use the marinade to prepare the sauce for the veal.
Marinated beef for sellegipoolest large onion rings, and the garlic slices. Put all into a large bowl. Add the red wine, olive oil, rosemary, thyme, salt and mix everything well. Cut meat into small pieces and fold into the marinade. Cover the bowl with a lid, put on top load. Veal should stand in the marinade for about 3-4 hours, after which you can cook tender and juicy kebabs.
Marinated beef for roasting in large bowl, Combine the mustard, sugar and soy sauce. Squeeze into the mixture the juice from the lemon. Finely chop garlic into bowl. Mix everything carefully. Meat cut into small pieces, and coat each freshly prepared marinade. Fold the meat into the pan, cover and leave to marinate in the fridge for a day. Do not rinse the marinade before you will bake the meat in the oven.
Useful advice
Do not add too many spices and herbs when cooking the marinade for the veal. From vinegar too best to refuse, it can dry up the meat. Use vinegar instead of lemon juice. If you want to marinate the beef in red wine, do not take the cheapest wine. It may be defective, and then the taste of cooked meat will disappoint you.
Advice 2: How to marinate skewers in wine
Soon the summer – time for picnics, Hiking in the mountains or in the forest. A constant attribute of this holiday is considered to be kebabs. There are plenty of ways of cooking meat for this dish. For example, it can be marinated in wine.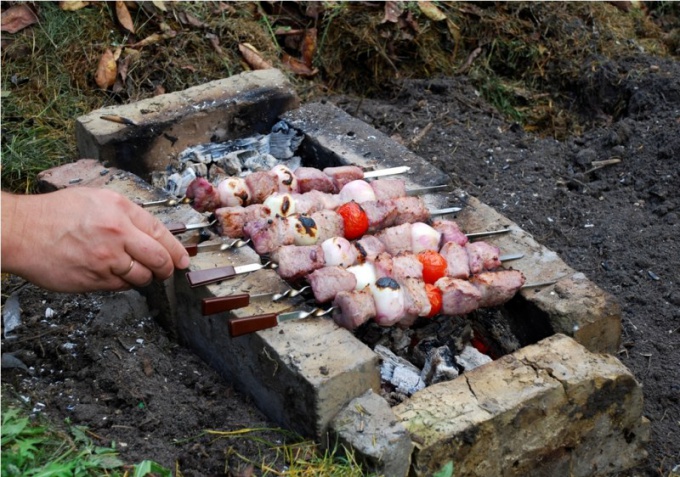 You will need
3 onions;
4 garlic cloves;
1 large tomato;
kiwi;
Apple;
0.5 liters of wine;
1 tbsp. of salt;
black pepper;
pepper curry;
Zira;
vegetable oil;
a weak solution of vinegar.
For the sauce:
1 tbsp. tomato juice;
vegetable oil;
dill;
parsley;
jusi;
small onion;
1 clove of garlic;
black pepper;
pepper curry.
Instruction
Cut meat into square pieces. Try to make them the same size. Fold in a deep bowl, for example, in the pot. For a kebabbut better to take fresh not frozen boneless pork and cut it into pieces about 3 by 3 cm.
Onions cut into rings, garlic finely chop or skip through chesnokodavilku. Tomato, Apple and kiwi crush into small slices.
Mix vegetables and fruits with meat. Add salt, mix well and remember hands to drain juice. From top to pour a small amount of vegetable oil.
Add a unique blend of spices – pepper, curry and cumin. You can also use a special blend of spices for a kebab.
Now pour the meat with wine. It is necessary that it barely covers the pork pieces. To the kebab came with a spicy taste and was flavorful, you need to take homemade wine made from red berries. If such is not at hand, use the Cahors.
Cover the pot with the meat cover and refrigerate. It has to marinate at least overnight.
Then remove the meat from the wine composition. Place the pieces of pork on skewers. For the beauty and diversity of the taste of the meat can be alternated with slices of tomato or some other vegetable.
Now it is possible to fry a shish kebab. That the meat was soft and juicy while cooking, watering it with a weak solution of vinegar. No matter you cook barbecue outdoors on the grill, or at home with the help of electrocasnice - the taste of the dish will be delicious.
To barbecueis to cook the sauce. In a skillet, heat the vegetable oil. Finely chop the dill, parsley, jusi, garlic, onion. Lightly fry in butter, herbs and onion.
Pour a glass of tomato juice. Bring to boil and reduce heat. Add in the sauce garlic, black pepper, curry, salt to taste. Wait until the tomato juice has thickened, remove from heat and cool. Pour the sauce in small bowls and along with skewersof om serve.
Advice 3: How to marinate steaks
Long been known that if the meat before the heat treatment to withstand some time in a mixture of spices and other ingredients that we usually called a marinade, it acquires a special aroma and taste, it becomes more juicy and tender. Initially, the steak was called a piece of meat cut from the carcasses of animals across the grain. Generally, steak is made of beef or veal. However, at present this concept has found wider application: the steaks are also made from poultry (e.g., turkeys) and fish (e.g., trout or salmon).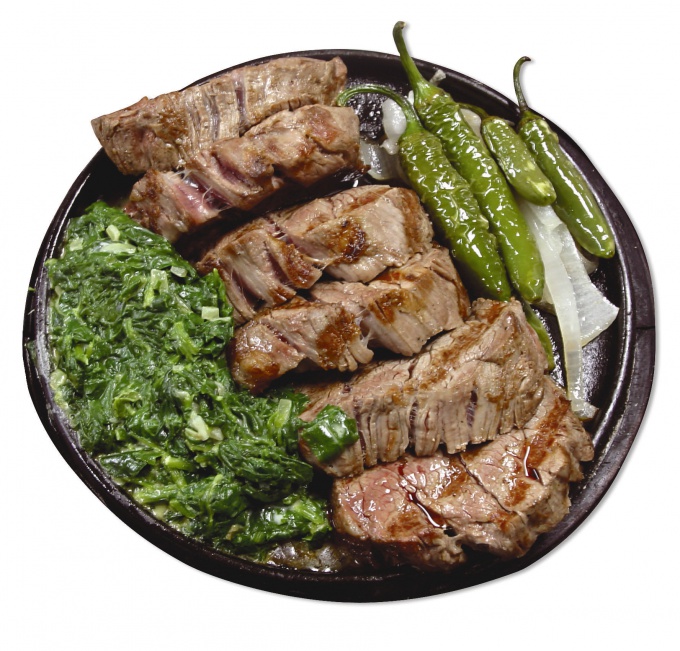 You will need
fish or poultry
sliced across the grain;
deodorized olive or other vegetable oil;
wine;
tomato or lemon juice;
yogurt;
cream;
mineral water;
spices.
Instruction
First we need to choose a basis for the marinade:
For
marinating
steaks from lean meats and poultry, you can use oil-based. This will suit the olive or any vegetable oil of your choice, the main thing that it did not have its own, distinct smell. For steaks of fish you can use cream of average fat content (20-25%).
Oil generates around the meat film, due to which when broiling steaks or baking them on the grill quickly formed a beautiful Golden crust. It allows the meat to remain juicy and tender inside. In addition, the oil helps to open up the aroma of spices and seasonings.
- If the meat quality is you have some doubts whether the steak is soft enough, or hard and dry as a sole, is better suited sour based marinade. In this case, you can use wine (red and white), tomato or lemon juice, in some cases, low-fat yogurt. It should be noted that red wine and tomato juice will also give the steaks a beautiful shade, and lemon will improve the smell of fish.
- If the meat you got of excellent quality or you are for some reason limited in the choice of products, you can marinate it virtually in its own juice. However, to get the best result, preferably in addition to the spices add to the meat in addition to spices finely chopped onions, or carbonated water.
The second necessary component of a marinade are spices and condiments. Their choice should be approached with reasonable caution. Overdo it with some sweet-smelling grass and the product is hopelessly flawed. Best limited to 3-4 components, differently instead of a sound, harmonious composition of taste and aroma, we risk a real culinary disaster.
To steaks poultry and fit black hot red pepper, paprika,
garlic
, thyme, hops-suneli, in some cases, you can add some cumin seeds or sesame seeds.
Fish is the perfect combination of lemon, or lemon pepper, white pepper, dill, mint.
Meat steaks are usually accompanied by various types of pepper, garlic, etc.
Usually the steak stand in the marinade from half an hour to several hours. The pot should be tightly sealed so odors are not mixed with the flavor of the marinade.
Opinions of cooks on when you need to add salt, divided. Some believe that the need to add salt just before cooking or even roasting or grilling to steaks did not release the juice. Others believe that salt should be added directly into the marinade, according to the French mariner to put in salt water to marinate.