The first recipe came from Sunny Sicily. Its beauty is that the snack is quite lean. It is no secret that many refuse this vegetable because it is cooked in plenty of oil.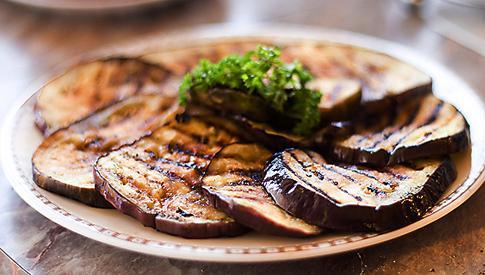 Grilled eggplant in Italian
Ingredients:
- 6 small eggplants;
- 4-5 cloves of garlic;
- a few leaves of fresh mint;
- olive oil;
- balsamic vinegar;
Sol.
Cooking
Take the small eggplant (large always less tasty), wash and razmitii into 2 parts, and then into slices about 0.3 cm thick. A good RUB with salt and leave for half an hour, so she pulled out of the vegetables all the bitterness. After 30 minutes, the resulting liquid must be drained and flushed the "blue".
Grill lightly with oil and place it on slices of eggplant. Fry turning occasionally so they don't burn, until cooked.
Garlic grate and mix with olive oil and balsamic vinegar to taste. Add finely chopped fresh herbs of mint, stir.
Take this spacious container. Put the eggplants in it and generously grease with a brush the oil mixture. Cover with second layer and cover it with oil. Repeat step until, until the eggplant will not end.
Close the container with a lid and leave in refrigerator at least overnight. In General, the more you stand, the tastier it will be!
This appetizer pairs perfectly with a slice of toasted grain bread.
Eggplant with soy sauce and spices
To prepare these spicy eggplant we need:
- 4-5 small eggplants;
- 2 cm ginger root;
- 2 tbsp green coriander;
- 25 ml sesame oil;
- 25 ml rice vinegar;
- 50 ml soy sauce;
- 2-3 cloves of garlic.
Cooking
Vegetables slice lengthwise and make cuts "mesh" with a depth of about 0.5 cm. Mix the grated fresh ginger and garlic, fresh coriander, oil, vinegar and soy sauce in the processor.
Lubricate the resulting mixture of eggplant and leave it for 45-50 minutes.
The oven heat to 200 degrees and send back the blue pickled for about 20 minutes, until tender.
They are simply amazing combined with the meat on the grill - definitely try to cook in the summer season!