Cypress tree on the windowsill


The main problem, not allowing to keep in the apartment conifers - too hot and dry air. Of the other adapted to this cypress macrocarpa, native to California. In the natural environment this tree sometimes reaches 25 m and in a pot on the windowsill can grow a maximum of 1.5 - 2. If the conditions of life for cypress suitable, it can live for many years.

For cypress are not afraid of low temperatures, but dry and hot air during the heating season can quickly destroy the plant. To feel good, cypress needs to be wintering at 5-15°. The only solution is to put the plant on the insulated, but unheated loggia for the winter, or raise it without a rest period, spraying twice a day with cool water during the heating season.

Cypress likes bright diffused light. Direct sun can occur burns, causing the plant off diseased branches of the needle. This tree develops well in partial shade, especially outdoors. Cypress grows well in constantly wet ground, this water it liberally and frequently, especially in summer. In the wintering period, reduce watering to one time per week, as the cypress in this time almost not growing and recycles the water.


Thuja in the apartment


TUI belongs to the family of cypresses, and the conditions of her detention in the apartment similar to him. In nature, arborvitae is native to North America and Eastern Asia but adapts well to various living conditions, including the pot on the windowsill. Thue need a cool room, only she will be able to develop normally and to allocate phytoncides in the air, filling the house with the scent of pine needles.

In this tree grows up to 2 meters, and likes a temperature not exceeding 20oC in the summer. Often in the summer, fifth removed from the window sill to cool and in the shade so she didn't get sunburn. It does not require a lot of sunlight, and ambient lighting throughout the year is enough. Thuja watered little and often, so the soil never dried out. Very grateful to this plant responds to spraying in both winter and summer.

In dry air at Thue often appear pests spider mites, aphids, and scale insects. Weakened plant under such conditions can die, so it's easier to prevent infection, maintaining a constant spraying on the plant high humidity.

You can grow th from seed - in this case it will be more adapted to dry air. This conifer after a few years make excellent bonsai.
Advice 2: How to grow thuja sprouts
Thuja is a pretty complex plant. Cold winter for her oftenth be disastrous. It grows well in large southern cities with their jams and heavy air, but low light apartments leads to yellowing and dieback of its branches. However, thuja popularity as owners of household plots, and those who enjoy indoor experimental horticulture.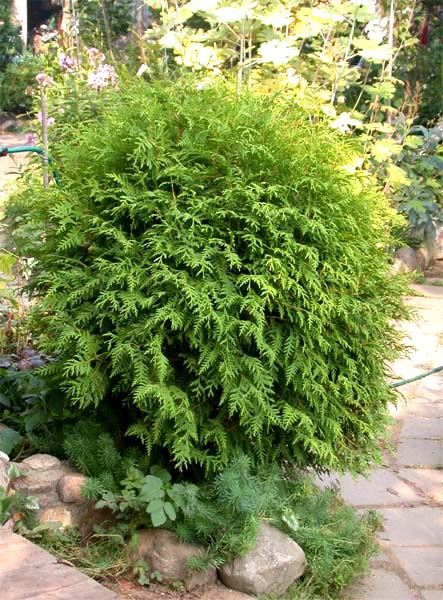 You will need
- Soil;
- Apophysis
- Fertilizers;
Water;
- Shovel;
- Watering.
Instruction
Sow th seeds - they usually have a good germination rate and no problems in germination not observed. Another popular method
of reproduction TUI
– cuttings. It is better to cut with the mother hive in early spring, taking the already stiff piece of bark. Ensure that your
processes
were at least 3-4 are still sleeping buds. Botany is recommended to cut off the stalks soak for several hours in a slightly colored solution of potassium permanganate. This will not only kill the "dormant" disease, but also enrich the processes of essential nutrients.
Plant cuttings for growing in the greenhouse frame, which is equipped with a detachable frame. On warm days, they should be removed to the young plants was tempered, and they had enough sunlight to sustain photosynthesis. Agrotechnics care processes is reduced to watering (minimum twice a week using the watering can and the divider and loosening. No feedings at this stage to produce should not be.
Prepare planting holes for TUI. If you want to generate from it a hedge, place them at a distance of 20-25 cm from one another. The volume of the pit should be about 40 CC, see Down put the vegetable waste, e.g. shavings and sawdust of deciduous trees, silt from a nearby pond, moss. Tamp well and treat any substance from harmful insects. The second layer – compost soil or rotted manure.
Avoid fertilisers based on poultry manure, and fresh manure, regardless of the type of Pets that produced it. Young seedlings do not tolerate such concentrated fertilizers, they may have had a root burn. The third layer in the landing pit – garden soil. Pour into each hole for 2 buckets of water and leave for a few hours to subsidence.
Planted the sprouts directly arborvitae, this plant does not like slopes. After landing advanced pour water through the heads with a divider. Direct watering is fraught with smearing of the soil and exposure of roots, it is impossible to avoid. So as long as the soil does not dry out, it is recommended to mulch with sawdust, expanded clay or other similar material. Further agricultural tuey care is reduced to regular watering, fertilizing and annual (spring) crown formation.
Advice 3: How to water the cypress
To grow a cypress tree in the home is not so difficult. Very interesting to engage in the cultivation of the tree from a seed. Sow preferably in the spring. At this time seeds will be able to overcome the critical threshold. Grow cypresss more than 15 years.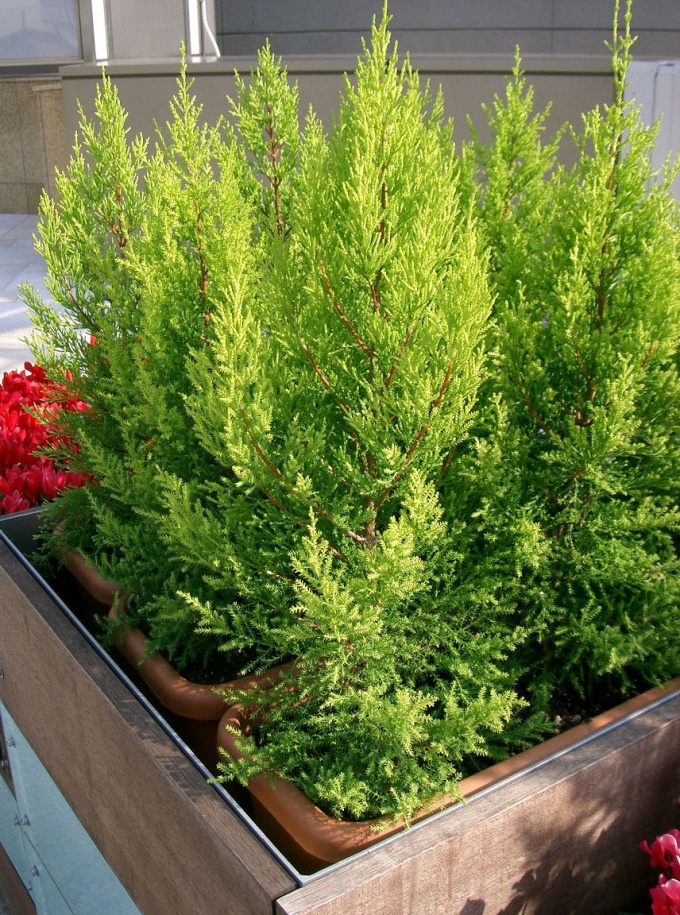 Instruction
It should be noted, it is recommended to keep this plant in bright diffused light. To cypressyou were strong and high, you need to plant them in the spring on a glazed balcony, which is located on the South side. When start cold, the plant needs to be put in the room. At low temperature it may die.
Cypress trees, especially small ones, much like water. With a lack of water, will be their death. The ground should be moist. But watch that you do not pour the trees. This is especially harmful when they grow in the sun. Regularly spraying with a hand sprayer. For this purpose you will need the water at room temperature.
Spraying is best done several times a day. The land should not be dry. Cypresses don't like the heat from room battery. Put the plant as far away from her. In older homes, when grown, can cause problems. The fact that in such constructions the plant is constantly suffering from the heat. This is especially noticeable in the winter. The plant is bad for the draft. Therefore, you need to place it away from vents.
In winter, try to make a more cool temperature. The cypress grows best at this time on the Northern and Eastern window. If during this period the plant is located on the southern or Western window, then when the summer season, it is necessary to move to the North window.
In the period from may to October, the plant must be outdoors. From may to October, you need to make a light dressing. Cypress easily tolerates pruning. In winter, when there is excess heat, the plant spider mites is affected. Reproduction of cypressand is carried out by cuttings. Put them under the plastic caps. The most favorable soil temperature of +25 °C. If necessary, the spring can perform the transplant in a mixture of humus, turf and pine land.