You will need
For the dough:
- 200 grams of flour
- 0,5 teaspoon of baking soda
60 grams milk
- 60 grams of sugar
- 80 grams of butter
For the cream:
- 0.5 liters of sour cream
- 1 Bank of condensed milk
- vanilla (optional)
- 1 teaspoon cocoa (or chicory)
Instruction
Take butter and melt on low heat, stirring with a spoon. Gradually add milk and sugar. Wait, when the butter is completely melted, and remove from heat.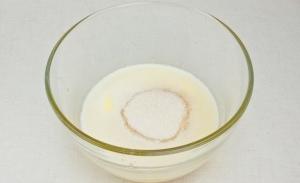 Add to the bowl with the butter, sugar and milk remaining ingredients: flour and soda. All mix well.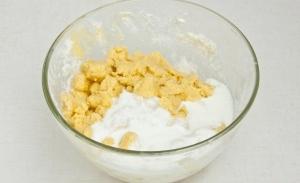 Begin to knead the dough, if necessary adding a little flour. Monitor the consistency test: it must be elastic, similar to sand.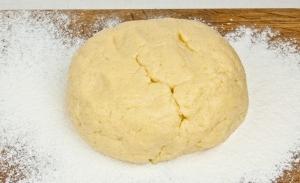 Take a pan, grease with vegetable (or butter) butter and put in hot oven for 5-8 minutes.
Move on to preparing the filling for the pie. Put in a bowl the sour cream, vanilla, and condensed milk. All carefully mix with a whisk or spoon. The cream is ready.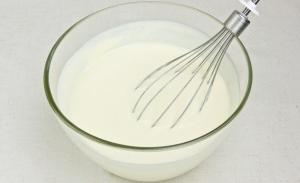 Detachable bit of the resulting white cream in a glass and mix with cocoa (or chicory) to brown.
Roll out the dough, make a small roll of 1-2 cm (so the cream won't flow out). Get the pan out of the oven. If necessary, again grease the pan with oil. Spread the dough onto the hot baking tray, pour with cream white color.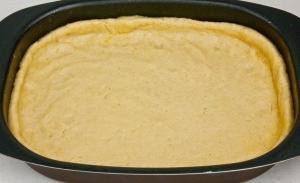 Do brown cream pattern cross strips with a spoon, longitudinal stripes - with a fork or toothpick.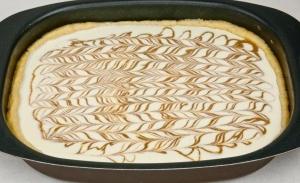 Put the pie in the preheated oven for 30 minutes. Once the crust is browned, the pie is ready.