You will need
For rolls:
- 500 g pork rind;
- 250 g of any minced meat or meat;
Sol;
- pepper;
Spezia.
For the sauce:
- 500 ml light beer Nagornogo;
- 2 tablespoons of mustard;
- 1 tbsp of honey;
- 1 sprig of rosemary;
- ground black pepper.
Instruction
First you need to make the sauce. This beer mixed with mustard to a smooth consistency with the rest of the ingredients specified in the recipe. Optionally, you can add your favorite herbs.
The roulade can be filled with as meat and meat. If the meat comes from, it is better to discourage or cut into slices with thickness up to 1 cm meat or minced Meat mixed with spices, salt and black pepper.
Pork skin wash, a little dry and flatten on the table. On the skin lay the sliced meat or minced meat.
Tightly roll pork skin stuffed with meat in the roll, tight to tie a strong thread.
Put the loaf in a baking pan, pour beer sauce. Bake at 200oC for about 2 hours, basting with sauce.
When the roulade is cooked, take it out of the oven, slightly cool, remove the skin and slice not thicker portioned slices. This loaf goes well with potato dishes and vegetable salads. Can also be served as a separate snack cold or hot.
Useful advice
To impart a smoked taste to the roll can be poured "liquid smoke".
To roll was even spicier, before roasting the meat to marinate.
Advice 2: How to cook a roulade of pork peritoneum
Roulade of pork peritoneum, wonderful, and most importantly, less harmful alternative to purchase sausages and boiled pork. Just cook it with garlic and spices, or make a juicy stuffing of prunes.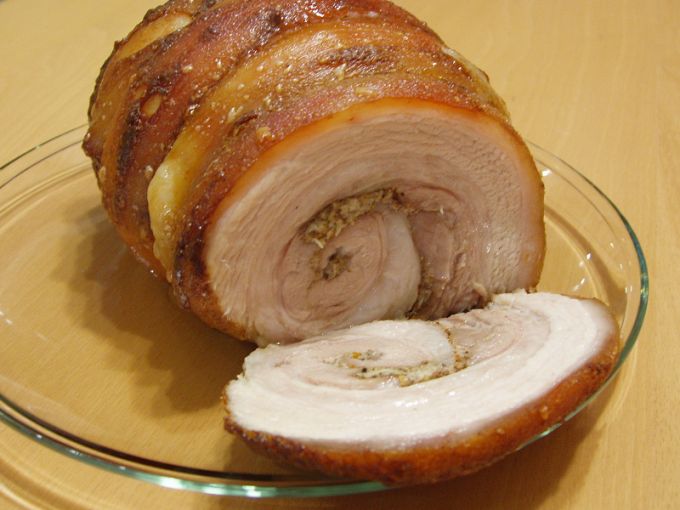 Roulade of pork peritoneum with garlic and spices


Ingredients:
- pork belly weighing 1.2-1.5 kg;
- 8 cloves of garlic;
- 1 chili pepper;
- 1/4 tbsp paprika, nutmeg, oregano and white pepper;
- 1 teaspoon of salt;

You will also need:
- 1 m of foil;
harsh thread or twine.

Thoroughly rinse the belly, Pat it with a paper towel and sear, if necessary, areas where there are bristles. Put the pork on a cutting Board and make deep horizontal cuts in the meat, reaching all the way to the skin, but not cutting it, at a distance of 4 cm from each other.

Clean the garlic cloves from the skins and crush them in a special press. Mince or chop in a blender chillies along with the seeds. Connect both with spices and salt and mix. RUB the resulting mass of the peritoneum on the inside, paying special attention to the incised areas. Roll it into a tight roll and drag in a few places severe thread.

Preheat the oven to 180oC. Fold the rectangle foil in half, lay meat on it and wrap the parcel tightly. Transfer it to a baking sheet and place in oven. Bake roulade of pork peritoneum 1.5 hours. Let it cool and carefully slice with a sharp knife into chunks, removing all the skin.


Roulade of pork peritoneum with prunes


Ingredients:
- pork belly (1.5 kg);
- 150 g pitted prunes;
- 2 orange;
- 1 tbsp adzhika;
- 30 g of parsley and dill;
- 2 stars of star anise;
- 2 cinnamon sticks;
- 1 tsp mixture of peppers (black, white, red);
- 1 teaspoon of salt;
- 3 tbsp of cognac;
- 2 tablespoons of honey;
- vegetable oil;

You will also need:
harsh thread or twine.

Prepare the meat, cover it with cling film and repel a little culinary hammer. Squeeze the juice from oranges, pour it into a saucepan and heat over medium heat. Stir in the washed prunes, cinnamon and star anise and simmer 5 minutes, stirring occasionally. Leave the dishes, cool the contents, pull out the wand and stars spices and grind what's left in the blender to a pulp.

Finely chop parsley and dill. Place the belly skin down, brush it with sauce, sprinkle with mixture of peppers and salt, evenly cover with prunes and herbs. Form a tight roll and tie it. Prepare the glaze of honey and cognac and lubricate the skin of the pork with a cooking brush.

Pour a little vegetable oil on the bottom of utyatnitsu, and let it roll seam side down and cook it for 1 hour at 200oC. Remove the jar, close the lid and leave the dish for 20 minutes at room temperature.