You will need
For admission to the law faculty of any University, you will need knowledge of the following subjects: Russian language, Russian history and social studies. For these subjects you should choose the exams in 11th grade and hard to prepare for exams, because the competition for many law schools good schools is very high.
Instruction
Social studies is a core subject for admission to law school. This item you must know not just fine, you have it well-versed and genuinely interested in them. With further study at the University you don't so much need a rating on this item when you receive, how much of the knowledge imparted at school.
History. Another profile subject. It represents a considerable challenge for many pupils, as you have to remember the dates, the causes of different events. But the appearance of the law without this knowledge is not enough. Suggest in preparation for high school and for final exams at school to focus not only on the study of Russian history, but world history.
Russian language. Is not a core subject, though usually for students of humanitarian specialties this exam gives good scores for admission. After all, to pass Russian language is much easier than history or social studies. However, a good knowledge of the Russian language will definitely need a lawyer, since he needs not only precision in speech, knowledge and observance of laws, but of marginal literacy in the documentation.
Some law faculties, for example, at the faculty of international law and one of the exams can be a foreign language. He either completes the specialized examinations of a University or for rent is the history of Russia.
Some universities in addition to the exam arrange for their students the internal examinations in core subjects. At the faculty of internal written or oral examination may be held in social studies, at least – on the history of Russia. To find out information about the availability and implementation of such tests should be in the admissions office of the chosen University or on its website.
Note
Some universities place students in the receiving system are distributed not by total points for all exams, and scores for the relevant items. Profile at the faculty of law are social studies and history or social studies and foreign language, while Russian language can just be counted as delivered, without regard to points. So you need to know in advance the system of admission to the selected University. And strive to get maximum scores in all selected disciplines.
Useful advice
Before entering the law faculty should get acquainted with such subjects as law, history of Roman law, constitutional law. It is very will help you in further training on 1 course.
Advice 2: It's good to pass exams
The exam is called the final stage of training, verification of knowledge, if we are talking about the entrance exam, it is conformity assessment of the level of initial knowledge profile of the institution. Knowledge testing is usually carried out orally or in writing, but regardless of the form of the exam is not easy. There is a small trick that will help you to endure.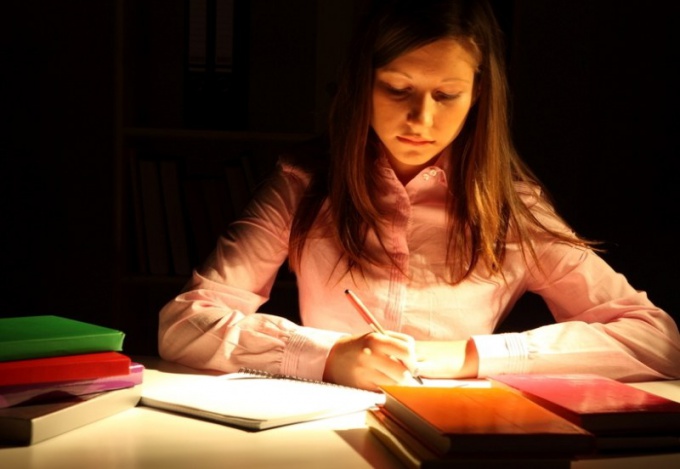 Preparing for the exam Cannot take the exam if you know nothing on the subject. Training needs to start early, otherwise convulsive flipping through the notes or textbook on the last day of the desired result will not bring, you only have it all messed up in the head. During the preparation for the exam, try to sleep, repeating the bedtime the most difficult topics, this will provide an opportunity to continue processing information in your sleep and delay the acquired knowledge into long term memory. Combine mental activity with physical, you will give your brain time to relax, which will improve the quality of training. Try not to memorize the text and understand it. So you will be able to tell the topic in your own words and to answer additional questions if necessary. The written exam is also important, as some questions are formulated in such a way that without understanding the essence of the problem choose the correct answer will not work. If we are talking about the University – try to attend all the lectures. It's not even that so you will be better treated by the teacher and that outlining the text of the lecture, you will use all types of memory: visual, auditory and motor. In addition, in their notes to prepare for much simpler, no need to fret, examining someone's handwriting, or to adapt to the complex morphology of most textbooks. Written exam Written exams are divided into an essay and tests. The writing and everything in General is simple, you only need to commit to paper their thoughts given topic, trying to show the maximum level of knowledge. In the test you are given a series of questions with answers for the allotted amount of time you need to score as many points as possible. Do not meditate long on the first few issues. Carefully read the test to end immediately noting those items that you know well. Of the remaining issues separate from those for which answers you do not know at all, they will deal with in the end. Left items that you will be able to remember or decide if you think. Their decision and spend most of the time. When the duration of the exam will remain a few minutes, at random fill in any variant of unresolved questions. Do not leave them blank, because there is a chance to guess and increase your score. Oral exam the oral exam must be prepared, not only in terms of knowledge, you need to take care about their appearance and positive attitude. The night before the test of knowledge will be devoted to sleep. You need to be fresh and rested, it will help you focus, reduce your stress levels. To questions, answer clearly and confidently. Your appearance should be inviting. Of course, teachers first assess the level of knowledge, but they are people too, if they'd be uncomfortable to be around you, they subconsciously will be negative to you are customized. So please dress modestly and neatly: washed and ironed clothes, nothing flashy. Makeup is modest. If you use perfume or toilet water, try to avoid strong smells.