For the baby baptism is the beginning of spiritual life, therefore, godparents, mom and dad need to share this touching ceremony with him and his parents. According to Church custom, the godfather giving the child a few gifts. Among them baptismal shirt and a cross, crysma towel in which the baby is wrapped after the bath. These gifts presents godmother. A godfather needs to pay for the meal for the guests and the ceremony to donate the cross and chain.


Silver spoon – a gift to the "tooth"


The Church tradition of giving to the godson a silver spoon appeared for a long time. A spoonful of the precious metal presents for the future baby that the child was able to eat food with this Cutlery. The spoon often engrave the baby's name or a picture of a Guardian angel, Orthodox cross. You can also write on the gift of word of prayer.

The traditional gift for christenings are usually used for the first time in the temple. It serves to encourage the baby to Communion. With the help of a silver spoon baby give sample soaked in pomegranate or any other red fruit juice bread.

Silver spoon at the christening today, you can choose from different finishes. Common items decorated with colored enamel, is choose to important a beautiful gift box and ribbon.


The symbolism of silver spoons


Spoons of silver to give "tooth", because when the baby first teeth erupt, this time in his diet introduce solid foods. When meeting with a new food use spoons made of precious metal gives disinfectant effect. All because the silver ions kill pathogenic microbes, pathogens of the intestinal and other diseases. So that spoon can be a very practical gift for a godson.

Also a christening gift allows early to accustom the child to independence. But you need to choose a spoon with a comfortable handle – curved. Baptismal spoon will love the baby and become his favorite, if to approach to its choice with mind.

Presented for baptism spoons are small in size, but the appearance and shape of Cutlery made of silver may vary. The popularity of christening spoons of precious metal has especially increased in the 18th century. Today, these gifts for kids are affordable to almost everyone, they allow to Express a special relationship to the child.
Advice 2: How to clean a silver spoon
Silver does not tolerate contact with oxygen it darkens. For cleaning, you can contact the jewellery workshops. Or to use traditional cleaning methods that you can use at home.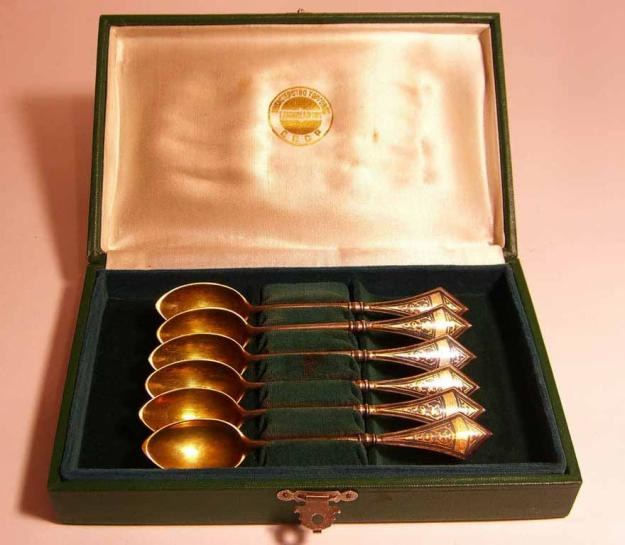 You will need
liquid for cleaning jewelry;
- ammonia;
- tobacco ash;
- lemon juice;
- citric acid;
- baking soda;
- potato decoction;
- toothpaste.
Instruction
In jewelry and hardware stores sell special tools to care for silver jewelry. Just wipe her
silver
spoon
. Using this liquid to clean silverware and silver jewelry.
To clean silver using ammonia. For this is enough for one hour of dipping a silver spoon in a solution of alcohol (the ratio of water and alcohol is 1:10). If there is no time to wait, take a napkin and soak it in the solution and carefully wipe the product to remove stains. Ammonia is impossible to clean the silver with black.
Put silverware in a bowl of water and add tobacco ash, boil, then wipe the instrument dry. You can mix the ashes with lemon juice and RUB the darkened devices.
Citric acid is also very good to clean any silver items. Put the spoon in her solution for a few minutes, and she will again delight you with its brilliance.
Through the use of ordinary baking soda to clean silver items that do not have a lot of patterns. Take a damp cloth and using baking soda and clean the products before the disappearance of spots. You can also use a soda solution. Approximately 30 g of baking soda and pour 100 g of water. In the solution put silver jewelry in for a few hours. For best results, you the solution with silver objects bring to boil.
Make a solution of cream of Tartar for a few minutes and put items from the finicky metal, then wipe dry.
To restore the luster of silver devices will help the potato broth. Place in it a silver spoon for 10 minutes and they will be like new.
Silver spoon is well cleaned with toothpaste. Apply to a soft cloth and wipe the paste products.
Note
Mechanical type of cleaning silver can be applied only when the product is a sample of 625 and above, otherwise it may worsen of the silver devices.
Useful advice
Proper storage of silver items will provide a great view of your silver for a long time. So after the holiday silverware thoroughly and then carefully dry with a towel.