What is iphone?
IPhones and iPads are made by Apple, they have a lot of fans all over the world. IPhone (iPhone) is a phone with a touch screen that allows you to view pages on the Internet, read books, listen to music and perform other actions. IPad (iPad) is a tablet computer with a touch screen, which is much larger than the screen of the iPhone. It is used for the Internet. The difference between an iPhone and an iPad is not too big, though, because they work on identical operating systems iOs. For iPhone and iPad has created a huge number of applications that can be put on any of these devices, you just have to keep in mind that some apps designed for phone and other for tablet.
In addition to iPods and iPhones Apple has released iPods iPods (the iPod).
The main difference between these devices in a size and resolution of screens. The screen size of the iPhone — from three and a half inches (it depends on the specific model), the screen size of iPad — nine and seven-tenths inches. The screen resolution of iPhones starts from 480x320 pixels, the screen of iPad has a resolution of 1024 x 768 pixels.
It should be noted that iPhones and iPads — a rather expensive technique and is considered to be a "status". The price of a new model begins with twenty-five to thirty thousand roubles.
What is the difference between iPhones from smartphones?
Smartphones are now called phones running on the Android operating system. This system was developed by Google, which constantly changes and improves it. Android phones are manufactured by dozens of companies. Most notable among the other company is Samsung.
Android is considered to be not so perfect operating system iOs, which does not require the user to dig into the settings and immediately ready to use, but Android can be finely adjusted, spending a bit of time. Tablets and smartphones based on this operating system a variety of different shapes and sizes and can belong to any price range. The simplest tablets and smartphones on Android are three or four thousand rubles. Of course, the functionality of these budget models can be trimmed, but their goals they perform.
There are several operating systems for smartphones, but now almost all of them finally driven out of the market.
There are smartphones, and on the basis of system of Windows phone, however, they are significantly inferior to Android and iOs. If the share of Android-devices accounted for more than 65% of the world market share of iPhones and iPads — 24%, mobile Windows phones is not so much space to "turn around".
Advice 2: What distinguishes the iPhone from a smartphone
The iPhones in our country has gained incredible popularity. While users of ordinary phones and smartphones tormented by the question, what is different iPhone.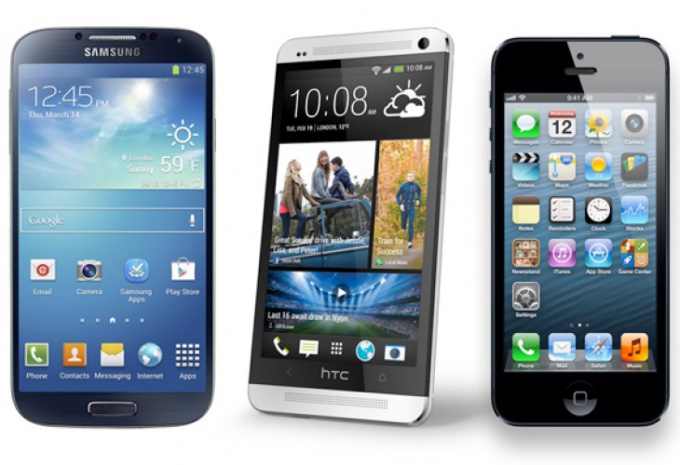 Instruction
Currently on the market is the number of mobile devices that when choosing the next new gadget dazzled. With the help of modern smartphone can not only make calls and send messages, and surf the Internet, take photos, shoot video, make video calls, use various mobile apps, listen to music, play games, and much more.
You should understand that the iPhone is the same smartphone as many others. It was the first phone with a touch screen and combines the functions of phone, tablet and player.
If you try to find fundamental differences between smartphones and iPhones, it should be noted the main thing – they have different operating systems. So, the iPhone runs on IOS, and other mobile phones can use Android, Windows. For each operating system are developed special apps to perform a variety of functions, games, and other telephone facilities. If previously, users of iPhones might have some problems using popular programs for smartphones, at the moment the developers release apps for all popular operating systems, including IOS.
Distinguishes the iPhone from the smartphone price. Usually the "Apple" of new products have quite high prices, while new models of the popular phone brands with the same set of features can cost in the domestic market a few cheaper.
Among fans of iPhones and smartphones on Android does not cease debate about what is better – a stylish iPhone or Android smart-device. But, apparently, there is no right, because, as they say, to each his own.
From a normal mobile phone iPhone features the same, what other modern smartphones – the openness of the operating system, multi-tasking, great multimedia capabilities. Another significant difference between smartphone and phone – exposure to the first virus.
Since the first release of the iPhone on the market several years passed, during this time, several generations of devices. If between the iPhone 3g and the 4g model had fundamental differences not only in functionality and in appearance, the size of the used SIM card, the subsequent model of "Apple" phones virtually unchanged externally.
So, the iPhone 4s from the fourth iPhone has a more powerful camera and processor, ability to use a smart Siri (which, by the way, does not work in Russia).
IPhone 5s and 5C is used for starting micro and nanosilica, even smaller in size. They had a slightly larger screen, when compared with the predecessors, increased RAM and increased CPU. This allows new products to work faster. Thus, the new iPhones are not much different from smartphones of other brands.