What should not be

Modern school fashion is extremely diverse. The rules by which the graduate must be on last line or school prom in a simple black suit with a white shirt, in the modern school there. However, there are certain garments that are not very appropriate for a gala evening. Tracksuit on this day is better left in the closet, like your favorite jeans and t-shirts. It is not necessary to go to last call in sneakers or sneakers.


What costume and shoes to choose

High quality men's suit – a thing quite expensive. Not all families can afford to buy his son even in the year of graduation for some costumes. It does not matter. Buy one, but this, to be able to wear it "and in the feast and in the world." The color can be anything – black, grey, blue, maroon. For a single suit, preferably dark colors. If the two suits, you can buy dark and light.

Diversified closet by shirts and ties. Remember that in a male outfit, even if it's the outfit of a young man, should not be more than three colors. With a black jacket you can wear white, beige, pink, sky blue or striped shirt. With brown will look good beige, light brown, pink shirt. Can be worn on the last call, one shirt at a graduation or two, and then your boy will look on these festivities in different ways.

An important role in image creation is played by the shoes. A celebration appropriate to wear just shoes and nothing more. Of course, to your young man was like a true dandy, he should be able to wear such shoes, and teach this necessary from childhood.


Alternative to suit

Not all men love blazers. If the graduate is not fundamentally wants to wear strict formal or business suit, to force him to do it will be difficult. However, the jacket can replace a suitable style jumper with V-neck or even a knitted jacket. They will look no less elegant. You can do even without a jacket, especially if it's hot outside. Bright and elegant summer suit at the prom can also be appropriate. Lightweight pants, Polo-shirt short sleeve – what's wrong? Incidentally, such addition is not necessary to buy dress shoes. Suitable, for example, moccasins and even sandals.

Even if the school is asked to come to the prom in a jacket – need to buy model in a classic design. For a special occasion suit and dress coat, a tuxedo and jacket. But regardless of what they're wearing graduate, his clothes should be clean and ironed. Then even the most simple suit will look elegant.
Advice 2 : How to choose a suit for prom
Prom is an event that students remember for a lifetime. Girls dream about this day as selflessly as the wedding. They choose the best dress, beautiful shoes, chic accessories, amazing hair, makeup and manicure. For guys prom is no less significant event. They, as well as their beautiful classmate, seeking to make an impression on parents, teachers, friends and girlfriends. Therefore, the choice of costume for the prom is no less important than the selection of women's dresses.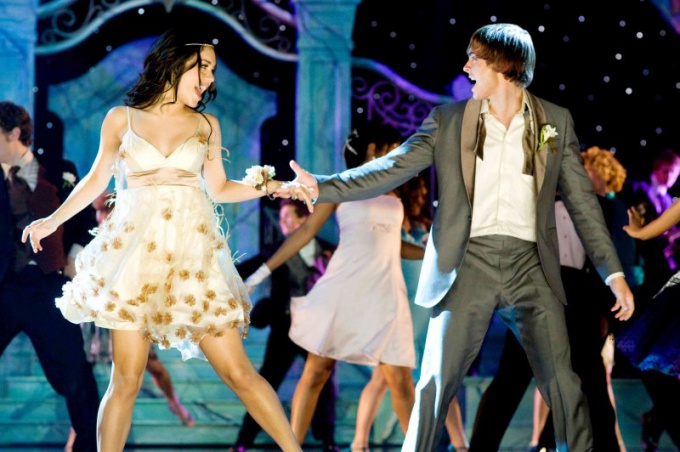 Instruction
Suit for prom must emphasize advantages and to hide disadvantages of a figure of the graduate. Slim boyfriend should pay attention to loose in the waist and shoulders, double-breasted jacket and straight trousers. Broad-shouldered and athletic development graduate it is better to give preference to a suit, tailored exactly for his standards. Tall or big guy it is better to choose loose single breasted jacket with one button. It is important to focus on the upper body, so the lapel should end as low as possible. Low the young man should pay attention to the single-breasted jacket two buttons, located as low as possible.
When choosing a suit for prom, remember that there is still a hot summer, and you'll want to "flaunt" his stylish outfit in front of friends and acquaintances. So give up the heavy wool suits formal colors. Give preference to models, made of linen, silk and cotton. These materials will give you a feeling of lightness and freedom.
The main condition for the choice of colors is suit for prom – expression. The outfit should not be gloomy and boring, however, is too bright, it should not be. The modern variety of colors of fabrics for men's suits will not disappoint even the most discerning fashionistas.
Stand out from the crowd with this classic suit material "suede" or to impress with their originality, appearing to prom in a jacket and trousers made of fabric with a metallic sheen in the style of "high-tech". If you want to surprise your classmates, their parents and teachers but are afraid to seem too bright, stop your choice on a striped suit. It is bright enough not to sound boring, and at the same time, strict enough to not seem geeky.
Experiment with the style and colors of the outfit. The suit, made in bright colors, choose a bright
shirt
pink, peach or purple. Relive the classic informal pants, released over the shirt. Enhance the image of hipsters easy neck scarf.
Do not forget about the details. Find the right tie or scarf. If the use of these accessories is unacceptable to you, discard them. Open your shirt to give the image some looseness. Want to win fame as a super-mod? Complete the costume with black patent leather shoes. Will complete the image of stylish beautiful cufflinks and stylish watch.
Advice 3 : What costume to choose for the prom
For every teenager, prom is a very important event. Contrary to popular belief, young people are no less than girls care about their appearance at the prom. In preparation for this wonderful occasion, every young person is tormented by the question: "How to choose the right suit to prom?".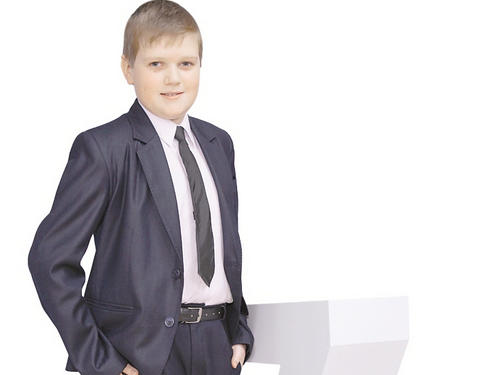 What material to choose?

The first thing you should pay attention when choosing a new suit, this material. It needs to be pleasant to the touch and of good quality. As a rule, the costume, bought for prom, subsequently dressed the young man more than once, so it is important that he was able to delight its owner for many years. Good material for the costume should be soft and a bit of Shine in the sun. You can pay attention to the costume of flax. This is a very practical option, as such a suit can be worn throughout the summer season. But from woolen suits to the prom should give up, because the wool is very warm and heavy material, causing the young man at prom will feel comfortable.



What color to choose for a suit?

Color is very important when choosing a dress to prom, because he can stand out among their peers. There is a perception that all men suits look very dull and similar to each other. But this is absolutely not true. Today you can pick up a large number of classic costumes that will be beneficial to distinguish its owner from the crowd. For example, it is very interesting to the prom will look fashionable dress in checkered or striped. Typically, such a suit sewn from materials dark shades, but this does not prevent him look very bright and creative. Also, many young people prefer dark blue or gray suits for prom. For teenagers who love to shock the audience and surprise everyone with its appearance, fit prom suits a Golden or dark pink.



Accessories

Additional elements are also very important to create the perfect look for prom. For great expressiveness you can pick up a shirt that contrasts with the color of the suit. Do not be afraid of too bright shirts. Bright colors always look very festive and attract everyone's attention. You can also pick up the brightly-coloured tie. Fashionable colors of the tie are: aquamarine, green, Burgundy. No less trendy are considered a tie with a small pattern or large size. If a young man prefers not to wear a tie, there is nothing to worry. In this case, very appropriate to look to the unbuttoned top button of the shirt that give the image a certain looseness. In the pocket of a jacket you can put a small handkerchief in the color of the tie or shirt. It will also look very interesting.


The shoes matched the costume. To the dark suit is more suitable patent leather shoes with laces. And with a suit of light shades will look good suede soft loafers that are more modern and convenient option.