What should not be

Modern school fashion is extremely diverse. The rules by which the graduate must be on last line or school prom in a simple black suit with a white shirt, in the modern school there. However, there are certain garments that are not very appropriate for a gala evening. Tracksuit on this day is better left in the closet, like your favorite jeans and t-shirts. It is not necessary to go to last call in sneakers or sneakers.


What costume and shoes to choose

High quality men's suit – a thing quite expensive. Not all families can afford to buy his son even in the year of graduation for some costumes. It does not matter. Buy one, but this, to be able to wear it "and in the feast and in the world." The color can be anything – black, grey, blue, maroon. For a single suit, preferably dark colors. If the two suits, you can buy dark and light.

Diversified closet by shirts and ties. Remember that in a male outfit, even if it's the outfit of a young man, should not be more than three colors. With a black jacket you can wear white, beige, pink, sky blue or striped shirt. With brown will look good beige, light brown, pink shirt. Can be worn on the last call, one shirt at a graduation or two, and then your boy will look on these festivities in different ways.

An important role in image creation is played by the shoes. A celebration appropriate to wear just shoes and nothing more. Of course, to your young man was like a true dandy, he should be able to wear such shoes, and teach this necessary from childhood.


Alternative to suit

Not all men love blazers. If the graduate is not fundamentally wants to wear strict formal or business suit, to force him to do it will be difficult. However, the jacket can replace a suitable style jumper with V-neck or even a knitted jacket. They will look no less elegant. You can do even without a jacket, especially if it's hot outside. Bright and elegant summer suit at the prom can also be appropriate. Lightweight pants, Polo-shirt short sleeve – what's wrong? Incidentally, such addition is not necessary to buy dress shoes. Suitable, for example, moccasins and even sandals.

Even if the school is asked to come to the prom in a jacket – need to buy model in a classic design. For a special occasion suit and dress coat, a tuxedo and jacket. But regardless of what they're wearing graduate, his clothes should be clean and ironed. Then even the most simple suit will look elegant.
Advice 2: How to dress for the celebration
There are events (corporate parties, weddings, anniversaries, etc.) on which you want to look elegant and appropriate. And it is very important to learn how to choose the appropriate attire tasteful.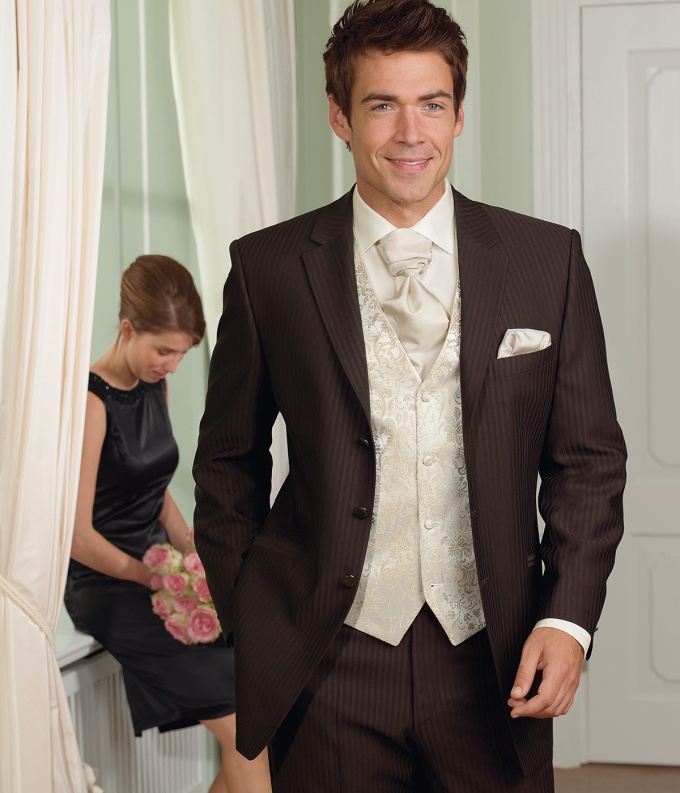 Instruction
One of the most versatile outfits for women, where you can be in almost any society, is, of course, suit. This can be a pantsuit, a skirt or simply
a dress
. Modern trends in cut suits allow you to wear them without a blouse. Accordingly, we need only add an edgy, bold jewelry, and you can safely go from work directly into corporate
celebration
or, for example, for a date.
So relevant in recent years, cocktail dresses as well as evening activities (restaurants, discos, etc.). But the long evening dress is reserved for special occasions.
In search of an outfit for celebrations should opt for a more modest evening dress, otherwise its owner runs the risk to look vulgar and inappropriate.
Solemn etiquette is not over, and men's suits. And requirements that apply to the outfits of men, much stricter accounting requirements for women.
For formal occasions (diplomatic receptions, international meetings, cultural events, economic or scientific symposia) there are a number of strict requirements for the cut of the costume and possible accessories.
So, costume for the celebration need to match a white shirt, black shoes and black socks. The essential attribute of the festive costume is a corner of white handkerchief peeking from his breast pocket of his jacket. Although in the summer the concept of a strict suit and related attributes a bit easier. Black suit it is possible to replace the light with shoes matching the suit. To the combined options of costumes are usually also wearing a white shirt with double cuffs and a tie to match the jacket.
Of course, for a less formal dress are not so strict. Special requirements to the choice of color shirt and suit there, it all depends on the taste preferences of men. But many remain faithful always a white shirt that is suitable for any costume and any occasion.