Layered salad with natural crab meat


Ingredients:
- 150 grams of canned crab meat;
- 100 g of cheese sweet varieties (Emmental, Maasdam);
- 80 g of canned peas;
- 1 cucumber;
- 1 tomato;
- 120 g of mayonnaise on the quail eggs.

Cut into even cubes, preferably of the same size for aesthetics, cheese and cucumber, tomato on thick wedges of circles. A little chopped crab meat. Collect layered salad, generously layers promazyvaya mayonnaise, in the following order: cheese, peas, cucumber, tomato. Better to do it with the help of a special ring made of metal or homemade, cut from a large plastic bottle. Put on top of a mound of crab chips. Give food to infuse for at least 20 minutes.


Crab salad with Apple


Ingredients:
- 400 g cooked frozen crab meat;
- 2 large green sweet and sour Apple;
- 150 g Chinese cabbage;
- 4-5 green onion;
- 1 clove of garlic;
- 100 ml of olive oil;
- 50 ml of lemon juice;
25 ml Apple vinegar;
Sol.

Defrost the crab meat, fill it with salted boiling water for 3 minutes and drain in a colander. Peel the apples from the skin and cut out core. Mash the pulp of one fruit in a blender, combine lemon juice, vinegar, crushed garlic clove and 1/2 tsp of salt, slice the second dice or cubes.

Mash the crab meat with a fork. Shred cabbage, chop the onion. Mix all prepared ingredients in a large bowl, season with olive oil and mix well.


Hearty salad with natural crab meat


Ingredients:
- 250 g canned crab meat;
- 3 chicken eggs;
- 2 potatoes;
- 2 carrots;
- 1 onion;
- 3 pickled cucumber;
- 150 g of canned young or green peas;
- 80 g of black olives without stones;
- 100 mayonnaise;
- 1/3 tsp. ground black pepper;
Sol;
- 3 sprigs of parsley.

Prepare hard-boiled eggs, release them from the shell and finely chop with a knife. Boil potatoes and carrots until soft and clean skin. Remove "shirt" with the bulbs. Cut into arbitrary slices of boiled, fresh and pickled vegetables. Connect all components of the salad, including peas and crab meat in a deep casserole, pour the mayonnaise, mix well, dosolit and pepper if needed and garnish with parsley leaves. Soak the dish for 20-30 minutes so it is evenly soaked.
Advice 2: Recipes of salads with meat and fresh cucumbers
Meat salads differ rich taste, and nutrition. To meals was more light, add to the meat the vegetables, for example cucumbers. They give the salad a fresh and beautiful appearance.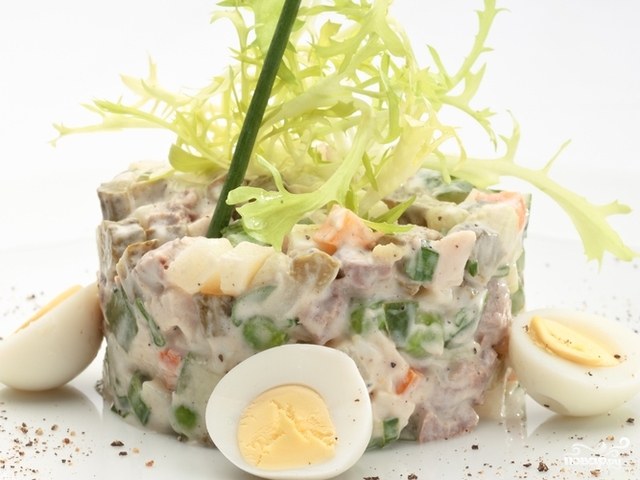 Salad with beef and cucumbers


The soy sauce gives this salad a light Oriental flavor. Serve it with fresh white bread as a light, but filling snacks.

You will need:

- 200 g lean beef;
- 500 g of fresh cucumbers;
- 1 onion;
- 2 cloves of garlic;
- vegetable oil;
- freshly ground black pepper;
- soy sauce;
- lettuce leaves.

Green salad wash and dry. Cucumbers cut into strips, sprinkle with vinegar and let stand for about half an hour. Meat wash, dry, cut away the membrane and fat. Cut the beef into cubes and fry in hot oil until tender. Slice onions thin half-rings, garlic chop. Saute the onions and garlic in a separate pan until Golden brown.

Cucumber, mix with grilled meat, onions and garlic. Sprinkle the mixture with freshly ground black pepper, to taste add soy sauce. On the plate put the salad leaves on top of the hill lay the salad and serve.


Pork salad with sour cream


For cooking, use lean pork or veal. You can try and chicken meat, the dish is too delicious.

You will need:

- 500 g pork;
- 2 fresh cucumber;
- 3 cloves of garlic;
- 3 quail eggs;
- sour cream;
Sol;
- freshly ground black pepper.

Pork wash, remove the film. Boil meat in salted water, cool and cut into strips. In the same way chop cucumbers. Garlic skip through the press, the quail eggs hard boil and refrigerate. Put the meat, garlic, and cucumbers in a salad bowl, add salt, freshly ground black pepper and sour cream. Mix. If the taste of the salad seems bland, add a little Dijon mustard. Put the salad on a plate and garnish with halves of quail eggs.


Salad with meat, cucumber and pepper


To prepare the salad you can use any lean meat. You can use chicken or smoked ham.

You will need:

- 500 g of meat (pork, veal, beef);
- 200 g of fresh cucumbers;
- 1 large sweet pepper;
2 tbsp olive oil;
green salad;
- freshly ground black pepper;
Sol;
- 1 teaspoon of sweet mustard;
- 1 tablespoon of lemon juice.

Meat wash, dry and slice very thinly. Sauté it in a pan with non-stick coating, adding a little vegetable oil. Put the meat on a plate and refrigerate. Sweet pepper clear from the seeds and partitions. Pepper, cucumber and lettuce cut into strips and put in salad bowl. Add fried meat.

In a jar with a screw-top lid combine the olive oil, mustard, freshly squeezed lemon juice and salt. Close the jar and shake it, mixing the sauce. Pour salad mixture, stir, and serve with toasted white bread.