Parents wishing to paint a crib for the baby with their hands, certainly try to take precautions and would not use harmful materials.
Cover cots for children need to choose not only depending on the color. Paint must be environmentally clean, free of toxic materials. It is necessary to take into account the fact that the child might want to chew on the crib, and therefore safety paint should be given special attention.
How to choose a paint
Important point – the choice of colors. Coating good quality is obtained when using the many varieties of modern paints. But it is better when buying a finishing composition into the store to test the paint on a small piece of wood. Then you can more clearly understand how painting furniture is the result.
There are many kinds of paint, which is specially designed for coloring is designed for baby furniture. Their composition does not contain lead, no, and other toxic materials. This paint can be purchased at hardware or DIY stores on the market.
Wood for processing of the paint should be smooth, not have burrs, it is also desirable to eliminate sharp edges.
Painting the crib
Regardless, does paint a new crib or old repaint, the surface should be prepared to work. Before you repaint the crib, the old paint must be clean. There are modern paints, varnishes can be applied over a previous coating. But if you select basic composition, the surface should be treated to completely remove the remains of the old material. Grinding carried out with sandpaper when the job is completed, remove dust with a clean cloth. This will help make the paint layer more smooth, it will be cleaner, and the product will be very beautiful.
You'll need a roller, sponge and brush. For smooth large surfaces, apply the roller. Brush is convenient to paint the bars and the bars of the crib. The sponge is suitable for small parts. You can buy paint in aerosol packing and perform staining by spraying, but this method is good only for smooth background. In addition, an increasing amount of paint.
During painting it is necessary to try to track that drops were not going in inappropriate places. To do this, nor should one make at one time on a roller or a brush a large amount of paint.
After dyeing it is necessary with a cloth or sandpaper to go through all the edges, where they could accumulate paint, especially in the lower part of the crib.
If the bed will not just paint, but still paint better after sanding the primed surface. The primer can be oil, latex or water-based. The oil base will be more reliable, but the smell of it can be strong.
Advice 2: How to make a wooden bed
Both soft and frame furniture is quite expensive, to buy a bed or sofa is not always possible. Meanwhile, the bed design is fairly simple and subject material you may well be able to do it themselves. The size, height, softness, the presence of the back – completely at your discretion.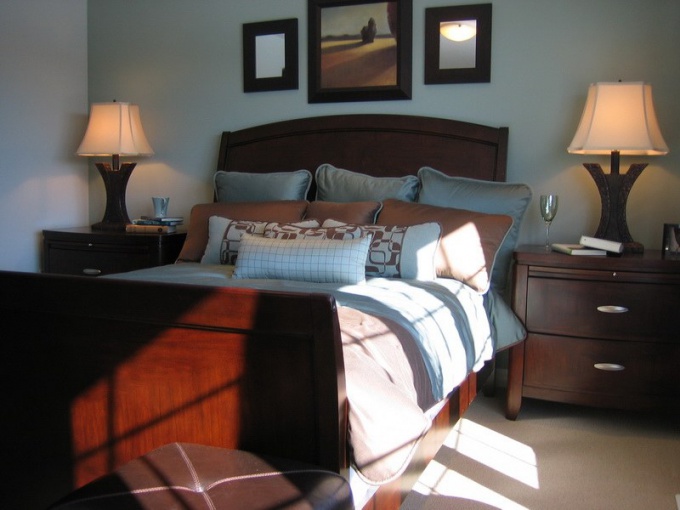 You will need
- plywood;
Board;
rail;
- bars;
- fasteners;
- metal corners;
- drill;
jig - saw;
- screwdriver or screwdriver;
roulette.
Instruction
Make a base for the bed size. Of wooden slats assemble a rectangle with a length of at least 1.8-2 meters, width 1-1. 5 meters. Center pull at least three cross rails to enhance the design. For a double bed and need more longitudinal rail. Staple items corners with screws by drilling them through.
To save a 90⁰ angle between adjacent sides are additionally cut out four ties a length of 20-30 cm, with the edges cut at an angle 45⁰. Secure them at each corner so that the structure is solid and does not wobble.
Wood make 4 identical legs and screw them into each corner on a few screws or use metal corners. Ensure that the legs were the same height, otherwise the bed will wobble. If the design seems reliable enough – add two more legs in the center.
Connect all legs with additional strips, approximately in the center. Thanks to this connection the bed will be more stable.
If you want to make the bed with the back, cut out of chipboard rectangular parts, from the floor to the required height of the backrest. Secure them at the ends of the bed. Edge apply edge tape, heat it with the iron.
Measure the length and width of the base, draw on a sheet of plywood rectangle and saw out his jigsaw. As sheets of plywood typically have a width of 1.5 meters, you'll likely have to splice the two parts. Secure them with nails or screws on the base. To mattress does not slip and the bed looked neater, nail the edges of the narrow side, not above the thickness of the mattress.
All the wooden parts sand, coat with primer, lacquer or stain desired color. You can also wooden bed painted in a favorite color. After a homemade bed is dry, put on her mattress.
Advice 3: How to make a cot with his hands
Buying baby
Cribs
is a big part of financial expenses before the birth of the baby. But to make the bed future daddy or grandfather of the child can independently, with their hands. Enough to arm themselves with the necessary material, and plumbing tool crib and return to the mom and baby from the hospital will be ready.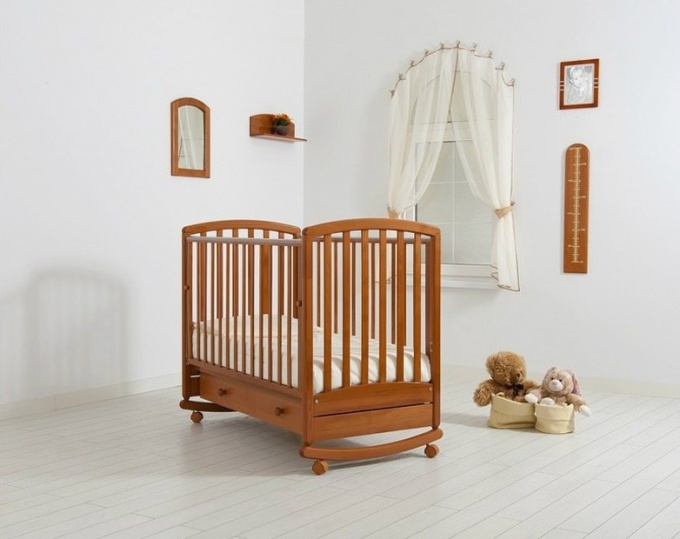 You will need
A mattress, a sander or sandpaper, jig saw, tape measure, angle, furniture parts, hammer, nails, planks, plywood, timber, wooden slats.
Instruction
Do not use in the work above the crib sheets fibreboard, chipboard and particleboard, which can release toxic substances into the surrounding air child. The safest materials for the manufacture of children's furniture – birch, pine, a little more expensive will cost oak planks and beech. The wooden parts of the crib must be thoroughly sanded with sandpaper or with a grinding machine to got from poorly processed wood splinters.
Buy in advance the cot mattress, which will be guided with size reclining seats. The mattress should be rigid enough, made of anti-allergic material, for example, with a filler of coconut fiber.
The minimum standard size cots 90х40х50 see Drill four wood hole for 90 mm each and eight at the 50 mm Hole must be at the same distance from each other, 4.5-5 cm Insert the rods in the bottom rail and the one that will be upstairs. Gather the sides of the crib using these blanks.
At the bottom of the design cut out and put a sheet of MDF, drill holes in it for air and attach to the frame with screws and corners. Back the back of the crib are made of plywood or MDF sheet 90х30 cm and attach it to the frame with the same screws. Cover the assembled cot of varnish in two or three layers below it has served the baby for a long time.
You can decorate the crib, to decorate her hand-painted, handle corners decorative furniture fittings. In addition to the crib, you can attach the roller wheels to be moved around the room.
If you don't have plumber's tools, you can buy a used/have a cot and refurbish it. In this case, remove the old lacquer crib with sandpaper, primed the entire surface and cover with varnish or safe acrylic paint in two layers. Cot is like new.
Advice 4: What colors to paint furniture
Using a conventional paint can make an old table or chair a unique style. When choosing paint or varnish, you should consider the material of products, requirements for operation and General condition.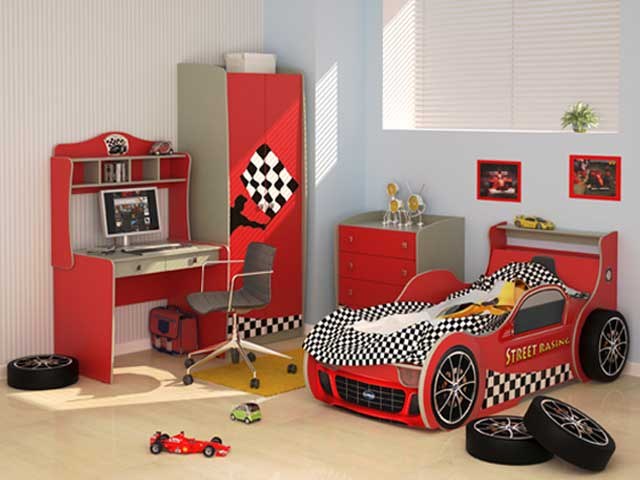 You will need
- paint;
- primer;
- putty;
- sandpaper;
- brushes, rollers or sprayer;
- protective means.
Instruction
Wooden furniture is better to choose traditional enamel lacquer paints, they add a touch of Shine. A matte surface can be obtained by using oil paint.
To preserve the natural beauty of wood while protecting the product from external influences will help transparent compounds — glazes, adhesives and transparent paints. They contain substances that perform the role of UV filter to protect the wood from fading and darkening. In addition, the advantage of impregnation, it is possible to paint new furniture from wet wood because it has a good vapor permeability.
Breathable properties differ and acrylic select them for new wood furniture. It is hardy, durable, waterproof formulations that are suitable for furniture in the house, and garden benches. Curved furniture is very convenient to paint from spray gun. If you need a special shade, dilute one or more coloration in white paint.
To give the chairs or chest of drawers vintage look, use nitrocellulose lacquer or nitro enamel. It is important to treat the surface before painting, thoroughly clean all remnants of previous coatings and primed.
If the inspection of wooden surfaces in your house, you are faced with small moves beetles woodworm or rot, be sure to treat the furniture with antiseptic solutions. After a few days it will be possible to apply a coat of decorative paint.
For painting furniture from chipboard choose alkyd, oil or acrylic paint. After a good clean and degrease the surface, then Prime with (laminated chipboard priming is necessary in several layers). If there are minor imperfections and scratches, you can apply a layer of putty before painting.
When painting metal furniture, make sure which metal was used in the manufacture. Forged products, mild steel paint anti-corrosion compounds, pre-clearing of rust. Profile for furniture, aluminium available special enamel with high adhesion to the metal.
To paint plastic furniture by using acrylic water-based paints, but not all plastic can be easily dyed. A mandatory pre-treatment: primer and sanding. It is important to observe the mode, the optimum room temperature should be -18 ºc, 80% humidity, all the components are equally heated.