You will need
For the dough:
- 2 eggs;
- ¾ Cup of sugar;
- 4 tablespoons of sour cream;
- 100 g of butter;;
- 1 teaspoon soda, quenched with vinegar;
- 1.5 cups of flour.
For decoration:
- mini candy;
- food dye green color.
- food dye yellow;
- 4 protein;
- 100 g of powdered sugar.
Instruction
Preheat the oven to 180 degrees. In muffin tins put a special paper towel.
Make the dough for muffins. Lightly whisk the eggs and sugar until the mixture turns white, add the sour cream and softened butter. Extinguish soda with vinegar and pour in the dough. Put the sifted flour and knead the dough, it has the consistency should be like thick cream.
Divide the batter and pour evenly into the ramekins, filling them about two-thirds of the volume. Put in the oven to bake for 10-15 minutes. Then remove and let the muffins cool for 30 minutes.
With a teaspoon make a hole in the top of the cupcakes. In each put a little candy, you can use chocolate sprinkles, small candies, M&M's and so on.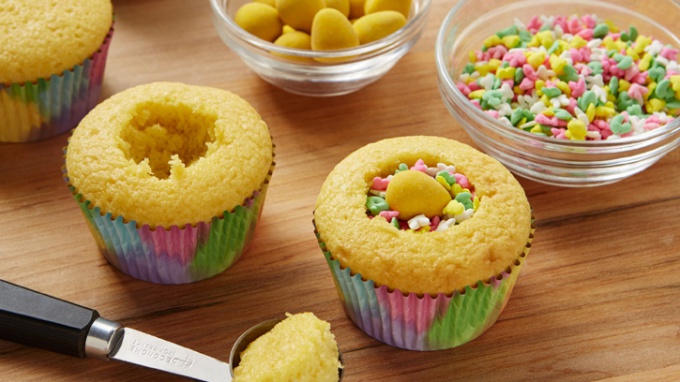 Prepare the glaze. Whisk one protein to foam, add the sugar and continue whisking. In the finished glaze will add a bit of green dye and stir to combine. Apply a thin layer on the cupcakes.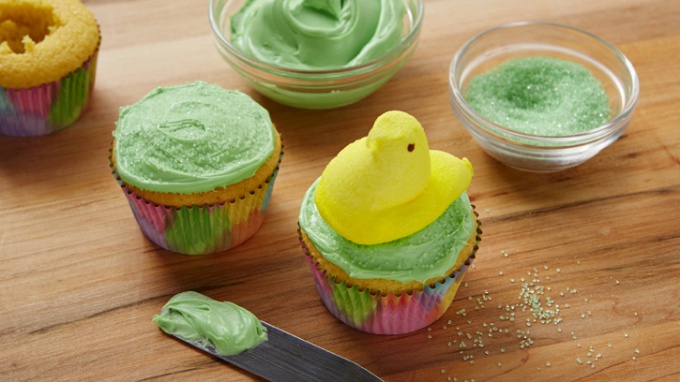 Do chickens. Whisk the whites and sugar, as described above. Add in the weight of yellow dye and put on a baking sheet balls larger and smaller diameter. Put in the oven for a few minutes, so the meringue is a little dry. The birds decorate the cupcakes.