Snacks ricotta
Ricotta, and cottage cheese, many eateries prepare dishes. This soft cheese can be served on Breakfast, season with honey, brown sugar, sweet corn syrup, adding fresh berries or dried fruit, pieces of nuts, grated chocolate and cinnamon. Try the Italian sandwiches crostini with ricotta. Spread the cream cheese on lightly toasted pieces of white bread, put slices of fresh pear or Apple and pour liquid honey. Lovers of salty snacks, can mix the ricotta with the garlic, chopped spicy greens, season with salt and pepper. Delicious and fresh get pasta of ricotta with the dill, salt and lemon zest. It is not only spreading on bread or crackers, but also with sticks of fresh vegetables.
Ricotta cheese has less fat than other popular Italian cheese – mozzarella. Want to cook a less caloric meals cheese often replace one another.
How to add ricotta to hot dishes
Ricotta can be added to many hot dishes. It is perfect for filling in cannelloni – cannelloni, she stuffed vegetables such as zucchini or peppers, mixing with other ingredients. Put cheese in casseroles, omelets, add to pasta and sprinkle with roasted vegetables. Ricotta is the traditional filling for Italian ravioli – ravioli and tortelini. Ricotta can be cooked many different cakes and pies, often this cheese is used to make one of the varieties of cheesecake.
For the filling often use a mixture of ricotta, spinach, pepper, salt and spicy greens.
Recipes with ricotta
Most often ricotta recipes found in "native" for this kind of cheese in Italian cuisine. Try to make small dumplings of ricotta – gnocchi (gnocchi). You will need:
- 200 grams fresh green spinach;
- 50 grams of fresh parsley;
- 1 clove of garlic;
- 150 grams of ricotta;
- 80 grams of wheat flour;
- 2 chicken eggs;
- 100 grams of grated Parmesan;
- a pinch of nutmeg;
- salt and freshly ground black pepper;
- olive oil for serving.
Rinse spinach under running water, dry it, fold several sheets in the "pile" and slice into thin strips. Place them in a bowl and cover with boiling water. Leave for 2 minutes, then drain and squeeze spinach. Chop the parsley, garlic skip through the press. Mix ricotta, spinach, parsley, garlic and Parmesan in a bowl. Add eggs, flour, and season with salt and pepper, nutmeg, stir, using a fork. Moisten hands and shape mixture small balls the size of a walnut. Place them on a tray and put for 20-30 minutes in the refrigerator.
Boil in a large saucepan 5 liters of water. When the water boils, reduce the heat and place in boiling water for 10-12 gnocchi at a time. Wait until the dumplings float and remove them with a skimmer. Put in a deep bowl and cover with foil while cooking the next batch. Serve watering olive oil.
Advice 2: Recipes with Ricotta cheese
Ricotta is a traditional Italian cheese, characterized by soft and sweet or salty taste, depending on the degree of persistence. It is made from the whey that remains after the production of other cheeses. Thanks to the creamy Ricotta are often used as filling for various pies, added to salads and desserts.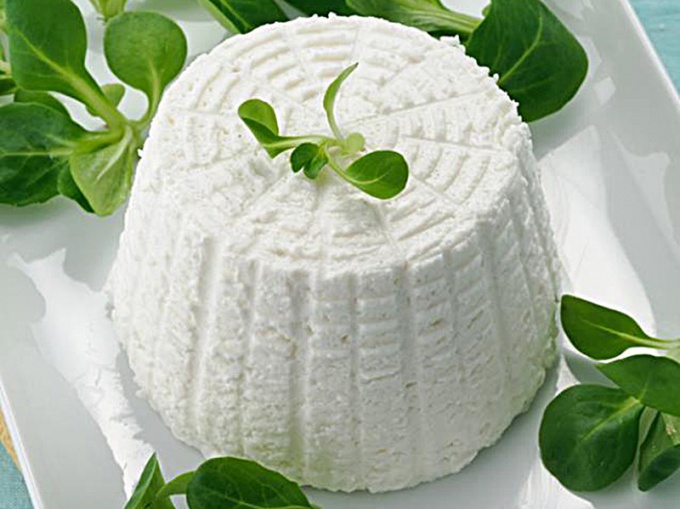 Pie with Ricotta cheese and sun-dried tomatoes


For this dish you will need the following ingredients:
- 500 g puff pastry;
- 10 dried tomatoes;
- 500 g Ricotta cheese;
fresh herbs to taste;
- 200 g of sour cream;
- salt and black pepper to taste.

Crumble the ricotta in a bowl, add sour cream, salt and pepper to taste, mix thoroughly to a uniform consistency. Add to the stuffing chopped fresh herbs and sliced tomatoes. Roll out the puff pastry and divide into two layers. Place the first in a refractory form, not forgetting to leave the boards. Put on the dough all the stuffing and cover with second layer of dough. Zasypnica edges and brush top of dough with beaten egg. Bake for half an hour at a temperature of 200oC.


Appetizer with Ricotta cheese


Ingredients:
- 500 Ricotta cheese;
- 50 g Parmesan cheese;
- 100 g of spinach;
- the egg;
- 1 chili pepper;
- baguette;
- olive oil;
- salt to taste.

Baguette cut into slices of equal thickness, and fry them in a little olive oil. Mix ricotta with grated Parmesan, shredded pepper, spinach and egg. Add salt and pepper to taste. Toasted pieces of baguette, lay on a baking tray lined with parchment paper. On each put a spoonful of cheese mixture. Place baking sheet in the oven and bake the sandwiches for 15-20 minutes at a temperature of 180oC. Serve as a snack with white wine.


Shells stuffed with Ricotta and herbs


To prepare the stuffed shells should:
- 20 shells;
- 100 g Ricotta cheese;
- 100 g of cottage cheese;
- 1 tablespoon Basil;
- 80 g Parmesan cheese;
- 2 cups cream;
- 1 tablespoon of flour;
- butter;
- salt to taste.

Boil shells in salted water until soft. Then carefully remove and cool slightly. Prepare the stuffing by mixing the Ricotta, cheese, salt and chopped Basil. Nafarshiruyte stuffed shells and put them in a fireproof dish with sides. In butter, fry the flour for a minute, add the warm cream and simmer for 3 minutes over low heat. Pour over stuffed shells with sauce and place in a preheated 200oC oven for 15 minutes. Then remove, sprinkle with grated Parmesan cheese and bake for another 5 minutes.


Salad with Ricotta cheese


Ingredients:
- 100 g Ricotta cheese;
- 1 fennel;
- 1 shallot;
- 200 g arugula;
- the juice of ½ lemon;
2 tbsp olive oil;
- salt and ground black pepper.

Shallots, chop, pour lemon juice and olive oil. Season with salt and pepper. Fennel peel and core, cut into thin slices. Mix in a bowl the arugula and fennel, pour over the dressing and garnish with slices of Ricotta.
Advice 3: Homemade cottage cheese with garlic and herbs
Want to try cheesemaking? Then start with cream cheese with garlic and herbs. Variations of cooking it at home very much. You can use one spice or to make various combinations of greens.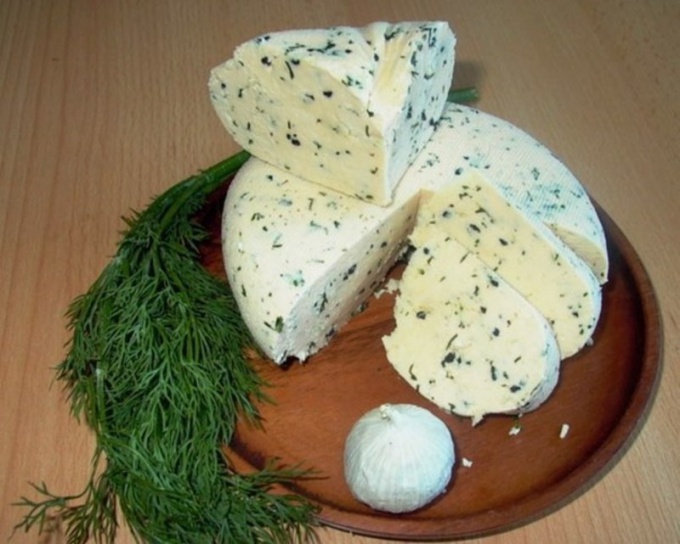 Use to make sheep's milk, it will give the finished product a special piquancy, herbs and garlic filled homemade cheese with their aroma.


Curd cheese with herbs and garlic


To prepare necessary to take:

- cheese – 1 kg;
- baking soda – 1 tsp.;
- cilantro – 50 g;
- butter – 100 g;
- the sheep's milk (fat) – 1 l;
- raw eggs (yolks) – 3 PC.;
- salt (finely ground) – 1 tsp.;
- garlic (cloves) – 4-5 PCs.

Just before cooking the cheese you need to cook the greens and garlic. Cilantro should be thoroughly washed, spread out on a towel to dry, and then grind as much as possible. Garlic cloves should be free from the husk, wash and crush the press. Then, both ingredients should be mixed in a single mass.

Next, you need to take an enamel pan and put it in her cheese, and fill it with cold goat milk, mix the mass and put on a weak fire. Without stopping the stirring, to give the mass a good warm up, not bringing it to a boil. When you see that the milk in the pan begins to curl, remove the pan with the curd from the heat.

Now you need to prepare a place for straining the curd mass. Take another pan and set it on a colander. For further action you will need gauze, it should cover the colander. Do not pull the gauze strongly, and place it in the holes in the colander. Then pour the prepared curds into the colander through cheesecloth, the last tie in knot and hang it so the whey could drain freely from the curd. The time for this process depends on the final consistency you want to get the cheese. The longer the serum is decanted, the denser will be the curds and the future cheese.

When the resulting mass schedules enough whey, you want to spread the cheese in a pan, add the chopped cilantro with the garlic and all mix well. From raw eggs, separate the yolks and introduce them to the curd mass, then there also add finely ground salt and baking soda, mix everything carefully. Butter should be slightly soften (not melt!) and also to add to the mix. Again to mix the cheese mass and put the pan on low heat.

By heating and interaction with baking soda curds will start to melt and eventually turns into cheese. You should not stop kneading before the end of cooking. Form cheese need to coat inside with oil and then spread it in the prepared mixture. Then follows the form of cheese remove and cool in the refrigerator. As soon as the curd hardens, you can put the finished product on a plate.


Cream cheese with garlic and dill


This is a recipe of a simple homemade cheese that requires no additional heat treatment. For its preparation you need to take:

- dill (chopped) – 2-3 tbsp;
- fat cottage cheese – 500 g;
- garlic (cloves) – 2 PCs.;
- salt, finely ground – 1 tbsp

Dill previously should be thoroughly washed, dried and milled. Cloves of garlic peel and crush pressure. Fat cottage cheese should be spread in a bowl, sprinkle with fine salt, add a lot of chopped dill and chopped garlic, mix everything carefully.

Take a piece of clean gauze, put in the center of mass of curd and tie the cloth in a tight knot. Then you should place the cheesecloth with the curd under pressure, it is possible to use two cutting boards that are installed over a basin or pan. Between the boards you want to place the node with cottage cheese, on top place the load. Leave the curd for 2-3 days for pumping and compacting. The cheese is ready, carefully remove from the cheesecloth and place on a plate. Store the cheese with garlic and dill should be refrigerated.