Marinated Turkey medallions
In order to prepare a tasty and tender Turkey meat, you will need:
- 3 tablespoons of olive oil;
- 1/3 Cup of balsamic vinegar;
- ¼ Cup of grated Parmesan;
- 1 tablespoon mix of dried herbs (Basil, marjoram, thyme);
- 1 clove of garlic;
- ½ Teaspoon of black pepper;
- ½ Teaspoon of salt;
- 500 grams of medallions of Turkey.
In a small bowl, whisk the vegetable oil with vinegar, add passed through the press garlic, salt, dried herbs, pepper and grated cheese. Pour the marinade in a thick plastic bag with zipper, place the Turkey medallions, zipper pockets, shake well and put in refrigerator for 20-30 minutes.
Preheat oven to 180oC. Lay out medallions on a baking sheet and bake for 15-20 minutes, turning once, to form the same Golden crust on both sides. Before serving, let the meat "rest" for 5-7 minutes, cover it with foil.
You can cook these medallions on preheated grill.
Medallions wrapped in bacon
For this dish you will need:
400 grams Turkey (2 locket around 200 grams each);
- 2 long slices of smoked bacon;
- pinch of black pepper;
- 1 tablespoon liquid honey;
- 2 tablespoons of butter.
Wrap each Turkey medallion with a slice of bacon, cut the edges with toothpicks, lightly season with pepper. Fry the Turkey on a baking sheet in preheated to 180oC oven for 15-20 minutes. Melt the butter and mix it with liquid honey. Serve the medallions watering honey sauce.
You can replace liquid honey with molasses or maple syrup.
Glazed Turkey medallions
To prepare this delicious dish you will need the following products:
- 500 g Turkey fillet;
- 1 tablespoon of olive oil;
- ¼ Cup orange marmalade;
- 2 tablespoons of soy sauce;
- ½ Teaspoon of grated fresh ginger root.
Slice the Turkey fillet on a round, flat medallions. Heat the olive oil in a frying pan and fry the meat on both sides for 4-5 minutes. Put the medallions on a plate and cover with foil. Make the glaze by putting the marmalade, sauce and ginger in the frying pan where we fried the Turkey. Bring to the boil, stirring, reduce heat and wait until the glaze thickens. Put into it the Turkey, shake the pan so that the glaze covered all the meat and serve.
Advice 2 : How to cook pork Turkey
The most useful meat from poultry, because it is not only nutritious, but easily digestible and very tasty. Prepare the roast Turkey. You will understand why its so famous fans of healthy diet and perhaps you want to join them.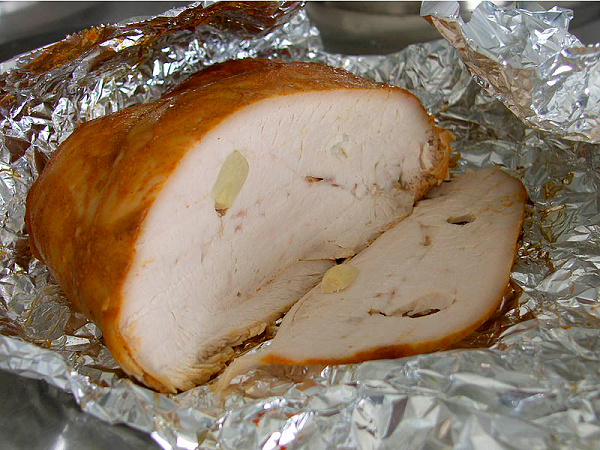 Boiled pork from Turkey in foil: breast


Ingredients:
- 1.5 kg Turkey breast;
- 2 liters of water;
- 240 grams of salt;
- 5 large cloves of garlic;
- 1/3 tsp red and black pepper, paprika, Basil, oregano and coriander seeds;
- 1 tsp. mustard;
- 50 ml of vegetable oil.

Carefully wash the breast of the bird and Pat dry, cut out the cartilage, bone and fat, if necessary, remove the skin. Pour water in a pot or container, completely dissolve it in salt and lower back Turkey. Leave it to proclivities for 2 hours, then drain the brine and rinse the meat again. Wipe it dry and place in a deep bowl.

Peel garlic and cut each slice into 3-5 parts. Deeply slice the breast across the surface 15-20 times and put the pieces of vegetable. Mix in a Cup of vegetable oil with spices and mustard and carefully stirred to a paste. It cover the Turkey with a cooking brush on all sides, tighten with cling film and put in the fridge for 24 hours.

Lay two sheets of foil on a baking sheet, and let him poultry meat and wrap tightly. Preheat the oven to maximum, then reduce oven temperature to 250oC. Bake it with the pork for 25 minutes, then turn it and cook another 10 minutes or until nice Golden brown. Turn off the oven but do not open it for 5-6 hours, until the contents has cooled to room temperature.


Boiled pork from Turkey in the sleeve: fillet thigh


Ingredients:
- 1.5 kg fillet of Turkey thighs;
- 1 liter of water;
- 4 cloves of garlic;
- 1.5 tsp of Italian herbs and ground pepper;
- 3 Bay leaves;
- 3/4 tsp. ground white pepper;
- 1.5 tsp. of salt.

Fill with water a small pot or saucepan and place on high heat. Wait until the liquid starts to boil, stir in paprika and Italian herbs, toss a Bay leaf, a little boil, set aside and let cool. Prepare the Turkey breast – cut the peel and the hard core and submerge in the marinade. Place the plates in the cold for 8-10 hours.

Remove the bird, dry and lard with garlic as described in the previous recipe. RUB it with pepper, salt, focusing on all sectors, and invest in special heat resistant sleeve. Fix it attached clips or just tie knots and pierce with a toothpick in several places to give out a couple of during cooking. Cook pork Turkey 40-50 minutes at 180oC, tear the package and simmer the dish for another 10 minutes until it will turn brown.
Advice 3 : How to make escalope of Turkey
Escalope of Turkey with vegetables – very tasty dish with low calorie content. So it can safely be used in diets to people watching their weight.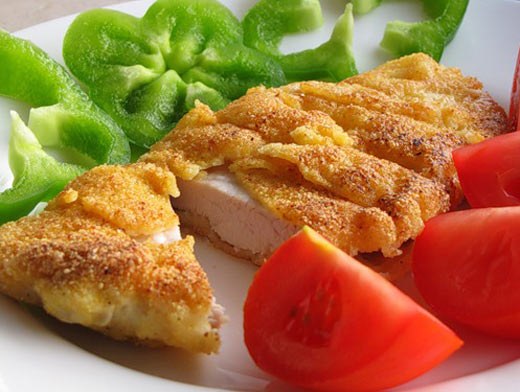 Products needed for cooking


Turkey meat has incredible tenderness and juiciness, so cooked him a pork chop is one of the most delicious dishes. However, the pork chop recipe Turkey quite easy to prepare even for a novice cook.

To prepare 5 portions will need the following ingredients: scallops of Turkey meat or 1 kg fillets, ground black pepper, butter, salt to taste, lemon juice, vegetable oil, fresh parsley.

Translated from the French "escalope" is a flat piece of meat rounded. If no ready-made scallops, you can make them yourself using Turkey breast. The meat is cut in even pieces across the grain. Recommended thickness of pieces – 1.5 cm, Preferably meat tenderizer, pre-wrapped plastic film to small pieces scattered all over the kitchen.


Cooking escalope of Turkey


Salt and pepper scallops before or after the beating. The taste you can add salt and pepper and other favorite spices, for example, sweet ground paprika. You can RUB the pieces of meat and crushed garlic.

The main mistake that novice cooks, obvalivanie escallops in breadcrumbs or flour. This dish is prepared without the use of boning. Escalope is a well-done piece of meat. Otherwise it will be not a Turkey escalope and schnitzel.

In a frying pan heat up vegetable oil. Fry the escalopes on both sides until Golden brown. So the meat was evenly cooked, reduce the heat and cook the escallops under a lid for 1-2 minutes.

If the preference for soft meat, it is not necessary to bring the escallops until cooked in a frying pan. After receiving the Golden brown of their shift on the plate. In a deep pan or skillet, pour about half a Cup of boiling water and add it to vegetable oil, which were roasted scallops, a little butter, finely chopped parsley and the juice squeezed from half a lemon.

Sauce bring to the boil and put into it the fried scallops. Stew meat should be no more than 2 minutes. In this case, the dish will turn out quite soft. Serve the escalopes to the table, garnished with fresh herbs and thin slices of lemon. A great addition to the dish – boiled potatoes or steamed vegetables.
Advice 4 : As tasty and easy to cook medallions of salmon
Salmon is a fish belonging to the Salmonidae family, it is nutritious, healthy, has almost no bones, its meat tender and juicy. Salmon can be prepared many original dishes, such as medallions. Previously, they were formed from the lean meat, most often beef or Turkey, and now they were made from fish and to enjoy the popularity with exquisite taste.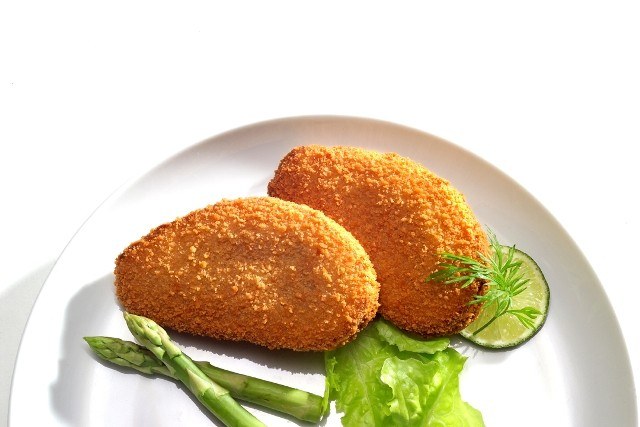 Medallions of salmon


The dish simply fits in a large festive meal, and will easily find a corner for a romantic table. It is done simply, and, it may be cooked on the eve of and put into the refrigerator, carefully obvernuv foil, and bake right before guests arrive.

For three servings you need to take the following products:

- 3 medallion, weighing 200 g;
- 3-4 medium-sized potatoes;
- refined olive oil;
- parsley;
- salt and pepper;
- 50 g of white table wine.

First, build yourself medallions by removing portions of fish a large pieces of spinal bone, then scoring with a knife, remove the Central bone, the tweezers pull out all the small bones from a piece. With a knife cut and peel off from the sides of the fish skin, but do not remove it completely. The pulp ends of the wrap toward the center to form a circle, while the free ends of the leather wrap the locket. So he not blossomed, tie it with cooking string around the perimeter. The same shape and the remaining two medallions.

Lay on the bottom of a deep baking dish baking paper, put back the medallions, sprinkle with spices and parsley, sprinkle with wine and add the butter. Potatoes without holes, rinse, dry, cut thin smooth slices or grate, not only clean the skin. Put a thin layer on the lockets, again season with salt, add the spices, pour the oil, put in the oven, pre-heated to a temperature of 180oC. Willingness to decide based on the color of baked fish and soft potatoes. Ready fish will acquire a smooth matte pink color.


Medallions of salmon in Cyprus


You will need:

- medallions of salmon (trout);
cream fat content of not less than 30 percent;
- sprigs of parsley;
- salt and spices;
- butter to smear the baking pan dishes;
- 1 lemon.

On a baking sheet with high sides or in a deep pan put the slices of fish on top of each carefully place a slice of lemon. Pour the cream so that they don't just cover the fish pieces, and a centimeter is higher than the surface of the medallions, add salt and pepper, herbs, bake in a hot oven for 20 minutes or half an hour. Remove, garnish with parsley, pour milk sauce, resulting in a capacity where he made medallions. To the table serve them with any of the garnishes: cooked, crisp rice, mashed potatoes, vegetables.
Advice 5 : How to cook Turkey gizzards
Stomachs of birds do not belong to the valuable food products, nutritional content and nutrients in them is quite low. The muscular bag of the stomach harsh, so it must either marinate or boil and simmer. On the other hand, a "rubber" consistency ready-stomachs - that's what makes the dish attractive.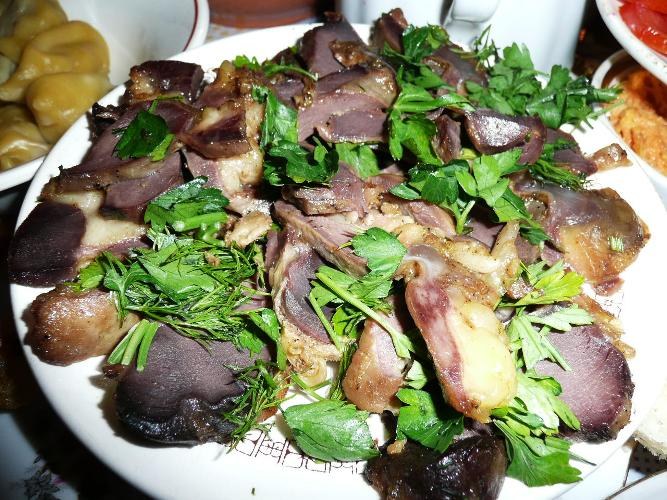 You will need
600 g stomach;
100 g onions;
2 cloves of garlic;
30 g of parsley
green onions and dill;
1/2 tsp salt;
20 ml vegetable oil;
30 ml soy sauce.
For pickled gizzards in the oven:
500 g stomach;
200 g teriyaki sauce;
200 grams of red sauce to meat;
100 g of soy sauce;
10 g of ground chili pepper.
Stomach for baked eggplant:
400 g stomach;
6 aubergines medium size;
1 large onion;
4 cloves of garlic;
100 g of hard cheese;
1 tsp of black pepper;
2 tsp Khmeli-suneli;
olive oil
salt.
Instruction
Rinse the gizzards under cold water, remove the film of yellowish color, white can be left. Boil them in salted water until tender (about one hour), broth save.
Finely slice the onions, heat 20 ml oil in a pan and saute the onion. Drain the broth from the gizzards in a separate bowl, cut them into thin slices, add to the frying pan to the onions, stir. Add three quarters cups of broth to the pan and simmer, covered for about half an hour.
Finely slice the garlic and add to the pan, add soy sauce, stir and simmer for about five minutes. Chop the parsley, green onions and dill, and sprinkle the finished dish.
Pickled bellies in guchokipanya and cut the stomachs of about four pieces each. Put in a bowl and add prepared teriyaki sauce, red meat sauce (not spicy), soy sauce, ground chili pepper. Leave to marinate for one and a half hours. Cover the baking pan with baking paper or brush with oil, place the marinated gizzards, top cover with foil, bake for an hour.
Stomachs baked with packagenamespace stomachs, put in a saucepan and pour 1.5 liters of boiling water, remove the foam, add pepper and simmer until soft (about fifty minutes). Drain the broth and slice the stomachs of thin plates.
Wash the eggplants, remove the stalk, cut lengthwise, brush with oil on all sides. Preheat the oven to 180oC, put the cut up eggplant on a baking sheet, bake for about half an hour, until soft.
Finely chop the onion and garlic, heat pan with two tablespoons of olive oil, saute the onions and garlic over medium heat. Put in a pan the sliced stomachs, add Khmeli-suneli and salt, cook for about four minutes.
Remove the pan with eggplant from the oven, carefully remove the core, leave it on the wall about two centimeters of flesh. Chop the core of the eggplant and add to the stomach is in the pan, add the olive oil. Fill with the mixture, half of eggplant, top with grated cheese, place in oven and bake for about ten minutes.
Advice 6 : How to prepare diet beef
There is a perception that the best diet is suitable only lean meat poultry – Turkey and chicken and rabbit. In fact, properly prepared lean beef is also good for ordinary diet, that's why the dishes from this meat are used in many dietary "tables".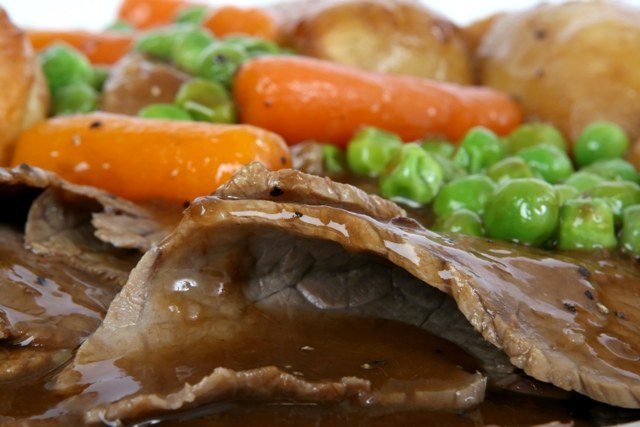 You will need
vegetables;
herbs;
spices.
Instruction
Diet fit only certain cuts of beef. There are about 29. These include: the flat part of the brisket, neck and shoulder, flank, rump, etc. For each of these cuts there is the most suitable method of cooking steak for example is accepted to fry, cervical-shoulder – stew, and bacon to make a soup or stew.
To make the roast beef came with diet, fry it in small amount of hot oil. To roast 250 gram steak rather than half a tablespoon of oil or butter. If you are afraid that the meat would be enough soft, marinade it before cooking. Do not use ready mixes, because you can't control their composition.
Boiled
beef
cook together with vegetables and spices. Take a large deep pot. Meat wash, put in a saucepan and cover with cold water. Bring to a boil over high heat and once it boils, reduce to medium. Remove the foam. Put on 1 kg of meat 2 peeled carrots, 1 head of onions, a few heads of leeks, a stick of celery, a Bay leaf and a few sprigs of thyme. In a special sack or strainer of spices, put into the broth a few anise stars, couple of buds of cloves, 5-6 peppercorns. If you have no bag or strainer, put spices into the broth just so, but then don't forget to strain the broth. Cook the beef about 2
hours
, until the piece of meat will not be free to protectice knife. Beef should be covered with broth, do not forget to pour the hot water.
Serve boiled beef with sauce and vegetables. The meat in the cold is well suited for salads, sandwiches on whole wheat bread.
Fry small pieces of beef in olive oil until Golden brown, if you want to make a stew. Cook in a pan the chopped celery and also chopped the carrots. When carrots are
soft
, put in a pan slices of beef, add herbs, chopped canned tomatoes and pepper. Simmer on low heat for about an hour. Put 2-3 peeled sliced potatoes, pieces of turnip, pumpkin, green beans and simmer for another 15-20 minutes until tender. To thicken sauce, dissolve a tablespoon of corn starch in ¼ Cup water and add to the vegetables with the meat. Heat all together, stirring occasionally, another 3-5 minutes.