How to choose and prepare the squash
Choose squash neat shape, no dents and spots as darker and discolored. If you want to boil, fry or marinate the squash, pick the fruit smaller they will be ready faster. If you need vegetables for stuffing, then fit and the fruits larger.
The flesh of the squash is white and dense, the texture is similar to squash, but the taste for artichokes
Before cooking wash and dry the vegetables, cut off the stalk. If you're stuffed or pickled squash, that's enough. If you boil or fry them, cut into slices - cut the pumpkin in half and cut out the pieces, trying to keep the scalloped edge.
Squashes are a good source of magnesium, Niacin and vitamins A and C. One Cup of boiled Cup pumpkin contains about 20 to 30 calories and contains no fat.
How to prepare squash
There are many recipes pickled summer squash. Try to cook them with lemon and herbs, for the most piquant taste. You will need:
1 kilo of small zucchini;
- 1 ½ cups vinegar;
- 1 ½ cups boiled water;
- 1/3 Cup sliced shallots;
- 1 tablespoon coarse salt;
- 1 tablespoon of sugar;
- 1 tablespoon of black pepper;
- ½ Teaspoon crushed red pepper;
- 1 teaspoon of coriander seeds;
- 1 teaspoon of mustard seeds;
- 3 peeled garlic cloves;
- 1 Bay leaf;
- 4 sprigs of tarragon;
- 4 pen green onions;
- 3 slices of lemon.
In a small pot of preaently materials pour in the vinegar and water, add sugar, salt, black and red pepper, mustard seeds and coriander, garlic and Bay leaf. Bring to a boil, cook, stirring, until sugar and salt dissolved. Put half the washed and drained squash in a jar, put on top of the tarragon, shallots and slices of lemons. Add the remaining vegetables and pour the hot marinade. Can and marinate for 2-3 days. Store in the refrigerator.
How to roast a squash
If you want to bake the squash, cut them in slices. Make several punctures with a fork and place on a baking tray lined with parchment paper, drizzle with olive oil, season with salt, pepper, sprinkle with dried thyme, tarragon, parsley and bake in preheated to 180oC oven for 15-20 minutes.
Roasted slices of squash can be put in a salad, pasta, to serve as a side dish.
Stuffed squash
For squash suitable vegetable, meat, cereal filling. For a healthy diet the ideal pumpkin, stuffed with quinoa. Take:
- 8 small squash;
- 1 Cup prepared quinoa;
- ½ Cup sun-dried tomatoes;
- 2 tablespoons of olive oil;
- juice of ½ lemon;
- ½ Cup of chopped green Basil;
Sol.
Mix quinoa with chopped pieces of tomato, season with olive oil, lemon juice, salt and Basil. Mix well. Boil a large pot of water and put in boiling water squash. Cook them for 3-4 minutes, then cool under running water. Cut the stalk with a part of the fruit and remove part of the flesh. Nafarshiruyte quinoa, cover, and bake in preheated to 170оС the oven for 7-10 minutes.
Advice 2: What dishes you can make with squash
Squashes are a kind of pumpkin, have a specific taste that not everyone likes. Raw, these vegetables are almost do not eat, basically, they marinate or cook a hot meal. The squash is ideal for the diet, normalizes metabolism, contain many vitamins and minerals.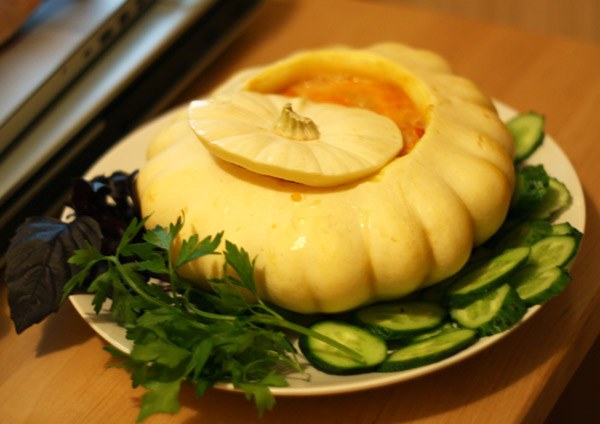 Stuffed squash
This dish is unusual and original in the first place, thanks to an interesting design. Perfect to to surprise family or guests. In this recipe it is quite simple, and cooking does not take much time.
Ingredients:
- squash, 1 whole thing (about 200-300 grams);
- chicken, 300 grams;
- onion, 1 head;
carrots, 1 medium piece;
- garlic to taste;
- salt, pepper.
Recipe:
Wash squash and carefully cut off its top (horizontally) together with the stem. Clean it from the pulp, leaving only the walls, with a width of approximately 1-2 cm from the Inside coat the squash with salt. Removed flesh cut into cubes, then fry in a pan, pre-lubricated it with vegetable oil. Wash chicken, separate from the bones (if it's not fillet) and loop on the grinder.
If you want to get juicy meat, the skin from the chicken do not remove.
Onion and carrot peel, finely chop or grate. Garlic crush with chesnokodavilke. Minced chicken, onion, squash, carrot and garlic together and mix well. Add a pinch of salt and pepper. The resulting mixture was put into the squash, top cut off, close the earlier tip. Preheat oven to a temperature of 200oC and bake the squash for 40-60 minutes. Serve it whole, and then cut into pieces.
Squash fried
This is quite a tasty and hearty dish that goes well with meat. It is easy to prepare and the taste will please even the gourmets.
Ingredients:
- squash, 4 pieces;
cheese, 150 grams;
- eggs, 3 pieces;
- sunflower oil for frying;
- butter;
- greens;
- breadcrumbs.
Recipe:
Zucchini peel, cut the flesh into large chunks, season with salt and sauté in the pan with adding oil.
Cheese chop on a grater. To it add 2 eggs, butter, finely chopped herbs, salt. Put the mixture in the cauldron and heat.
The cauldron is a special cookware with thick walls and a round bottom.
Divide the remaining 1 egg and slightly beat it. Prepare the breadcrumbs. Using the resulting hot mixture (from the cauldron) make two pieces of squash, dip them in egg and roll in breadcrumbs. Fry in a hot pan until just brown, pre-lubricated with sunflower oil.