In nature, there are a huge number of shades of blue and blue. Depending on the presence of black pigment (brightness) or from the presence of white (lightness), and also depending on the saturation or fading blue, this color can be combined with other colors. When compiling the most winning color combinations it is easiest to follow the principles of monochrome, similarity, and complementarity.
Monochrome combinations
In order to see how the colors fit together, better to use a color wheel. In this color circle is divided into warm and cold, and can also be seen from the edges to the center gradually changes the brightness and any color goes with white.
Studying the color wheel, applying one color to another, it is possible to obtain the most successful combinations of colors. So, one of the most pleasing to the eye are considered to be monochrome combinations, i.e. combinations within the same color. In this case, one color is one that is submitted within the same segment of a circle, a "piece of cake". In other words, choosing to the image 2 or 3 different brightness shades of blue, you can make a harmonious combination.
For example, wear light blue, nezabudkovy skinny jeans and complete their switchtm more vivid cobalt hue. Shoes and accessories in this manner can also be blue.
The same combination
The same, i.e. the close combination – those that are adjacent to the selected segment. In the case of blue is blue and turquoise. The stylish way may use up to three various shades of these segments, and you can take as a brighter and lighter options.
So, dark blue skirt can be worn with a silk blouse fashionable mint (light Teal) color and finish the style with stilettos juicy shade of blue.
Complementary combinations
Complementary colors are those that are in the color wheel are on opposite sides. When these colors are close, they seem to reinforce each other, become brighter. Such combinations never go out of fashion. Here are all the known complementary pairs:
- ice green (emerald) – red;
- warm green (herbal) – hot pink (fuchsia);
- cold yellow (lemon) purple;
- warm yellow (mustard) blue;
blue – brown-orange.
That is why brown-eyed brunettes and a blonde, whose eyes and hair a lot of yellow and orange splashes, as are almost all shades of blue and blue. According to the principle of complementarity, these colours enhance the natural shades of the eyes and hair, making them Shine even brighter. Same thing with clothes – wear a blue sweater with trousers the color of chocolate, and then on the background of each other they will look more favorably.
Advice 2: What color matches the color of mustard
Modern ladies are increasingly paying attention to the natural
color
owou palette. Greatly increased the popularity of the clothing earthy, leafy, terracotta, bright heavenly colors. Among the variety stands out, another an unusual color – mustard.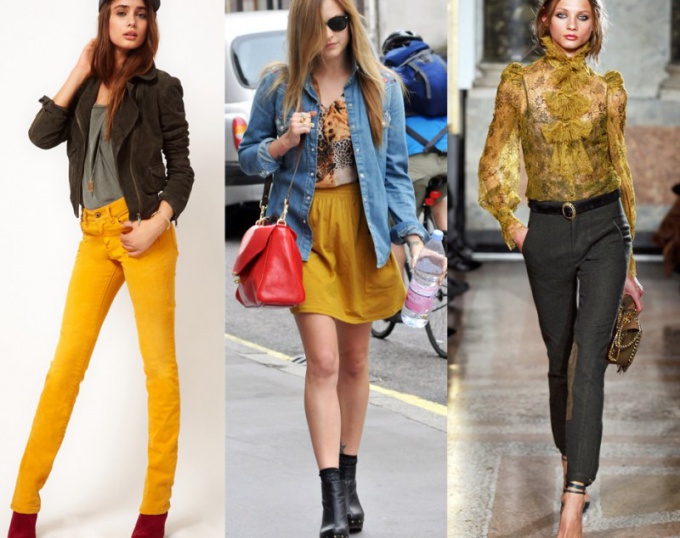 Mustard is a spectacular color for stylish girls
Mustard color is both muted and bright. This Sunny hue evokes a sense of joy, a feeling of warmth and peace. However, unlike yellow, not glaring and not get bored. Psychologists assure that mustard color is universal. It can safely enter into the image of both girls and boys.
The color of mustard can be called a new classic. For several years Shoe brands release a many serious of shoes in the style of "unisex", which enjoy high popularity among consumers of both sexes.
Stylists call the traditional combination of mustard and blue. And the second can have a very different undertone: from sky blue to dark sapphire. A mustard color is fine to dilute the blue set will make a bold and memorable.
Among the bright colors, mustard is recommended to combine with red, purple, emerald, pistachio. Any combination will look elegant and beautiful will allow you to showcase your style. Most importantly, batch color, one must lead, the other to Supplement.
Mustard color is neutral and just look at the background of black or white. Such combination is suitable for office style or an evening out. Do not add a set of bright accessories: they break the balance.
Gourmet combinations
The mustard color will help you to create a pleasant, eye-catching and elegant look. This color is both bright and neutral, allowing you to feel comfortable in it. Clothing mustard color you will notice and appreciate.
Stylists recommend girls to pay attention to dress nice shade. You can Supplement it with a coat or jacket blue. Shoes fit as neutral (e.g., nude), and is identical in tone to any apparel item. The main thing – do not introduce new colors.
If you are hesitant to use a mustard color, add it to the image with the help of accessories or shoes. You can't go wrong if you introduce it into a set of jeans.
To create a beautiful image, buy skirt mustard color. Combine it as a model Miranda Kerr. The girl added fashionable skirt top in black and white stripes, and on top threw a white cardigan. Kerr was not afraid to enter additional bright accents: brick patent leather shoes and purse Navy blue chain. The kit was very romantic.
Blouse mustard color is a perfect office skirt. If the clothing color is not specified, feel free to choose the bottom Burgundy, dark emerald green or red-brown shade. Otherwise, combine mustard blouse with a black skirt, and introduce accents with accessories. For example, gold bracelets, white thread, pearl the scarlet flower-brooches.
Outerwear mustard color – the perfect base to create a casual image. Pay attention to Rihanna, who preferred coat medium-long shade. It it connected just worn with skinny jeans and brown suede boots. Under the coat, the singer wore a white t-shirt without prints, and their eyes concealed under dark glasses in the bright frame.