How can I replace cow's milk in mashed potatoes
Depending on the reasons you decided to avoid milk, there are different alternatives. For example, if you are going to add it to mashed potatoes due to dietary or medical restrictions or because you decided to become a vegetarian replacement for animal milk can be a vegetable. Soy, rice, coconut and almond milk is ideal for people suffering from lactose intolerance and vegans. For mashing these replace cow's milk in the ratio of 1 to 1, but instead fatty flavored butter take a dairy-free margarine or vegetable fats.
When choosing a plant milk for mashed potatoes, avoid sweetened products.
For those who avoid cow's milk due to the fact that a diet low in fat, it is recommended to replace it with chicken or a rich vegetable broth. If you have a home just wasn't no milk, no butter, but happen to have a fatty ( 20%) cream, remember that the glass they will replace you the same amount of milk and 1 tablespoon oil. If all dairy products you only have whey, it is also suitable for mashing.
How to cook mashed potatoes with chicken broth
To make dairy-free mashed potatoes in the broth, take:
- 5 large starchy potatoes;
3 ½ cups chicken broth;
- 1 clove of garlic;
- 1-2 tablespoons of vegetable oil;
- salt, pepper.
Wash the potatoes thoroughly under running water, peel and cut into cubes the same size. Rinse them again. Put the potatoes in a saucepan, add the peeled garlic cloves and pour in the broth. Bring to the boil and simmer until potatoes are soft. Drain the broth in a separate bowl, remove the garlic. Mash the potatoes with colocoscopy or run through a press, gradually pour the broth, ensuring a homogenous, fluffy mass. Put the vegetable oil and season the puree with salt and pepper to taste.
If you want to cook mashed potatoes without salt, add dried dill, gives the dish a salty flavor.
Mashed potatoes with butter
Good cooks know the secret of making mashed potatoes and generally no liquid is added, but they will not be persuaded to do without butter. To make the perfect dairy-free mashed potatoes you will need:
- 4 large potatoes starch varieties;
- 3 tablespoons of butter;
Sol.
The trick of cooking this sauce is that potatoes steamed. Thus, avoiding direct contact with the boiling water, the potatoes fall apart, but the cells of the starch in it are not destroyed. Wash, peel, rinse and dry the potatoes. Cut it into equal slices and place in the bowl of a double boiler on the bottom, pour 2 cups hot water, bring to the boil, cover and cook steamed for about 20-30 minutes until fully cooked. Slightly cool the potatoes, skip through the press or preroute special fixture, and season with butter, salt and serve.
Advice 2: How to cook cow's udder
Cow udder has a high energy value, has a milky-sweet taste and delicate texture. By applying various processing methods, it is possible to prepare tasty and original dishes.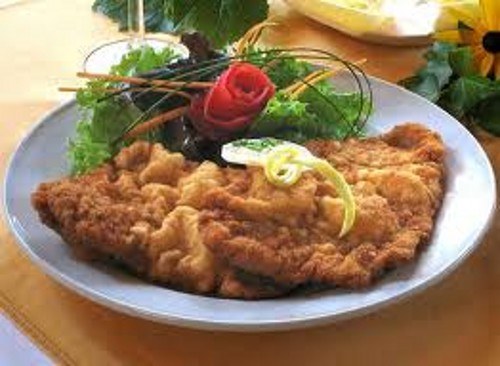 You will need
500 g of the udder;
Cup walnuts;
200 g of cheese;
4-5 cloves of garlic;
mayonnaise;
salt;
spices to taste.
For udder in batter:
1 kg of the udder;
100 g of breadcrumbs (or flour);
2 eggs;
vegetable oil;
black pepper;
spices to taste;
salt.
For goulash udder:
500 g of the udder;
tablespoon of flour;
tablespoon tomato paste;
onions;
Bay leaf;
vegetable oil;
salt;
spices to taste.
Instruction
Clean the udder from fat, thoroughly rinse the residue from the milk, put in a deep bowl or pan, fill with clean water and leave for about six hours to vymachivanija. Then rinse, put in pot with clean water so that it covers all the meat, add spices to taste and salt. Put the saucepan on medium heat and cook the udder for three or four hours. Then allow to cool. Boiled udder can be used for cooking various dishes.
Salad of beef will vymanivaniya in cold water udder and boil until tender, adding water, salt and spices. Grate cheese, grains, nuts, crush them in a mortar or grind in a blender. Udder cool, cut into small cubes, add grated cheese and nuts. Skip through the press garlic, season the salad with mayonnaise and mix thoroughly.
Beef udder in the batter Make for udder cuts, rinse well and soak for five hours. Then boil until tender in salted water, cool and cut into portions. Add salt, pepper and add the spices. Pour into a clean bowl breadcrumbs or flour, in a separate container beat the eggs. Dip the slices of udder, in the egg, zapaniruyte in breadcrumbs and fry to a delicious Golden brown in a frying pan with hot oil.
Goulash semenistaya small cuts on the udder, wash in cold water and soak for three hours. Then cut him into small pieces, salt, sprinkle with spices and pepper. Peel and mince onions. Pour into the pan vegetable oil and put on fire. Fry in it the udder with onions. Add the flour, mix well and fry for another two minutes. Put everything in a pot and pour hot water so that it covered the meat well, add the Bay leaf and tomato paste. Cover pot and put on a small fire for about two hours to stew. If necessary, add some during the cooking water.
Note
Due to the high content of fat udder and milk it is not suitable for long term storage.
Useful advice
If boiled udder to hold some time in the fridge, the taste will become richer.

If you do not mind specific (milk) the smell of the udder, it can not be soaked.
Advice 3: You could make mashed potato: recipes
Mashed potatoes — food that quite often you can see on our table. If you have after dinner was a small portion of mashed potatoes, do not rush to throw it away because it is possible to prepare a lot of meals and snacks for every taste.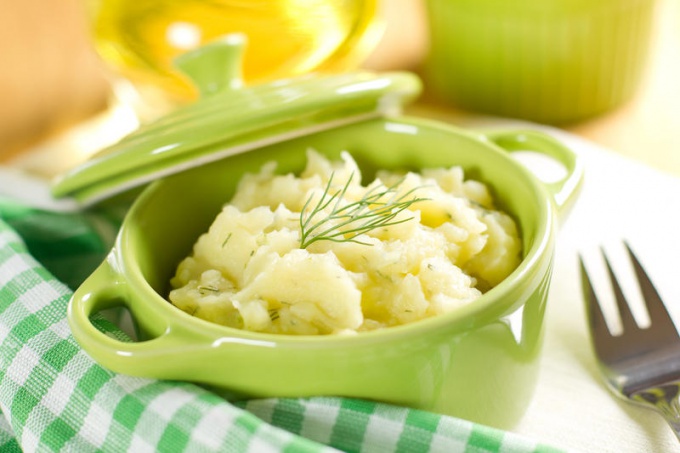 Mashed potato, as mentioned above, you can prepare a lot of meals, just "enable" fantasy. However, the most common foods are potato zrazy, pies and quiches.
How to cook potato pie
You will need:
- two cups mashed potatoes;
- two eggs;
- 1/2 Cup of kefir;
- 1/2 teaspoon of baking soda;
- salt and spices (to taste);
- 150 grams fresh mushrooms;
onion;
- one medium carrot;
- small bunch of parsley and dill;
- flour (how much dough).
To fill:
- two eggs;
- 1/2 Cup of mayonnaise;
Sol.
Take mashed potatoes, if it has lumps, then mash them. Add the egg, salt, a teaspoon of flour, spices to taste and all mix thoroughly. Take a pan, pour it in the yogurt, add the egg and baking soda and gradually pour this mixture into the flour and mix. Knead elastic dough of medium thickness. Mushrooms wash, dry, cut into slices and fry in a small amount of vegetable oil until Golden brown. Carrots and onions clean, cut and fry. Form for baking grease with oil, the bottom lay the dough and form a "rim" on dough put the fried onions and carrots on them - potato stuffing, then mushrooms. In a small container mix all the ingredients for filling and pour her a cake. From top to decorate with chopped greens. Bake the pie until ready in the oven at 180 degrees (baking time 30 to 40 minutes, depending on the diameter of the mold).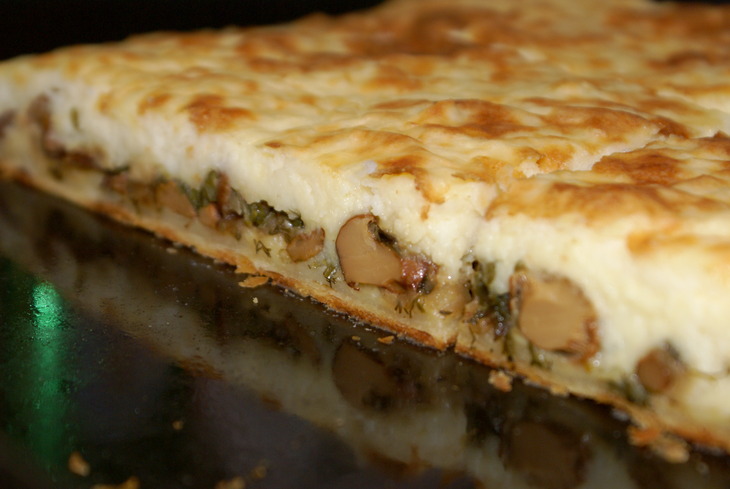 How to cook potato zrazy with cheese
You will need:
two cups of puree;
- two eggs;
- Cup of curd;
- bunch of fresh dill;
- flour (how much dough);
- vegetable oil.
In a bowl mix mashed potatoes and egg, add salt to this mixture. Add to this the weight just enough flour to make soft pliable dough. Next, prepare the filling: mix cottage cheese with egg and chopped dill, season with salt. Put the pan on the fire, pour oil into it themselves, meanwhile, from potato dough form the Patty is right, put inside a small amount of toppings and zasypnica edge. Place the finished right on the pan. In the same way build up the rest of the pancakes and fry on both sides until Golden brown. Potato zrazy ready to serve them best with sour cream or garlic sauce, which you can prepare yourself.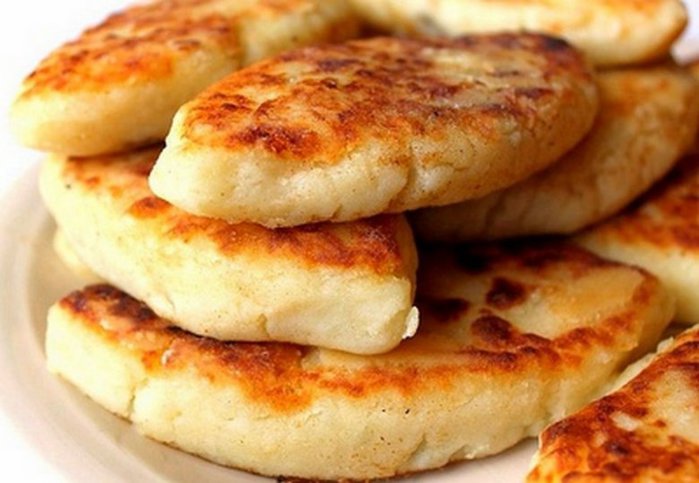 Advice 4: How to cook the soup in a blender
Soup – a dish tasty, rich and fashionable. It bought in restaurants and cafes it is loved by girls, kids and respectable men. But not everyone is convinced that the same delicious soup, you can easily create in your own kitchen. However, any owner using a regular blender can easily turn a set of the foods in a delicious soup.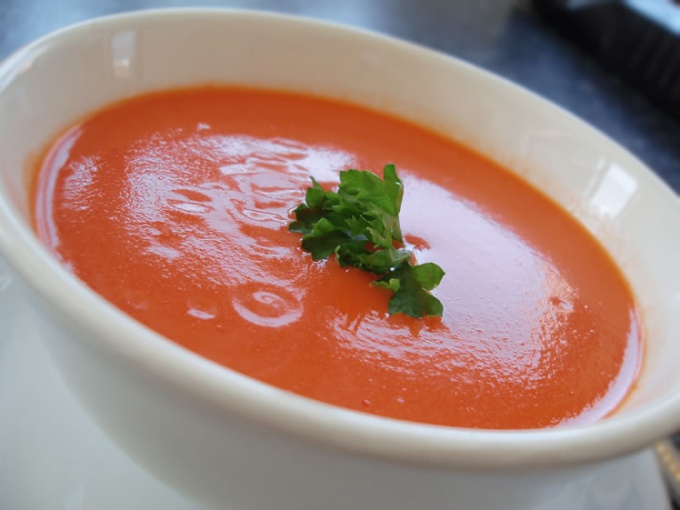 Instruction
The soup can be prepared as using the immersion blender and the blender bowl. With regard to products needed for the soup, it all depends on the desire of the hostess. You can prepare a hearty soup in meat broth, cream soup of mushrooms, diet vegetable soup.
The soup is served both hot and cold, there are also dessert options such as soups. The General principle of cooking – pre-softened products with a blender brought to puree state.
Soup-puree of carrot
In a metal saucepan heat 30 g of butter, add 300 g of sliced circles of carrots and half of the chopped onions. Cover skillet and simmer about 10 minutes. Add ginger powder. Pour 0.5 liters of chicken broth (pre-cooked or prepared from package). Salt, add black pepper.
Cook the mixture for about 40 minutes. Slightly cool the soup, pour it in the bowl of a blender and process until puréed. If you don't like the grainy consistency of the soup, after pulverization in a blender, wipe the finished soup through a sieve. Pour the mixture back into the saucepan and bring to a boil. Pour 50 ml of cream and stir. Ready soup garnish with a sprig of cilantro and slice the carrots.
Soup-mashed potatoes with mushrooms
500 grams of potato peel, cut into smaller pieces. Cook in small amount of salted water until tender. Finely chop 1 onion, fry it in vegetable oil. Add the onions 200 g sliced mushrooms, salt and fry onions with mushrooms until fully cooked and evaporation of water. Mushrooms, onions and potatoes, place in a blender and grind to puree state.
Mix 250 ml milk and 250 ml cream and add the mixture to a blender and whisk again. Pour the soup into a saucepan and bring it to a boil. Before serving, garnish the finished soup with green feathers chives Luka.
Dessert soup
600 g of frozen berries (raspberries, strawberries, cherries, currants), place in a pot, add 250 g of sugar, close the lid and cook in a little water for about 15 minutes. Cool the mixture and pour it into the blender. Grind the berries.
Pour the ready soup into cups and refrigerate. Before serving, put in each Cup a ball of creamy ice cream and garnish with a sprig of fresh mint.
Note
Do not boil ready soup – it will only need to bring to the boil. Remember the coffee brewing process on the stove – soup act in a similar way.
Useful advice
Soup you can prepare for the future. Pour it in portions molds or glass bowls and place in the freezer. As such, the soup is safely stored for 2-3 months.
Advice 5: How to cook mashed potatoes for a child
Table modern adult it is impossible to imagine without a variety of potato dishes. Children's menu also contain this beneficial for the growth and development of the product.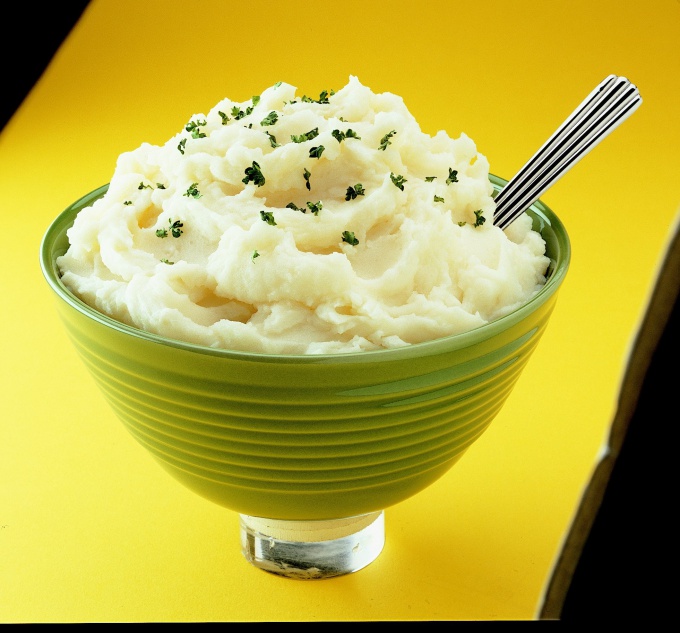 Instruction
The potato is introduced in the feeding of children since the age of 4.5 months, if the baby is on mixed feeding and 6 months if breastfeeding. Typically, the potato is one of the first products of a vegetable sauce. To prepare the potato
puree
at home it is best to use the young roots and preferably from your garden. For
child
up to a year suitable for such methods of cooking as boiling potatoes in an enamel pot, baking in the oven, steaming.
Small potato and boil whole in their skins. So can keep a larger number of useful properties of vegetable than cutting and lifting the skin. After cooking the potato peel, RUB through a sieve, add broth and warm.
In the potato puree , add milk (mixture), vegetable and a little well-chopped greens, if the age of the baby. If you bake the potatoes, after grinding it is also added milk, formula or just hot boiled water.
Add in the potato puree a few drops of vegetable oil (sunflower, olive, etc.) is possible only upon expiry of one month from the beginning of the vegetable sauce.
Always give your child only freshly prepared dish. Vegetable puree is stored in the refrigerator in a sealed container no longer than a day.
Note
Green spots on the fruit indicate the presence of solanine – a poisonous substance not to be applied in the food!
Useful advice
Potatoes has a positive effect on the cardio-vascular system, helps to maintain water balance in the body, promotes metabolism, relieves inflammation of the stomach mucosa and normalizes the digestive tract. However, starch, which constitutes about 20% of its composition, is not absorbed by the body in its pure form, so a child menu, the potatoes should be only 2-3 times a week.