Instruction
Write English song on your audio player, with which you will be able
rewind the song and to stop it at the right place. Listen to her
a few times, trying to sing in those places in which the words you are more
- less dismantled. Do this several times.
Search the web for the text of this song in the original language. You should not
looking immediately a translation to the song. Try it yourself
translate. To do this, take the Anglo-Russian dictionary, and reading words in
transcription, you will easily be able to correctly pronounce the word. This
way compare your pronunciation with that when you just listened to
the song and tried to sing along.
Promotes good singing karaoke. To do this, go to a karaoke club and
find the collection of songs in English song. With the familiar
melody with subtitles lyrics, and with the help of friends you will be able
to make a real splash in the performance of your favorite hit.
Find tongue twisters in English. Translate them, and, most importantly,
try to pronounce them correctly and slowly. Then take in the mouth
a few nuts or clamp between the teeth a cork from a bottle of champagne
and try to say an English tongue Twister. These exercises
will help make your English pronunciation clearer and more
sonorous.
Try to divide the words by syllables, pronouncing each well, and
pay attention to the endings of words. Listen how these end
words pulls the singer, and try to achieve the same effect with
solo performance of the song.
Pay attention to breathing exercises. If the song is fast
you should keep up with the melody, say the right words. For this
use breathing exercises and exercises with the diaphragm,
you can find online.
Also, you can find the video of your favorite English songs and see how stands the singer and his facial expressions. These subtle details will help you more accurately convey the nature of the song and correct to sing her words.
Advice 2 : How to learn to sing by yourself
Learning to sing yourself, you are unlikely to become an Opera singer. But singing is beautiful and touching quite on forces to everyone. They say that opening your voice, man opens in the soul something new and interesting. Go ahead, everything is in your hands.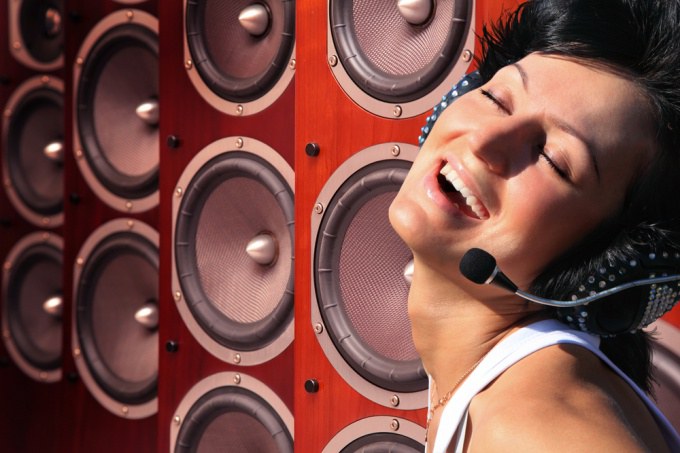 Instruction
Select a song where you will learn to sing. To start with the Russian folk song - lingering, lyrical, with a broad cantilena. The song should you like.
Learn the selected song. If you own a musical instrument, find sheet music and learn a song by them. If you do not own - will have to learn to vote. Turn on the drive, find somewhere the words and sing along. Then turn off the music and sing without it. Record yourself on tape and compare with the recording. Get it seems good. Did not work - keep practicing.
Learn correct singing breathing. Strong, beautiful, flexible voice comes from proper breath. Imagine that you're smelling a flower. Breath work is deep, but not coarse, and fill the air space of the chest. Train yourself to breathe correctly first, without singing. Then sing your song, using a deep singing breath.
Work on diction. Remember the tongue twisters. Say them slowly at first, then faster, gradually increasing the pace. Read the text of your song with expression, clearly pronouncing each consonant.
Think about what your song is. Try to imagine how it feels to be the hero of the song when he says a particular phrase, in any obstoyatelstvah he is who he is, how he looks, who sings. Imagine yourself the hero of this song. That song sounded good and liked the listener, you have to sing it in first person and invest in it their own experiences.
Advice 3 : How to learn to read in English
To learn to read in English language you need the desire, willpower and training. Pay attention to the detail, force yourself to learn. There are some basic recommendations for mastering the rules of reading in a foreign language.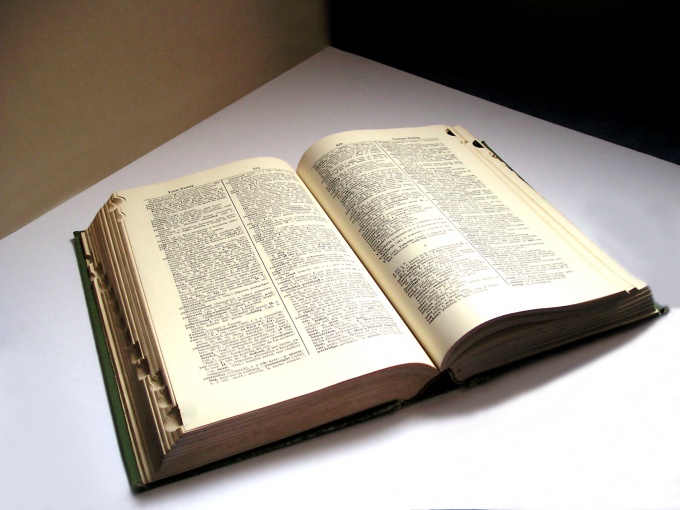 Instruction
Know all the letters, to be able to call them in arbitrary order. In contrast to the Russian language the name of the letter and its pronunciation in the word do not always coincide. The same beech And depending on position in the word can be read as [?] and [a:]. Definitely need to learn the sounds that are indicated in the transcription. Without proper pronunciation, you are just not able to learn words by ear, but read will be completely unrecognizable dialect. To sign the transcription of Russian letters is a waste of time, sounds coincide partially, digested badly, to English have little to do.
To be able to divide words into syllables, an important skill without which to learn to read is almost impossible. You should easily identify an open or closed syllable, otherwise mistakes are inevitable. Be sure to memorize the rules of reading, whether you like it or not. One letter can change the sound beyond recognition woman-women. A significant difference between reading the words not and note. Features many hard to remember, but to know the basic laws necessary. Should once and for all learn the possible combination of consonants and vowels and their pronunciation. Example: ung, ear. For ease of remembering to do it is recommended along with the words: fire [fai?], hungry [?h??gri].
The dictionary should be always at hand, especially the first six months. If the person is fluent not fluent in English, every word must watch in the transcription. Many exceptions, the spelling has not changed for hundreds of years, the rules of reading were corrected.
After word began to be read, as it should be, you should become familiar with the English intonation, to increases and decreases of tone in the narrative, interrogative and exclamation sentences.
Useful advice
Do the transcription, read aloud English literature, pay attention to their pronunciation and succeed.
Advice 4 : How to learn to translate texts
Now foreign languages play a very important and visible role in people's lives. And not only translators, but also people of other professions are often faced with the need to understand texts in a foreign language. But for this they first need to translate. How to learn to translate texts from Russian or on Russian language?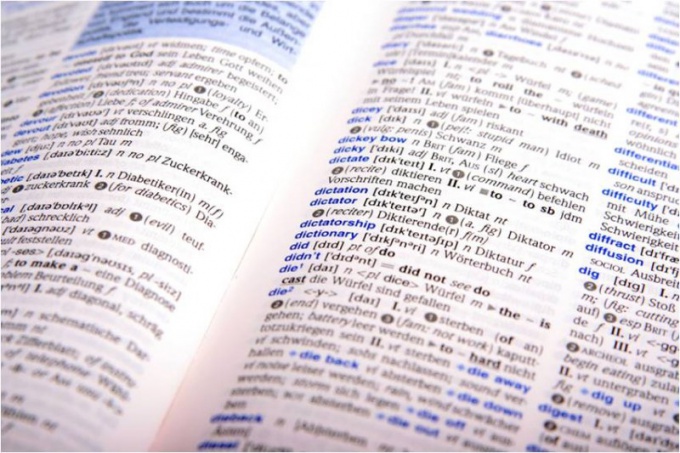 You will need
- textbooks and manuals translation.
Instruction
If you are not familiar with the language in which you want to translate, enhance their level of knowledge. This can be done through repetition of basic grammatical structures and forms.
Choose the right literature for consultation. Textbooks on the theory and practice of translation can be borrowed from the library, and to purchase in one of the bookstores. When choosing, pay attention to the orientation of the textbook - theoretical or practical. They complement each other, but if you subsequently need to translate simple texts, you will have sufficient allowances for practical translation.
If you have the opportunity enroll in courses in translation. This will help you in the first stage, as you will have a teacher whom you can ask questions and give verification of your texts. These courses are at many language schools. Before you pay for the course, find out whether you can attend a trial lesson free of charge. In this case, you will be able to understand the level of teaching and specifics of the course and to understand it suits you or not.
If you do not have the time or the funds for such courses, to start their own. Practice in the translation of the type of texts that you will need. It can be artistic, journalistic, and technical texts. If you want to learn to translate, say, a scientific article on a specific topic in Russian language, first read several such materials are already written in Russian. You will understand their stylistic features and will not be transfer them "tracings" from a foreign language. For example, not everyone knows that the first-person speech in Russian scientific articles are not welcome. And the translation of the respective English or French the phrase "I got results" in the Russian scientific article should be changed to the impersonal "were the results" or, at least, "We have received the results."
Note
Keep in mind that you can learn to translate texts, but without a diploma of a translator you will not be entitled to notarize documents, for example, for submission to the official authorities.
Advice 5 : How to learn throat singing
There are three types of throat singing: low, high and average. Many believe high most beautiful of the three options because it sounds like beautiful flute on the banks of the Creek. To learn throat singing, you need to practice special exercises.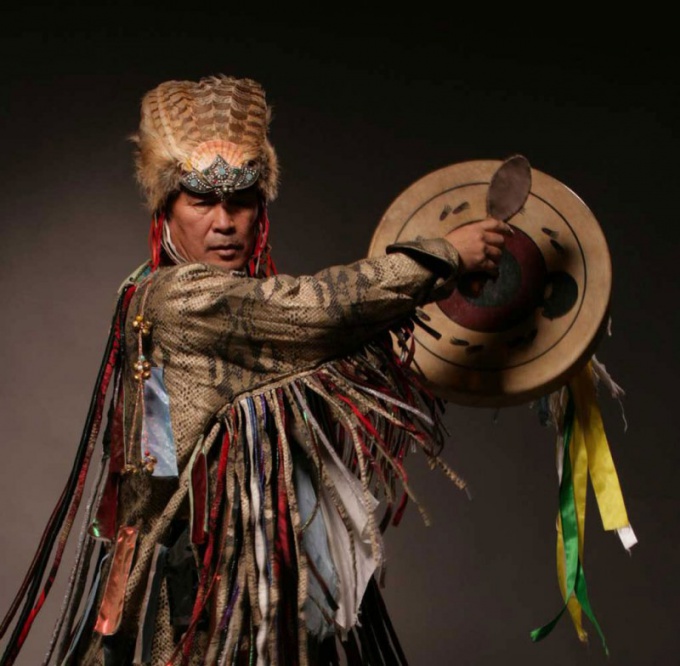 Instruction
Start with learning low throat singing. To do this, perform operations such as if you want to cough. To the beginner it is better to "cough up" 2-3 times a day, not to unnecessarily strain your ligaments, then the duration can be increased. At first you can feel the tension in the throat, you may feel like a tickle in my throat. After about a month of these lessons will start you will begin to feel the throat muscles, allowing to emit low sounds.
Take the exercise of "Tractor", when I try to pronounce the word the lowest voice you can muster.
Listen to a performance of throat singing by different singers or music played on national instruments, for example, Tuva or Altai. This will help you to be in the right wave that will accelerate the process of mastering the skill of throat singing.
To learn the average singing, just sing or shout, strengthening throat muscles. This method is performed most of the songs that we hear every day on radio or TV. With the help of secondary muscles we reproduce normal speech.
Once you master the low and medium throat singing, go to the most difficult of all - high. Your vocal cords are trained, with the first two types of singing, will be able to stretch to give sounds high.
Listening to singers of Tuva or Altai, try to repeat similar sounds, intuitively tensing and relaxing your throat muscles.
Squeeze the muscles of your throat so as if you want to breathe air through a little hole, it will create high frequency oscillations. After a lot of training, you should get a sound like the hiss.
Try to propagate the combination of "El" and "Il" in order to remember the position of the tongue, to throat singing. Then you will be able to fulfill it, not remembering the combination. The vibrations created by these sounds will help unclog sinuses conducting a real high sound. Each person it takes different time but on average, you can see the result after two months of regular training.
Advice 6 : How to learn to sing karaoke
Camping in a karaoke good time, which allows you to meet friends, to relax, to relieve stress. Besides, singing is good for health. However, some people worry that they sing well enough.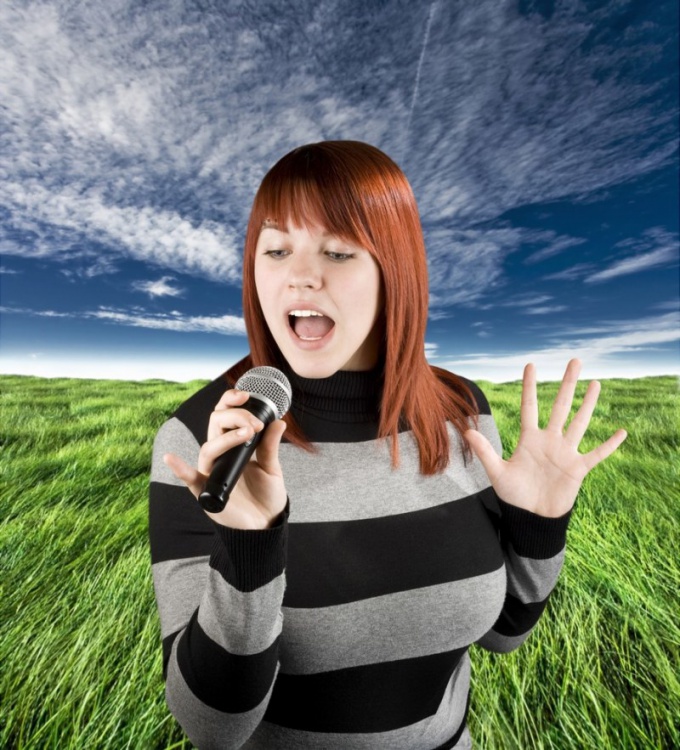 You will need
- recording or backing tracks of your favorite songs;
program karaoke;
courses of vocal or vocal coach.
Instruction
First of all, relax. Remember that karaoke is only entertainment, no one expects that you will demonstrate the wonders of the vocals. Karaoke people of absolutely different professions, and they do not care, even if they have obvious hearing problems. You came here to have fun so get it. And this feel
relaxed
. It's okay if you won't always hit the notes; it is even inevitable, because music karaoke not always of good quality and often very different from the original. Be confident and sing with the soul - then, most likely, the surrounding appreciate your statement. But in any case, do not forget that you came to the club for their own pleasure and you should not worry that you will think about other people.
If you are not confident in their own abilities and shy to work out at home. In the web, find a minus one song that you like, download the text and sing. You can do without backing tracks, and just sing along with the performer or the performer. Or download program karaoke. To get used to the audience, sing in the presence of friends or relatives.
If you really like to sing and you want to do it more often than once a year in karaoke, find a vocal teacher or vocal Studio and study there. Don't think it's a waste of time. Vocal lessons help you to relax, become relaxed, the voice becomes raised and more confident, healthier lungs. Besides, many of the creative arts allow you to feel happier. Most likely, after a few lessons you will feel much better MIC, and guests karaoke will listen to you with admiration.
If you come to karaoke for the first time and worried, sing one or more songs together with your friends. Your voices will merge and you won't be so nervous. Perhaps soon you will be emboldened and will want to "solo".
Note
If you often go to karaoke or sing at home, make sure that you sing "on a pedestal", learn correct abdominal breathing, preferably with a teacher. So you will avoid possible problems with voice.
Useful advice
If you want, you can find special courses of singing at karaoke, where I teach elementary voice training and learning appropriate repertoire of popular songs.
Advice 7 : How to sing
The art of singing owned by many people. Some can sing very well without any training, others need training and constant practice. If you think that you can't sing, there are some techniques that will allow you to do it correctly.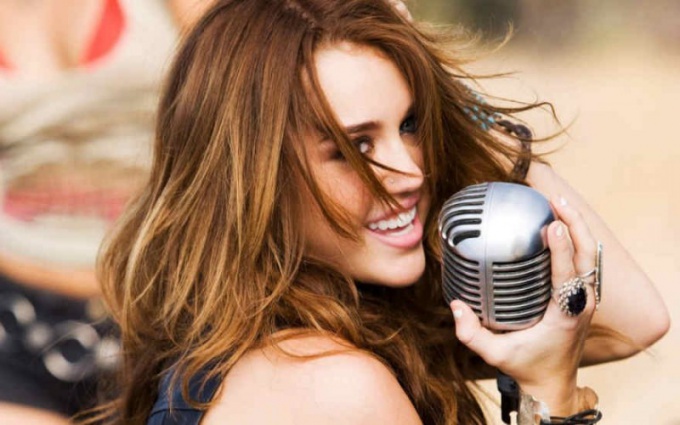 Vocal range
To learn to sing properly, it is very important to determine your vocal range voice (baritone, tenor, soprano, bass, etc.). It largely depends on the shape and size of your larynx. You can learn to use it as efficiently as possible, making very clear sound, but to change her shape and size you will not succeed. Understanding what vocal range you possess, you will learn which notes you can take and which can not, for objective reasons.
Anatomy
The more you know about the structure of your body, namely those parts that are directly involved in the process of singing, the better you will sing. Place your hand just below the collarbone. Take a few deep breaths and feel how your lungs rise when inhaling and fall when exhaling. Take a deep breath and raise your hand until, until you find the location of the maximum lift of the chest. At this point you can participate discomfort in the abdominal area. This happens due to the pressure that the diaphragm have on everything below your rib cage.
The position of the body
Correct singing begins with proper body position. Stand up straight, shoulders pull back a bit, spread the legs shoulder-width apart. One leg should be extended forward a little. This ensures proper breathing and allows the maximum use of lung capacity.
If you want to sing while sitting, keep your posture and do not cross your legs, feet need to be completely on the floor.
Breath
Singing is 80% the result of breathing, so it is very important to breathe correctly. Try to inhale and exhale to maximize the use of your stomach. In order to accustom yourself to this breath, complete the following exercise: lie on the floor and put a stack of books on your stomach, sing it in a normal pace so that the stack of books rose and fell with each inhalation and exhalation.
If you use only light, you will notice that you are very hard to reach those high notes.
Sing range
Practice singing scales as often as possible (20-30 minutes a day), it will help you to significantly improve the sound of your voice and strengthen the muscles involved in singing. At the first class accompaniest himself on the piano, then gradually start to cycle through notes without the aid of musical instruments.
Singing lessons
If you want to sing professionally, it is advisable to take lessons from a private tutor. The wrong training can only spoil your efforts. If you are not able to take private lessons, try to join local Amateur ensembles. As a rule, these associations also give good lessons.
Advice 8 : How to learn to sing diaphragm
The diaphragm is the partition separating the thoracic cavity from the abdominal. This partition can strain and relax. Professional singers of the column of air rests on the diaphragm, that allows them to get a deep rich sound without excessive strain on the vocal cords. A common mistake novice singers – singing cords. This habit should get rid of.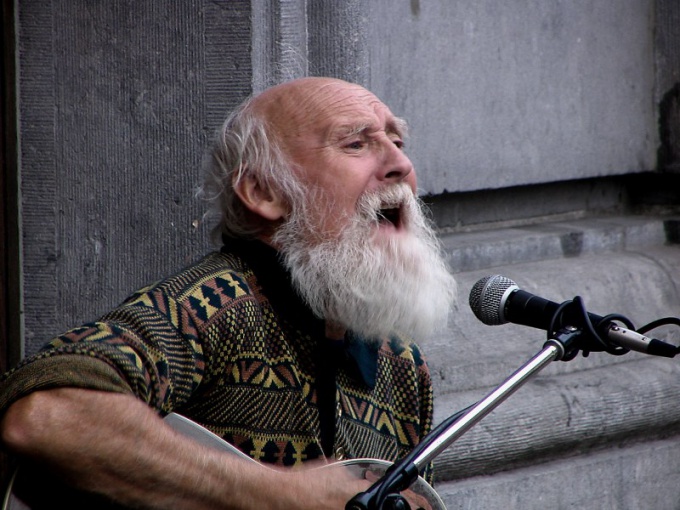 You will need
mirror;
- a collection of singsong;
tutorial solfeggio;
paper tape;
is a candle.
Instruction
"Singing diaphragm" – the term is not quite correct, the definition of "singing with support" would be more accurate. Before you start singing, you need to feel this support. Stand in front of the mirror. Place your hand on the waist so that the hand felt the lower edge. Take a very deep breath so that swollen belly. Remember this feeling. Slowly exhale through your mouth. Take several more breaths. This is abdominal breathing. He characterized most men. As for women, they are quite common thoracic type of breathing, not move apart when the lower ribs and the upper. If you have a thoracic breathing, pay particular attention to this exercise.
Learn to perform a few exercises breathing exercises. For example, such. Stand up straight. Hands lower along the trunk. Take a quick, deep breath, expanding the lower ribs, and then slow exhale through the mouth, folding his lips. Repeat this exercise several times a day, trying to do a deeper breath and slowing the pace of the exhalation.
To help learn how to breathe through the diaphragm can simple device. For example, cut out of thin paper ribbon. Inhale. Bring the ribbon to her lips and slowly exhale, trying to keep the ribbon is deviated as far as possible.
Good effect usually gives and exercise with a candle. Put the lit candle on the table at a distance of 1 m away. Inhale, feel that the column of air rests on the diaphragm. Slowly exhale, trying to blow out the flame. Do the exercise a couple more times, pushing the candle a few inches.
Try to sing a descant. For example, four of the bottom step of any scheme. Inhale. Sing an ascending scale in one breath. Take a breath and sing the same scale down. Control yourself, his hand on the lower ribs. When you inhale the ribs should expand, when you exhale – slowly move.
Take a breath. Sing any sound. Pull it up until the lung is not over the air. So sing the whole range. You must constantly feel that the column of air rests on the diaphragm.
Try singing a familiar song. You can sing along to the beloved performer. Before the beginning of the first sentence take a breath, sing the phrase on the exhale. The sheet music for beginning vocalists, the place where you want to take a breath, there is "bird". Find exercises you can, for example, in the textbook solfeggio for the first class.