Casual look
For casual look it is better to choose eye-pleasing color combinations. Yellow and most shades are vivid and even "screaming", so the shoes and the accessories must not only to complement and highlight how much "calm". So, different shades of brown, beige and gray will make a bright dress in appropriate business attire.
Suppose you have a straight or a fitted mustard dress made of thick fabric (e.g., a mixture of cotton and linen). If such dresses short sleeves, it is a perfect casual option to wear to work in warm seasons. You can wear it with basic pumps dark grey or chocolate color, closed ankle boots on a stable heel, and beige loafers or oxfords. Complement the strict image can be a thin strap on the waist in a color bag or shoes, silk neck scarf, mens watches with leather bracelet and a small summer bag.
Try to buy minimal dresses simple cut, as they allow you to create a large number of combinations with shoes and accessories.
Lovers of free style you can wear cotton lemon dress shirt with bright ballet flats, sandals on the platform, Scandinavian clog or white sneakers. Well suited to such a fresh outfit or a roomy canvas duffel bag.
Festive look
Choosing formal yellow dress, try to consider your natural coloring. So, various warm shades of yellow and orange to face blue-eyed and blue-eyed blondes with peach skin. Brown-eyed brunette and blond with cool skin only a few shades of yellow, such as pale lemon or Canary bright.
Than brighter than your appearance, the brighter must be the colors we choose clothes.
Yellow silk cocktail dress knee length and narrow straps best to combine with shoes blue, blue or purple. These colors are opposite to yellow and, consequently, increase its natural brightness. Choosing a long evening dress, such as chiffon daffodil prom dress with sleeves "bat" and a belt under the chest, combine it with beige sandals with a hidden platform. These sandals are versatile and can be combined with clothes of any color. To enhance the beauty of yellow Maxi dresses can embellishment fuchsia: pendants, necklaces, large earrings or bracelets. Small bag contrast blue color will also be a good addition to this image.
Advice 2: What shoes go with white dress
White is traditionally considered a reflection of purity, romance, gentleness and a reminder of the bright moments. Reason bridesmaid dressed in wedding in white. But a dress this color to wear not only on special occasions. Many prefer this beautiful item of clothing into an everyday wardrobe. However, it is important to know what to pair a white dress. This applies particularly to the choice of suitable shoes and accessories.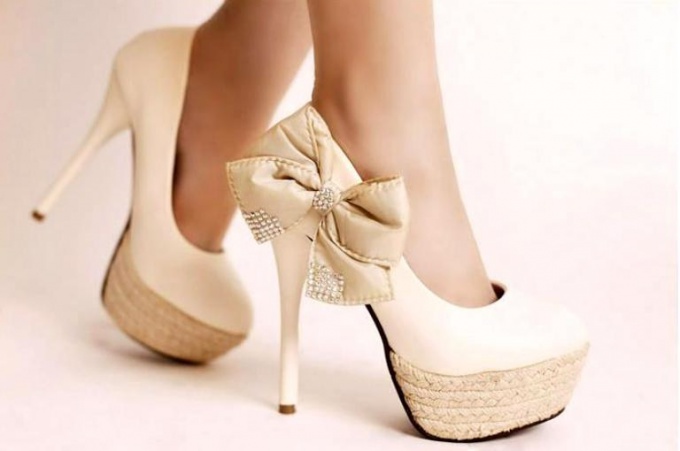 Instruction
Choose the shoes to white dress will not be much difficulty, because this color goes well with any shades. But because the choice of shoes will depend, primarily, on your personal preferences and activities that you want to wear bright outfit.
For office it is advisable to choose classic black pumps medium heel. White dress combined with black shoes will look quite appropriate. This set looks restrained and at the same time very elegant. In addition to work, you can use a different set - white dress and beige shoes. This tandem at work will look neat and quite appropriate.
For evenings you can choose a more extravagant model of shoes. Formal white dress it will be interesting to look, if to him you wear shoes with high heels, preferably stilettos. The color of the shoes should be bright. For example, a white dress and red shoes will add you graceful and chic in bright dress and blue shoes – elegance, white dress and pink shoes will indicate your love of glamour and originality. Style icons of modern fashion often choose this combination. In this kind of enables you to transfer image of Barbie, the favorite of many since childhood.
For Hiking and as an everyday option to a white dress, you can pick up some more simple models. As such, perfect sandals and shoes on a solid sole. Colors you can choose the variety ranging from light gray tint and ending with a bright scarlet. Unusually romantic and gently with a white dress will look purple coral shoes or sandals.
Do not forget about appropriate to light along accessories. If the dress is a fitted style, it is perfect belt. Its width depends on the type of your figure. The belt can be any color except pastel hues. Bright colors just get lost in the background of your white dress. If your bright outfit in retro style with a full skirt and sleeveless, it is easy to create an image of lovers rock-and-roll. Put on your red shoes, red belt, clutch bag and add a hairband of the same color. You will look truly irresistible.
As for jewelry, we can safely say that the white dress fit all kinds of them. Importantly, to match my other accessories. But gold on a background of bright outfit is able to get lost. However, gold jewelry look great with a white dress in the Greek style. Wear gold necklaces, wide hairpins and bracelets, put on a puffy white or gold sandals and you're entered in the image of a Greek goddess.