You will need
For potato in the microwave

5 potatoes;
2 tbsp vegetable oil;
spices.
For potatoes and carrots:
1 kg of potatoes;
1 onions;
1 small carrot;
1 tablespoon vegetable oil;
seasoning
spices
salt.
For potatoes in the "grill":
4 potatoes;
1 clove of garlic;
salt
pepper;
olive oil;
Italian herb.
Kebab of potatoes with bacon:
1 kg of potatoes;
300 g of fat;
rosemary or dried herbs;
foil
skewers.
Instruction
Potatoes in mikrovolnovaya potatoes, cut into thin circles, vegetable oil, mix with your favorite spices (seasoning for potatoes, black and red pepper, dry broth or bouillon cube, seasoning "Little bow", "the Mixture of peppers", salt). Thoroughly mix the potatoes with a mixture of butter and spices, put in a glass Cup in the microwave, tighten with cling film and place in the microwave for 15 minutes on high power.
Potatoes maravilhosamente potatoes, cut into cubes of medium size (not very finely), onion - half rings, carrots — straws. Mix the vegetables, add a tablespoon of oil, salt and spices that you normally add to fried potatoes. Stir, put in a sleeve for baking and put in the microwave for 20-30 minutes.
Potatoes in the "grill"Put the microwave on a grill mode and preheat to a temperature of 180 degrees. Then boil the potatoes in "uniform", remove from it a peel, cut in half lengthwise, place on grill.
Salt potatoes, pepper, drizzle with olive oil and bake on the grill. From time to time his turn, sbryzgivaja olive oil. Cook potatoes until Golden brown. When the potatoes on the grill is ready, sprinkle Italian herbs and RUB crushed garlic.
Siding with slambovia potatoes thoroughly and cut into slices with a thickness of 4-5 mm. lard cut into thin crowbar. If the fat is quite salty, additional salt is not necessary.
Nanizhite on skewers potato slices and bacon, sprinkle with rosemary or dried herbs to taste. Wrap in foil, secure the ends to not fat. Cook in the microwave mode grill for about 20 minutes. The fat should melt, and potatoes become soft. Remove the foil and cook until Golden brown.
Advice 2 : How to fry peanuts in microwave
Peanuts in our market there is quite a long time and is one of the most available nuts. Its nutritional and healthy properties known to many. Fried peanuts is a great way to eat, and if you add it to the mixture of fruits and grains, then you can make your own muesli. However, it's not about muesli, and how to roast peanuts in the microwave.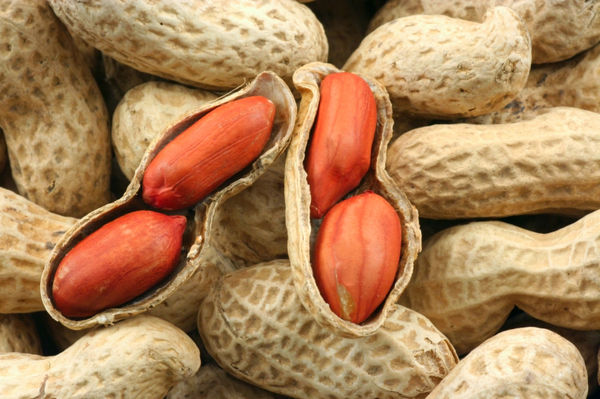 Instruction
No matter how many peanuts you have at the moment, this recipe does not require compliance with accuracy to the gram. Before cooking fried peanuts is primarily to clean the shell (if peanuts are raw), sort and wash. Then you need to put on a towel and allow to dry. In the microwave all cooked in minutes or even seconds. Therefore, roasted peanuts will be ready in a moment, namely, for 3-4 minutes.
Peanuts
laid out on a round glass dish for the microwave, you can just on the tray, but it is worth considering that mix will be difficult. Because these nuts in its composition contain bicarbonate of soda when cooking in
the microwave
they get a little salty, but more
salty
snacks or just beer and peanuts can be sprinkled with salt in addition. Cover the dish or tray is not needed.
So the peanuts were cooked evenly, it is necessary to stir constantly. For this it is necessary to set timer on 20 seconds. The degree of readiness of peanut can be identified by color, it needs to be dark brown. If you just leave the nuts unattended for 2-3 minutes, you can get burnt on one side nuts. When the peanuts are cooked before use, is to cool it down.
Note
If you do not remove the nuts from heat immediately, and give them so to stand for another ten minutes, they will be even tastier.

Do not apply a lot of nuts, they will take longer fry. Better to spend more time on preparation than trying again to fry all your existing nuts.
Useful advice
Do not rush to take just cooked peanuts with his bare hands, because the nuts are tight, then a long cool down.

The cooled nuts are very well cleaned from the husk. It is enough to RUB them between your palms.

For toasting nuts in the microwave is sufficient for 3-4 minutes on full power.
Advice 3 : How to bake potatoes in the microwave
Baked
potatoes
– a favorite dish of many. In addition to its taste qualities, it is valued and due to the dietary properties, because baking, unlike other cooking methods, allows you to keep more vitamins and minerals. Quick and easy to bake potatoes in
the microwave
.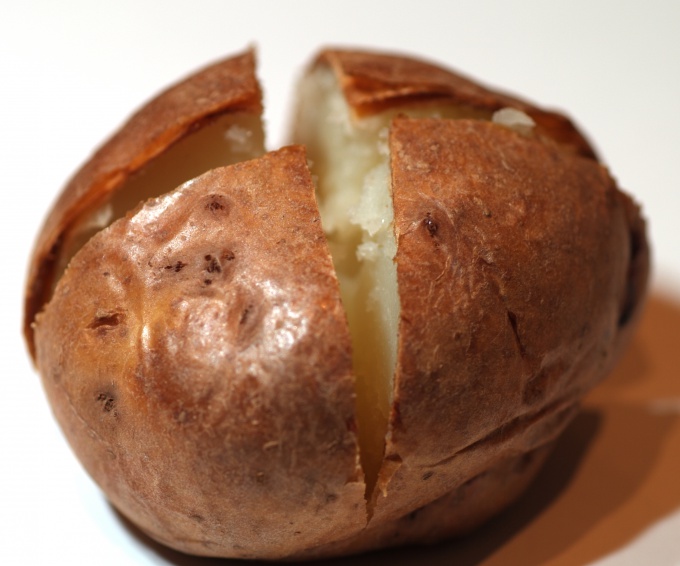 You will need
glass or plastic utensils
suitable for use in the microwave.
Instruction
Wash as many potatoes as you plan to cook. Gently Pat dry them with a towel, napkin or just leave it for a while to allow water to drain back.
Pierce the skin of potatoes in several places with a fork. This is necessary to ensure that in the process of making out couples. If you skip this step, the skin will crack.
Prepared potatoes, place in a container suitable for the microwave, and put it in the microwave. Lid capacity cover is optional.
Set the power switch to the microwave to the maximum value, and the timer for 4-5 minutes. If your microwave has several automatic modes (for example, "Warm", "Grill", "Defrost", etc.), select the mode closest to the cooking in the oven. Click "Start".
When you hear the start signal, open the microwave and gently flip the potatoes. In any case, don't do it with my bare hands – so you risk to burn. Close the door to the microwave and again set the timer for 3-5 minutes.
After the signal from the timer check the readiness of potatoes with a knife or fork. Usually 10 minutes is enough to have it cooked and became soft. If baked potatoes are ready – put it down for a minute in cold water, then it will be easier to clean it. If, in your opinion, the dish is not ready yet, again, flip the potatoes and put on a few minutes in the microwave.
Serve baked potatoes, removing the peel or cutting it in half. Don't forget to sprinkle with salt and put on each half slice of butter.
Note
The potatoes in the microwave can be grilled unevenly, if you forget to flip it or take potatoes of different sizes.
Useful advice
This recipe for potatoes in a microwave are useful if you need a potato "in uniform" for a salad.
Advice 4 : How to fry potatoes with bacon
Fried potatoes
is loved by many. This is a great side dish to meat and fish, but can become a main dish if you cook it
with bacon
and serve with a salad of fresh vegetables, salted or pickled mushrooms. To prepare roasted potatoes with bacon will take quite some time.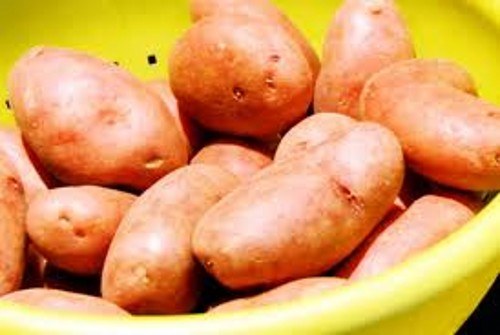 You will need
For roasted potatoes with bacon:

potatoes;
fat;
onions;
salt.
For potatoes fried with bacon and mushrooms:
potatoes;
fat;
mushrooms;
onions;
vegetable oil;
sour cream;
black pepper;
salt.
Instruction
Cut off the fat from the skin, it is often rough, and after frying it becomes hard and spoils the taste of the dish. Then cut the fat cubes about a centimeter thick.
Well wash and peel the potatoes, be sure picking out his eyes. Then rinse again and put in a bowl of cold water to the tubers is not dark.
Put the pan on a high heat, rascality and put on it slices of bacon to vytaplivaete. It will take some time.
Cut potatoes into slices or cubes, rinse and place on a towel or napkin and drain well.
After part of the fat will mytopics, put in pan with chopped and drained potatoes. Spread it evenly on the pan. For the formation of crackling in the pan with a lid, do not cover.
Ten minutes later, once on the bottom layer of potatoes formed Golden crust, gently toss potatoes and turn heat down to medium.
After about five minutes add the potatoes, onion, salt and mix well. The pan cover with a lid and cook until tender, stirring occasionally.
When serving, you can sprinkle fried potatoes, finely chopped herbs: dill and parsley.
So you can cook and boiled potatoes. Peeled and chopped onion, fry together with bacon. Boiled potatoes peeled cut into slices, put a thin layer on the pan with the partially melted lard, salt and fry, stirring, over high heat for 5-10 minutes until crisp.
Fried potatoes with bacon and mushrooms. Remove fat from the skin and cut it into small cubes.
Onion peel and finely chop.
On a well-heated pan put the slices of bacon and onion. Sauté them together, stirring occasionally, until the fat will not mytopics and will not work rinds.
Fish out with a slotted spoon or a special spoon with holes cracklings with onions from the pan.
Potatoes wash, peel, cut into cubes or cubes, rinse again and dry on a towel.
Wash mushrooms well and cut them in slices. Then pour the vegetable oil in another pan, warm it over medium heat, place the prepared mushrooms and fry them, stirring occasionally.
Cut and dried, the potatoes put in a pan with melted lard and fry. Don't forget the potatoes periodically to mix.
When the potatoes are cooked through, place in a pan pork chops with onions and mushrooms. All salt, pepper, add a little sour cream and stir. Cover skillet and allow the potatoes with mushrooms and bacon stew on low heat for another five minutes
Note
To when roasting potatoes faster crisp formed, it must first be dried on the napkin.
Useful advice
When cooking potatoes much depends on the degree of Camaldoli varieties. The more the potato starch, the more it crisp when cooking. For the mashed potatoes are perfect varieties with high starch content, and for frying it is better to choose less starch varieties.
Advice 5 : How to fry dumplings in the microwave
Microwave helps many Housewives, especially if there is no time for long cooking dinner. Perhaps the easiest option is to cook in the microwave the dumplings in the broth, but you can roast, though it will take a little more time.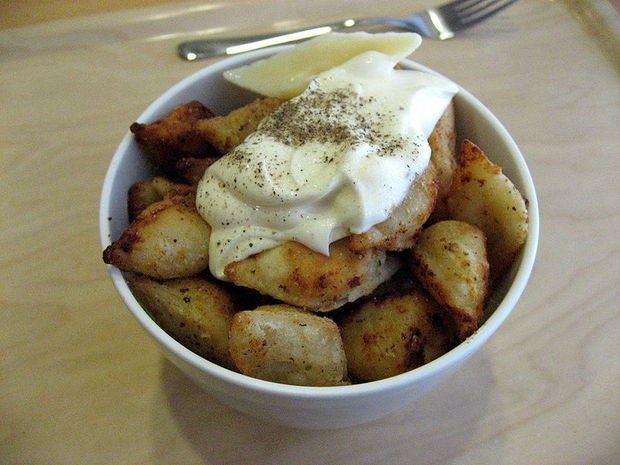 Instruction
Warm in the microwave a pint of water. Do not use drinking glasses, a pot for roast or pan for the microwave. Add in the already hot water 0.5 kg of meat and leave in the oven for 7-9 minutes III power (for five-speed furnaces).

While the dumplings are languishing, grate the frozen butter and 150-200 grams of cheese. Do not mix.
Remove the pan with
the dumplings,
fold the product in a colander. Broth you can use for cooking sauce, so you can drain it into another container.
When the dumplings will flow down and slightly cooled, place them on a plate in one or two layers and sprinkle with half of grated butter. Add salt and add your favorite spices.
Put a plate in the oven for 5 minutes. Please note, must be enabled on the Grill. Ten, by the way, in advance to warm up.
After five minutes, lift the dumplings. They should form a visible crust. If there is broth in the bowl, drain it completely and sprinkle the dish with cheese and remaining oil, it will penetrate the meat and give them the usual softness and juiciness.

Send a plate in the microwave for another 3-5 minutes. Then remove the dish, let it rest, sprinkle with chopped fresh herbs and serve.
If you're a fan of the "Uzbek" variants solid fried dumplings, add a little oil and skip the cheese. Dumplings hold up under the grill until they are well browned. Don't forget to drain the juice. To soak up the sauce just needed a sauce. Cook it from the merged broth.
In a pint of broth, add a tablespoon of mayonnaise, a teaspoon of flour and a teaspoon of vinegar. Crumble it green and bring to a boil in the microwave. Cool and serve.
Advice 6 : How to fry French fries
Potato
fries is very tasty and easy to prepare dish. To make proper fries, you need to follow some rules. You'll have a dish better than McDonalds.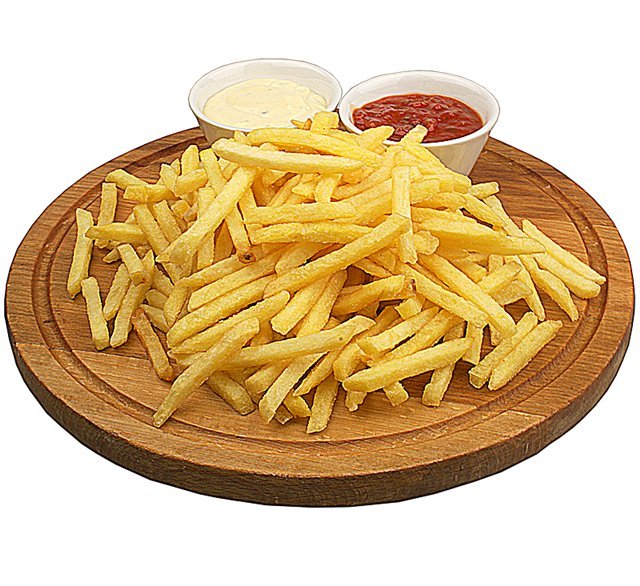 You will need
vegetable oil - 1/3 of a bottle.
Instruction
First of all, peel and rinse the potatoes. Clean
the potatoes
, dry with a towel. But don't use paper, as it will quickly tear, and "lumps" of it will remain on the potatoes. Delete very hard.
Each potato is cut into strips. But make sure its thick. It should be approximately 0.5-1 cm Well length, respectively, will be equal to the length of the potato tuber.
Pour the oil in a pan or in a deep pan. The amount depends on how much you cook the potatoes, but consumption should not exceed 1/3 of the bottle. Will rascality frying pan or a saucepan to the boiling point of the oil.
Small portions put the potatoes into the boiling oil. If you use the pan, the oil will coat the potatoes completely. If you take a pan that is partially. When cooking in the pan is necessary to monitor the fries and flip her so she cooked evenly. The party should be small, otherwise the potatoes will lower the oil temperature and not cooked through properly.
Take it out and drop in a colander so that excess oil is drained. At this time, dip the next batch of future free. Usually do small portions of potatoes, as it is good hot.
Then again, place the whole potatoes in boiling oil. Turn up the heat to maximum. When she will become a light brown color, drain it in a colander and allow to drip off of vegetable oil. Salt the potatoes to taste. Bon appetit.
Advice 7 : How to fry potatoes with meat
From the flavorful
fried potatoes
with
meat
will not be able, probably none to give up. This dish is prepared very simply, and it is hearty and versatile, so it has many admirers.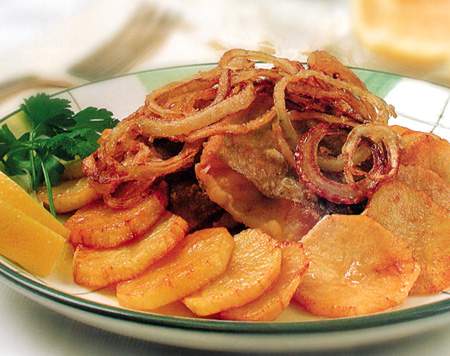 You will need
meat;
carrots;
bow;
spices;
vegetable oil.
Instruction
Cook the meat. It can be cut into pieces.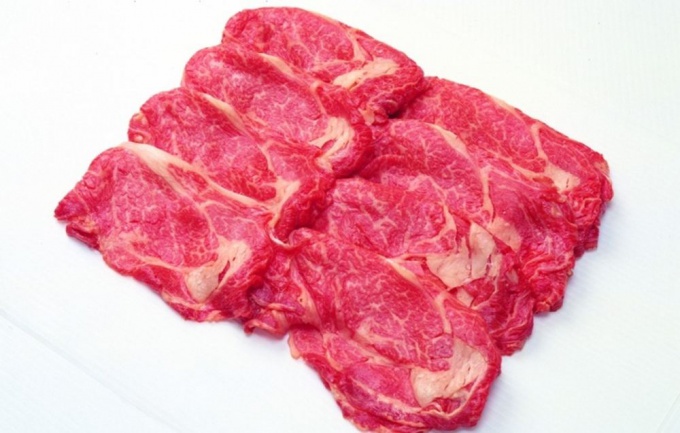 Put the meat in the frying pan. Cover.
Peel onions, carrots, then grate vegetables on a grater and put it in the pan.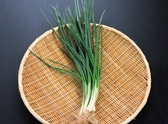 Toss the vegetables with the meat. Put the spices to taste. Let it all stew for 40 min.
Pre-washed potatoes cut into slices or cubes. Put in the frying pan to the meat and mix everything carefully. Cover tightly with a lid.
Cook for another 20 minutes Then serve.
Note
First you need to roast meat as it takes more time to prepare.
Useful advice
Don't forget to mix the contents of the pan, to potatoes not burnt and did not stick to the pan.
Advice 8 : How delicious to fry potatoes with mushrooms
Fried potatoes with mushrooms – a phrase that can cause appetite! And no wonder, because this dish is incredibly delicious and satisfying, but only if cooked correctly. And methods of cooking, in spite of the apparent simplicity of the dishes very much.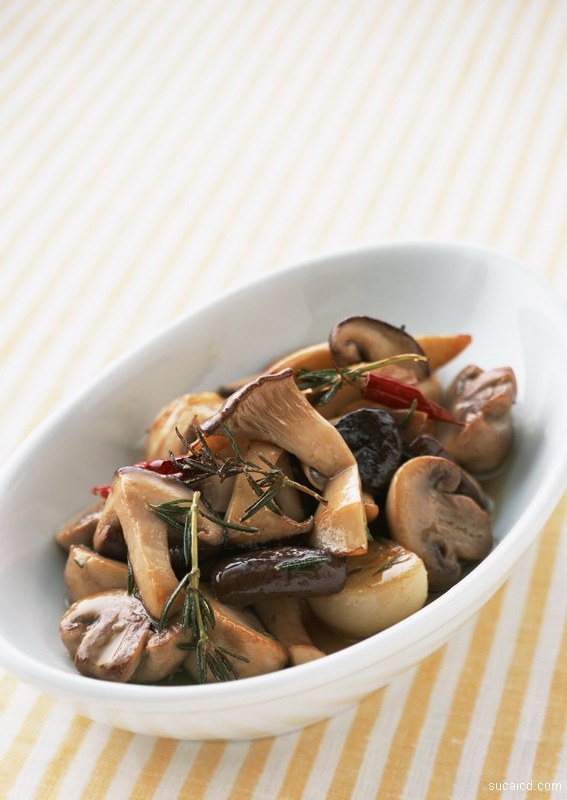 You will need
6-8 small potatoes;
150 g mushrooms;
1 onion;
sunflower oil;
salt
seasonings.
Potatoes for sale:
6-8 small potatoes;
150-200 g of mushrooms;
1 onion;
fat;
salt
seasonings;
green onions.
Potato with sour cream:
0.5 kg of potatoes;
200 g mushrooms;
1 onion;
vegetable oil;
2 tbsp sour cream;
salt
seasonings;
greens.
Instruction
Easy version of Potatoes wash, boil "in uniform", cool, peel and cut into slices. Chop the onion, mushrooms wash and cut into slices. On a heated pan pour sunflower oil and fry the onions until light Golden brown. Then add the mushrooms and simmer, covered with lid. When to separate the liquid, add salt, add black pepper peas, Bay leaf and let out another 10 minutes. Remove the lid and saute until the liquid evaporates. Then add to the pan the potatoes and, if necessary, more sunflower oil and fry all together another 5 minutes.
The potatoes in the bacon Fat cut into strips and fry in a pan to release the fat, then remove it. Peel potatoes and cut into large slices, add salt, pepper and mix thoroughly, then fry on the fat until fully cooked, away from direct sunlight to get crisp. In a separate skillet saute sliced onions with mushroomsas described in the previous recipe, using fat. Then mix the potatoes and mushrooms in the same pan. The finished dish sprinkle with green onions.
Potato with sour cream This dish is prepared the same as above, only instead of bacon it is better to use vegetable oil, otherwise the potatoes will be too oily and high in calories. After you connect the potato with the mushrooms, season the dish with two scoops of sour cream and extinguish under a cover for 5 minutes. Serve potatoes, sprinkled it with finely chopped dill.
You can use not only mushrooms – just making them is the most simple. If you want to cook wild mushrooms (e.g., Armillaria or white), they must first be boiled.