Instruction
Before Ironing the satin to preserve the appearance and durability of things wash them by hand only in cool water and rinse in the same fluid by applying a small amount of vinegar.
Do not twist, do not pull or wring the fabric. Just shake it and hang it on a hanger or lay in a horizontal position, away from the sun and batteries. Otherwise, no amount of Ironing will not help you to return the items original appearance.
Iron product, start with the area. Before that you need to check the fabric durability to the selected temperature mode. The best option for the Atlas is the temperature 150 degrees. It is desirable to use the position of the thermostat on the iron silk.
Ironed satin things lightly nedomansky. This should be done either from the inside or from the front, but using a damp cloth. For this you can use any cotton cloth, called protogenic. Such measures should be carried out to ensure that the fabric does not remain shiny trail (Lasy).
Useful advice
If Lasy not smoothed, they can be neatly disposed of. To do this, moisten protogenic (in a solution of 9% vinegar) and apply it on the damaged area of tissue. Barely touching the surface of the product, treat Lasy steam.

To further such trouble has not happened, vykroyte strip and puts it under a problematic seam. Sew from the thick fabrics (e.g., cotton batting) with a size of 15-20 cm do Not use polyester, it melts under high temperature and becomes rigid.
Advice 2: How to iron silk
Silk is an excellent material from which sew both clothing and accessories (e.g., scarves). Bed linen made of natural silk is considered a luxury item and gives pleasure. This material is perfect for warm weather, not warm as the body heat and quickly evaporates moisture from the surface of the skin. To care for silk must be very sensitive and touch should be only in special conditions.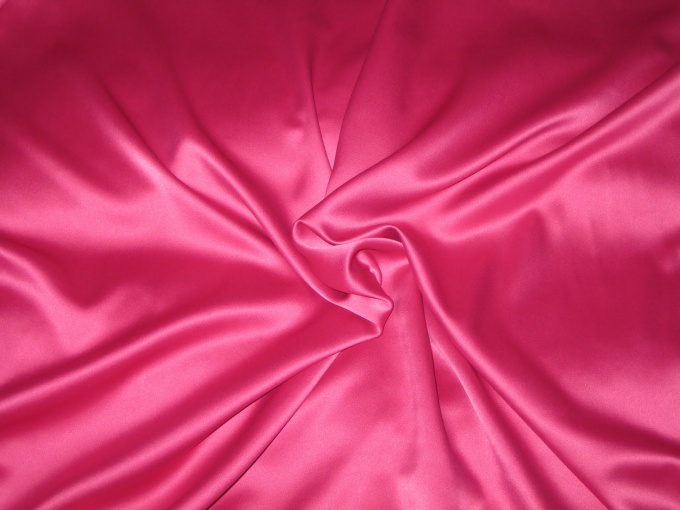 Instruction
High-quality silk is almost not wrinkled. So scarves and tops can not be ironed at all. But skirts and dresses from this material quickly crumple, so they have to podgadyvat. And it should be done properly and carefully.
To iron silk products better when they are still slightly damp after washing. The fact that in the case of dripping of water or powerful jets of steam on the silk fabric, stains and divorces. Why moisten clothes during Ironing is not recommended.
It is undesirable to iron silk clothes with steam. Hot steam can warp the fabric under its influence may also change the color of the product.
The iron should be pre-heat by putting on the minimum temperature. On modern devices there is a special mode of "silk". If you are not confident in choosing the right temperature, you need to try to hold the iron in inconspicuous place, such as in the bottom corner of the product. If it does deform, the defect is not so noticeable.
Iron products made of silk have on the reverse side. If you remove the clothes it is impossible or complicated cut does not allow you to iron the fabric on the inside, contact a gauze or soft cotton thin fabric. Put cheesecloth on top of the product, smooth to folds, and gently iron.
Seams on clothes during Ironing can Shine if you do not obey all requirements. To return the garments original appearance, should be re-wet it completely, dry under natural conditions and then ironed at a lower temperature.
Special care requires the so-called "wild silk" – Toussaint, the fibers of which are intertwined a little differently than usual. To iron this material needs a dry and necessarily from the wrong side.